ANZAC Day March 2023
https://forms.office.com/pages/responsepage.aspx?id=_f1LV0RCBUK3EBaPWwxYDVEERCGDGCJCgwix6VAyIT9UQ1RLMVRLWVZWWlhONlRLR001M0gzMUhXNi4u
From the St Thomas More's Parish
Please find attached the bulletin for this week.
Parent Engagement
Please find attached the minutes from the Parent Engagement meeting for March.
If you would like to learn more about the purpose/drive of Parent engagement, I find the Catholic Parent Schools Queensland website a great resource - https://www.cspq.catholic.edu.au/parent-engagement
Our next meeting will be held in Term 2 on Thursday 4th May at 3.15 pm. Please note that we will now meet in the LOTE room (the same room we were in for March) as there is more room there.
If you have any agenda items or questions please send them through.
kyliehaywoodbusiness@gmail.com
From the LOTE desk
Hi and Konnichiwa!
My name is Maddie Bermingham and I am the LOTE Japanese teacher at St Thomas More's. I am a past student of STM and was also a Year 3 Teacher in 2018. I then lived in Japan for 3.5 years where I taught English to Japanese people of all ages, babies to grandparents. I'm excited to be back and sharing the language, culture and my experiences in Japan with your children.
It's great to see that many children already have some knowledge about Japan!
Over the year for students in years P-6, I endeavour to expose students to the Japanese culture including where Japan is located in the world, Japanese culture and traditions, some greetings and classroom language such as please raise your hand, please stand up, please be seated, etc. Students will also be exposed to some of the characters/script used as part of the Japanese writing systems – Romaji (English letters to represent Japanese), Kanji (picture characters to represent words), Hiragana (phonetic characters unique to Japanese) and Katakana (phonetic characters unique to Japanese for words from other languages). There will be some variations across the year levels. I will be utilising a variety of mediums to teach students including the use of music, video clips, and books.
Please feel free to contact me via email – maddie.bermingham@twb.catholic.edu.au – if you have any questions.
Sayonara
Maddie Bermingham
Japanese Teacher
From our House Representatives
Don't forget we have our fun Sport Morning this Wednesday during Before School Play.
The fun games and activities that we will share with you include …
Parachute games

Pop up tag and stuck in mud

Skipping
Come to school as normal and we will have these activities set up for before school play.
We hope to see you there.
Have a great week.
God Bless.
Your 2023 House Representatives.
From our Service Club
Year 6, don't forget that you are welcome to join Service Club from Week 2 next term. We would love your help! We meet each Wednesday at First Break. You will need to bring your lunch with you.
Don't forget we have one more week of our Project Compassion Mission. You can buy a raffle ticket for 50c or donate any money you would like to your classroom box. Let's try and raise over $1000 for our mission to make a real difference for people who are less fortunate than us!
Our CARITAS Project Compassion focus person for this week is Priscilla. Priscilla is from Zimbabwe in Africa. She is 59 and she lives with her husband and her grandchildren. Priscilla's family earn a living by crop farming, which can be hard with climate change impacting how much rain there is in Priscilla's town. This drought can cause a shortage of food and a loss of income for Priscilla and her family. Currently, over 50% of families in Zimbabwe live in poverty with not enough food and clean water.
CARITAS helped Priscilla's town to set up some community gardens where they grow food that can grow all year round that they use to eat and to sell. They also have a poultry and cattle program that helps them earn money as well. CARITAS has helped the community look after their cattle and protect them from ticks, sickness and illness caused by hunger. Priscilla and her family are very thankful to CARTIAS for their financial support and helping them get the knowledge and skills they need to earn a living. CARITAS does this great work with donations, so please donate what you can to our Project Compassion Mission.
Have a great week.
God Bless,
Anakha and Mckenzie from Service Club
A letter from Mr Wann
From our P & F
Thank you to the following sponsors who kindly donated Lucky Door prizes for the community dinner
Horizon Accounting
Brad Rae Painting
VIPersonal training
Edgy Hedges Yard Maintenance
Thinking STM for Prep in 2024 ...
Week 9 Awards
Well done to our students who were recipients of awards last week. Keep up the great work!
Prep Blue

Nia
Lana

Prep Gold

Isabelle
Lincoln

Prep Red

Ella
Harlin

1 Blue

Adeline
Enoch
James
Atong

1 Red

Joyce
Beatrix
Angus

2 Blue

Alekai
Billy
Ethan

2 Red

Huntah
Laila

3 Blue

Tong
Diing

3 Gold

Jett
Giorgia
Abby

3 Red

Levi
Ken

4 Blue

Tilly
Jacob
Aviana

4 Gold

Jonathan
Amelia
James

5 Blue

Nhyckah
Penny
Jamie
Dor

5 Gold

Thomas
Therese
Esther

5/6 Red

Brayden
Finlay

6 Blue

Hudson
Brooklyn
Ruby

6 Gold

Riley
Piper
Rupert
Isaac
Student Protection Contacts
From the Library
From Our Sport Desk
Cross Country Results
Prep Girls
1st – Ivy
2nd – Chloe
3rd – Audrey
4th – Amelia
Prep Boys
1st – Eddie
2nd – Ollie
3rd – Connor
4th – Christopher
Girls 2016
1st – Ester
2nd – Adelyn
3rd – Ava
4th – Michele
Boys 2016
1st – Thomas
2nd – Taj
3rd – Tristan
4th – Steven
Girls 2015
1st – Mia
2nd – Florence
3rd – Scarlett
4th – Lauren
Boys 2015
1st – Tyrell
2nd – Louie
3rd – Ryland
4th – Billy
Girls 2014
1st – Ella
2nd – Addison
3rd – Penny
4th – Aaliyah
Boys 2014
1st – Levi
2nd – James
3rd – Darcy
4th – Ryan
Girls 2013
1st – Audrey
2nd – Arianna
3rd – Makayla
4th – Amelie
Boys 2013
1st – Hamish
2nd – Jonathan
3rd – Christian
4th – Mitchell
Girls 2012
1st – Kate
2nd – Amelia
3rd – Harper
4th – Zara
Boys 2012
1st – Peter
2nd – Jordan
3rd – Jordan
4th – Seth
Girls 2011
1st – Kiara
2nd – Tamsyn
3rd – Emilia
4th – Scarlet
Boys 2011
1st – Xavier
2nd – Nathan
3rd – Cooper
4th – Kobi
Overall House Points
1st – MacKillop
2nd – Hall
3rd – Finbarr
4th – Leonard
Representative Sport
Well done to Piper, Erin and Jamie for trialling at the Toowoomba hockey trials last Thursday. Congratulations to Erin and Jamie who were successful in making the Toowoomba Hockey team. We wish them the best of luck as they head off to the Darling Downs trials in April.
Good luck to Scarlet, Annie, Tamsyn, Grace, Piper, Izabella and Mya when they head to the Toowoomba Netball Trials on Tuesday.
Good luck to Xavier who is trialling at the Darling Downs softball trials on Tuesday.
T-Ball Gala Day – Year 4
The Year 4 students will head to a T-Ball gala day on Tuesday 28th March. Students will be catching a bus to and from the gala day. Please arrive at school by 8:30 am. Students will need to wear their school uniform, have their school hat, sunscreen, water bottle and food for the day. Any questions, please speak to your child's classroom teacher.
God bless,
Stacey Hancock
HPE Teacher
Notice Board
From the Principal's Desk…
This coming Sunday, the Christian community will embark on what is called 'Holy Week'. Holy Week for Christians is a time of special meaning. It is a week during which we do things that we don't usually do and hear things we usually don't hear. Holy Week has been held in great reverence since the very early years of the Church and no other Christian observance has interested the world so much. The rituals of the Church are complex and laden with meaning.
Passion Sunday, also known as Palm Sunday, commemorates Jesus' entry into Jerusalem where He is proclaimed King, as many people of His time were seeking a political leader. We, like those who greeted Jesus, use palms to show our willingness to accept Jesus as our leader and to follow Him.
In the three days of Holy Thursday, Good Friday and Holy Saturday, the Church gives us a dramatic, intense and symbolic expression of the very heart of Christian belief. By participating in the liturgical ceremonies of these three days, we can deepen our understanding of what it means for us to be a Christian.
There are Christian people who find it difficult to come to Church any more. They have had experiences with the Church that have been hurtful to them or they feel the Church has little or nothing to offer them. Such people are closer to Jesus than they might have imagined. When Jesus entered Jerusalem, He was entering the holiest city of the Jewish religion, the city of the Great Temple a place so revered that only the High Priest was allowed to enter it.
Yet, it was in Jerusalem that Jesus was betrayed, falsely accused, humiliated and handed over to an occupying force by the senior religious leaders, so He could be tortured and executed.
Like everything that happened in Jesus' life there is something to be learned from this experience. Jesus' belief in Himself and the purpose of His life was being tested to the extreme. Even though things did not seem to be working out the way He might have expected, the events that followed were totally momentous.
For people who have suffered religious hurt, Jesus' experience is saying yes, there is real hurt, yes, it can be confusing but it is possible to rise above it all and to come back again to the beliefs you once had. Maybe Holy Week is a time for quiet reflection and to be reunited with your faith.
Holy Week is definitely a week with a difference and spiritually rewarding for those who willingly take part.
Thank You!!!
As this will be the last newsletter for the term, I would like to take this opportunity to express my sincere gratitude to all who have volunteered their time in some capacity over the term. Whether it be in reading groups, working bees, committees, social events etc., your assistance doesn't go unnoticed and is valued by the teachers and myself.
Term 1 certainly has flown by. It was a great start to the year and it has been very rewarding to see how quickly the children have settled into routine and the level of school work produced in a short period of time has been exceptional.
Have a very happy and safe Easter break and I look forward to seeing you all back for the beginning of Term 2 on Tuesday 18th April.
Lucky Number Plate: St Thomas More's Car Stickers
St Thomas's More's Car Stickers have been distributed to most classes (we are yet to share with all families as of yet). Be sure to place your St Thomas's More's Car Sticker on your car to be in the running for a $50 Rebel Sport voucher to be announced at the conclusion of Term One!
Parent/Volunteer Sign In/Sign Out Reminder
Please be reminded, parents/guardians who volunteer their time and support within the school (classrooms, sport, tuckshop, library, parent meetings etc) are required to sign in at the School Administration Office prior to commencing duties. At the conclusion of voluntary duties, it is essential to sign out at the School Administration Office.
When dropping children to school late, collecting children from school early or returning children to school after meetings or appointments, please be mindful to sign back in through the School Administration Office.
Medical Conditions Procedure
Medical Management Plans/Emergency Action Plans
For students with a medical condition or diagnosis requiring a Medical Management Plan/ Action Plan, these are to be developed and signed by a medical practitioner and provided to the school, or when the condition or diagnosis become known to the student's parents/carers.
Medical management plans for ongoing medical conditions must be updated each year, or when circumstances change.
Medication Administration
In situations where administration of medication is required whilst at school, and parents/carers are unable to administer the medication, staff will only be permitted to administer medication to a student if
the medication is accompanied by a Medication authorisation form completed by the parent/carer or doctor, and
the medication is in its original package with pharmacist's label which clearly states:
the student's name
dosage
frequency of administration
date of dispensing
expiry date (expired medication must not be administered).
Students Diagnosed with Asthma and/or Anaphylaxis
are to have a medical management plan and emergency action plan in accordance with this procedure
must provide medication and other equipment required for the school to provide asthma (including spacer) or anaphylaxis first aid
God Bless,
Duane Wann
Principal
Classroom Newsletters
Miss Byrne's Important Dates to Remember for Term 1
Date

Event/Activity

Year Level

Wednesday, March 29th

Celebration of Reconciliation

STM Church at 6:00 pm

Sacramental Families

Thursday, March 30th

Assembly

Prep - Year 6

STM Sportscentre at 8:40 am

Family and Friends Welcome

Thursday, March 30th

Holy Week Prayer Celebration

Prep – Year 6

STM Sportscentre at 1:40 pm

Prep – Year 6

Family

Friends

Friday, March 31st

Toowoomba Show Holiday
From our Tuckshop
Tuckshop Menu
Open every Friday. Please place your childs order through FlexiSchools by 1pm Thursdays.
News Flash:
Exciting things happening in the Tuckshop
Tuckshop will open Thursdays and Fridays in Term 2.


From our Uniform Shop
The Uniform Shop Trading Hours.
Monday 8.00am – 8.30am
Wednesday afternoon – By Appointment
Friday 8.00am – 8.30am
If these times don't work for you please email your order through to THOuniform@twb.catholic.edu.au and the orders will be at the office for collection at your convenience.
Need some uniform alternations?
A hem taken up? A skirt taken down? Some buttons adjust on a shirt? Give Mrs Fix It a ring and see if she can help.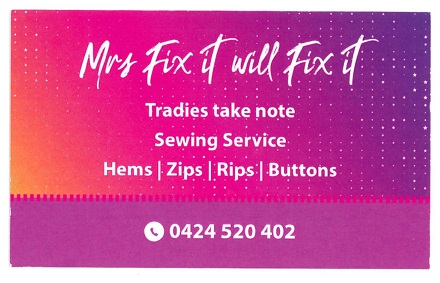 Prayer of the Week
Prayer retrieved from https://www.courageouschristianfather.com/jelly-bean-prayer/