Term 4 - Week 9 - Update
Prayer of the Week
Image retrieved from https://fineartamerica.com/featured/irish-blessing-jaime-friedman.html
2022 Class Placements
Class placements for 2022 are in the process of being finalised this week. We hope to have these placements out to families by the end of this week or early next week via email.
We have been overwhelmed by a large number of requests this year. Unfortunately, due to such a large volume of requests, we will not be able to honour all requests made for class placements for 2022.
Please be assured that we have carefully considered the placement of all students across all year levels, taking into account academic, social, and emotional needs.
Thank you in advance for your understanding.
From our APRE
We have made it to the end of another school year … and what a truly fantastic year it has been! Although we have had moments tinged with sadness, such as farewelling some much-loved teachers and friends, we have had so many amazing moments as well. I wanted to take the opportunity to share some of my highlights from this year with you.
60th Celebrations
Turning 60 is a pretty big deal for anyone and it was so great that our school got to celebrate this special milestone this year. Digging through old photos and records was a real treat – especially when finding photos of Mrs Shelley, Mr Wells and Miss Benvenuti from their time as students at STM! Our timeline display was a hit with visitors, as was our Family Mass and Bush Dance. I personally hope the Bush Dance makes a comeback in 2022! As part of our 60th celebrations we also officially opened our newest building, the Leonard Block Extension. It was great to invite Bishop Robert and Dr Pat along to see our new facilities and meet some of our students and teachers as well.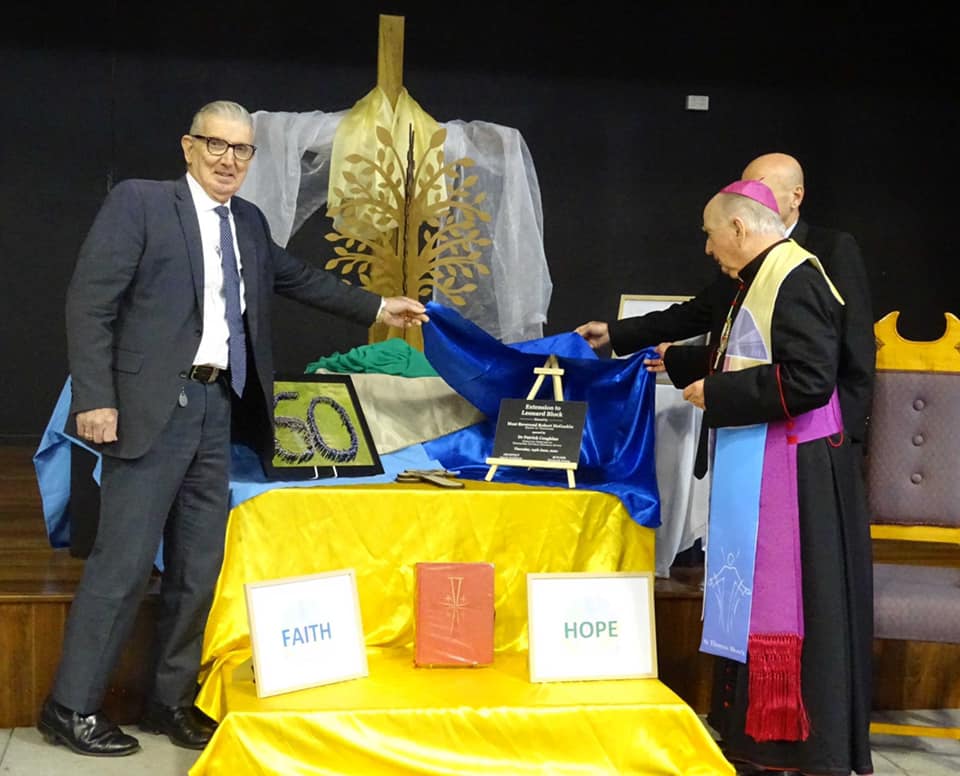 Hike for Homeless
Our team for Hike for Homeless was small but mighty this year! What a fantastic way to spend a Saturday morning!
Year 5 Social Justice Group
Amazing work from our Year 5 children taking a stand for what they believe in.
Tokyo Olympics
It was such an exciting time this year cheering on our Aussie athletes. You could always head up to the waiting area in the office and catch a glimpse of some fantastic skill and sportsmanship on the tv. Year 3 got to send some artwork away for the Paralympians and we even received a special message from a member of the Olympic Team – Skye Nicholson. Our Green and Gold Day really showed our Aussie pride as well.
Kindy Connection
This year it's not just Service Club who have been lucky enough to do some Kindy visits. Mrs Shelley, Mrs Leah and I have also spent some time at Springs and Goodstart as well. It is always great to head over and read to the kindy children. We also had Creative Gardens come to STM and enjoy some time in the library with Mrs Heuschele as well.
Peace Garden
Our Peace Garden has been two years in the making and it was so exciting to get the P&F on board with the project this year and see some progress! The Peace Garden was an idea from the 2019 Service Club. The plan is to eventually create a lovely outdoor learning and prayer space that classes across the school can use. Stage 1 was completed recently, with the installation of our first garden bed and our beehive. Thank you to my little watering mates Maeve and Evelia for helping water the garden almost every day!
Get Set for Prep Day
Earlier this year we threw open our gates and welcomed children from all over for a taste of what life in Prep at STM is all about. The Fire Truck and Police Car were big hits, as well as our one of a kind STM Prep bags.
Book Week Dress Up Day
As a Harry Potter fan, I was beyond excited to find Hogwarts had very much come to STM on our Book Week Dress Up Day. It was so great to see the power of books and the joy and excitement they can bring to both the young and old. I don't think anyone will soon forget Ollie's take on Mr Cash from the school prospectus either!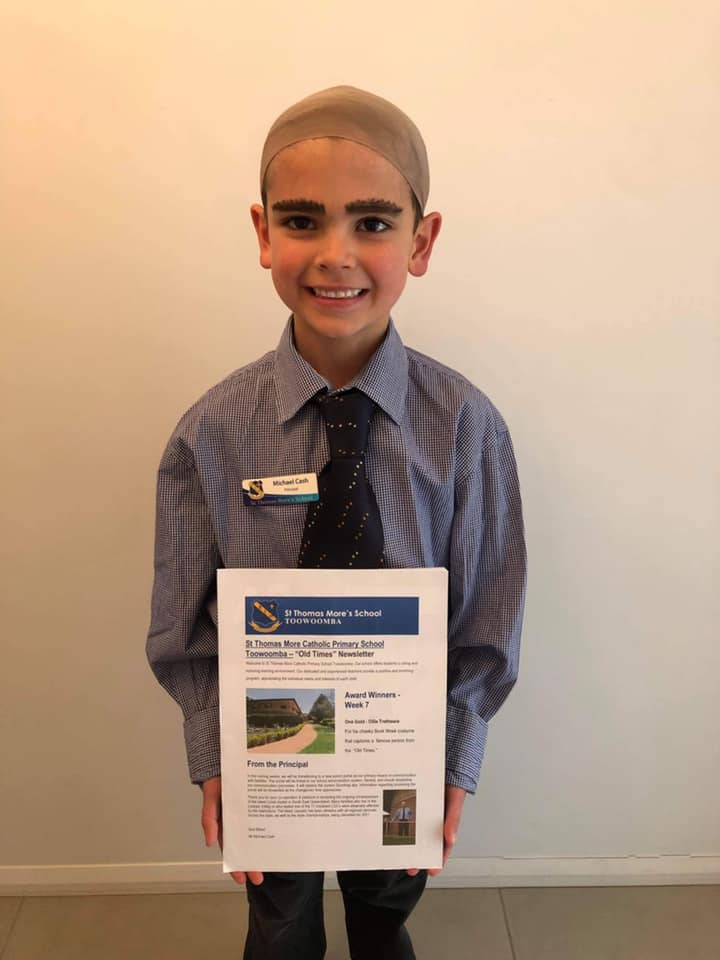 There are a million and one other things I could write! STM is such a special school community and events and celebrations like the ones above are just some examples of this.
I can't reflect on this year without speaking about Service Club. We started the year with just six students – D, Maria, Cassie, Lara, Liam and Kaydee. These original members did a wonderful job setting up the expectations for Service Club for the year, establishing the causes we would support and the way the Service Club would operate. Although we lost some of our original members during the year, we welcomed a whole band of new members along the way, finishing the year with over 15 students. Service Club have worked hard this year to not only bring joy and happiness to our school community, but to our wider community too. From their work with STM Student Groups, to their support of the Vinnies Winter Appeal, Service Club have consistently shown a real commitment to helping others. I am sure all of the children in Service Club would say a highlight for them has been the Creative Gardens visits. It has been a real honour for me to come along to supervise these visits and see our STM students interacting so kindly with the little children and doing our school so very proud. So to Maria, Cassie, Lara, Liam, Kaydee, Lucy, Awuoi, Harry, Tahnee, Grace, Erica, Varya, Akuy, Kuei, Toni, Molly, Jonah, Aweer, Amou; and our sometimes members D, Mitch and Francis; thank you all for your contributions to St Thomas More's Primary School this year. You have made me and our whole school community very proud.
Congratulations and farewell to our Year 6 students. You were my very first class/cohort here at STM and I will always remember you fondly for your humour, compassion and amazing work ethic. It has been so lovely to see you mature and flourish over the past three years. Have the best time in your last week of primary school and all the best as you take on Year 7 next year.
Finally, a big thank you to all our STM Staff. It is a privilege to work with such a dedicated and caring group of educators. Your hard work never goes unnoticed. Thank you for all you have done to make our school community such a safe, fun, exciting and engaging place for the students and families. To our departing staff members, thank you for your contribution to St Thomas More's and I wish you all the best as you tackle your next big adventure.
I hope everyone enjoys the last week of the 2021 school year. Don't forget we are coming together to celebrate our final Mass for the year this Thursday at 1:40pm with Father Michael in the Sports Centre. All family members are welcome. We also have our P&F led Student Fun Day on Friday this week, which promises excitement with some Amazing Race and Minute-To-Win-It games. Keep your eyes peeled later this week for a special gift from the P&F as well, our very first official STM calendar! This will have most of the important dates you will need for next year, as well as some information you might find useful throughout the year.
Thank you to our whole school community for a successful 2021. I wish all our STM students, families and staff the happiest of holidays. I can't wait to see you back in 2022 ready to take on a new year of fun and learning together.
Have a wonderful week!
God Bless.
Miss Kristin Byrne
Assistant Principal Religious Education
Semester Two Report Cards
Our Semester Two Report Cards this year will be distributed via the Parent Portal this week. If you have yet to start using the portal, it is vital that you make the move to doing so as soon as possible. If you need any assistance at all accessing the portal, feel free to contact our wonderful staff in the office and they will be more than happy to help you however they can.
Over the course of this semester, teachers have been gathering evidence of learning for each learning area for each of our students. This process involves gathering, analysing and reflecting on multiple sources of evidence to make an informed judgement about what students know, understand and can do.
Assessment in the classroom can come in many forms. It can either be …
Diagnostic (assessing prior learning) - pre-tests and work samples.
Formative (assessing for learning) - observations, group work, individual conferencing, ongoing work samples.

Summative (assessing of learning) - tasks, assignments, presentations.
This week families will receive Semester 2 Report Cards for students from Prep to Year 6 via the Parent Portal. This Report Card is a culmination of your child's academic achievement throughout the semester, as well as a snapshot of their spiritual and social development. It is just one way of communicating information about student achievement, effort and behaviour.
The Australian Curriculum is written in such a way, that there is an 'Achievement Standard' for each year level for each subject area. It is this Achievement Standard that we report against. The standards are written as a statement of what a student is aiming to achieve by the end of the school year for their year level. A student receiving a 'C' standard indicates that they have met this standard, that is, that their work demonstrates a conceptual understanding of the concepts covered and that they can apply this knowledge and skills in familiar situations. Simply speaking, a 'C' standard indicates that your child is able to do what is expected of them for their year level.
To move beyond a 'C' standard, a student must demonstrate that they are developing sophistication of conceptual understanding, with a strong application of skills, and that they are beginning to transfer their knowledge and skills to new situations (B standard). For an A standard, students must demonstrate the excellent application of skills and be readily applying the knowledge and skills to new situations.
Similarly, a 'D' standard does not constitute a fail, this standard indicates that a student is continuing to develop their understanding of the expected curriculum, and may be able to demonstrate some of the elements within it, whether with support or inconsistently. A rough outline of these standards is provided below.
Standard

A

Evidence in a student's work typically demonstrates that the student has the targeted knowledge and

· A sophistication of conceptual understanding.

· An excellent application of skills

· The ability to transfer these to new situations.

B

Evidence in the student's work typically demonstrates that the student has the targeted knowledge and

· A developing sophistication of conceptual understanding.

· A strong application of skills.

· They are beginning to transfer these to familiar situations.

C

Evidence in the student's work typically demonstrates that the student has the targeted knowledge and

· Expected conceptual understanding.

· Expected application of skills.

· They are able to transfer these to familiar situations.

D

Evidence in the student's work typically demonstrates that the student is

· Developing the targeted knowledge and conceptual understanding.

· Developing the application of skills.

· Beginning to transfer the above to familiar situations.

E

Evidence in the student's work typically demonstrates that the student

· Has an emerging knowledge and conceptual understanding.

· Has an emerging application of skills and

· can apply these in scaffolded situations.
In each KLA, students also receive an effort achievement level. This level is derived by the students level of application and study habits during that particular KLA. Please see the table below for the effort achievement scale. Effort marks in our STM reports will look a little different this semester as we have moved to a three-point scale.
| | |
| --- | --- |
| H | High |
| S | Satisfactory |
| I | Improvement Required |
| N | Not enough information to make a judgement. |
A student receiving an 'S' standard indicates that your child is applying the effort standard. You will find these criteria tables in the report card.
From the Office
School fees are now overdue. A reminder was emailed out on Wednesday, 3rd November 2021. Please settle this account as soon as possible.
If you are experiencing financial difficulties, please contact the office to make an appointment with Jacinta Twidale who is available Wednesday to Friday.
Year 5 and 6 camp fees for 2022 have been issued. You are welcome to start making payments towards camp as they are in February and March respectively. Please reference which camp as well as your "THO" number (can be located on your statement).
Parents, please make sure you have accessed the Sentral Parent Portal before the beginning of 2022, as this is how all communication will happen in 2022. If you need assistance, please contact the office.
Just a reminder to keep the office up to date with any contact or medical detail changes. It can cause critical delays in the case of emergencies if the information is not current.
If your child will be away from the school for any reason, please notify the office of your child's absence. There are a few ways for parents to notify the school of a student's absence:
Send a text message to 0439 457 981,
Email the student's teacher and the office on

stthomas@twb.catholic.edu.au
Call the school's office on 4591 3900 and leave a voicemail explaining the absence,
Submit an absentee request through Sentral (see instructions below),
Ask a sibling to inform the office of the absence
If your child arrives at school after 8:25 am, they must sign in at the office at the student entrance.
Outside of the Year 6 students, if you are leaving the school at the end of 2021, please let the office know as soon as possible. This helps with the planning of events and excursions for the following year.
Sentral Parent Portal App
If you haven't signed up for the Sentral Parent Portal app yet, please do so as soon as possible. Contact our office for more information.

Did you know you can submit student absences through the Sentral Parent Portal App? It's as easy as 1, 2, 3
Step 1: Open the Sentral Parent Portal App and click on the "Absences" icon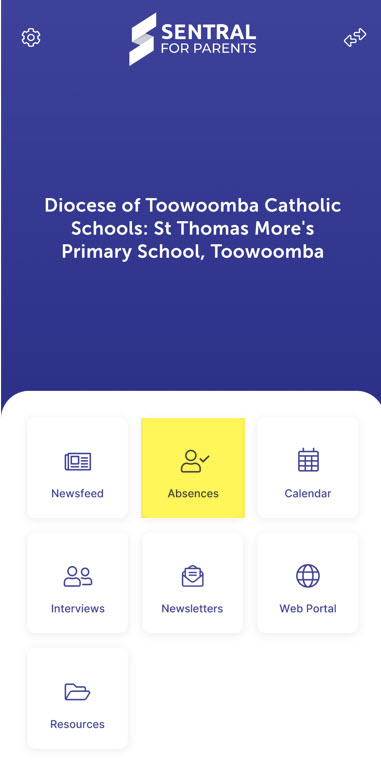 Step 2: Click on the + to add a new absence request (this needs to be completed for each student)
Step 3: Complete the details and hit "Submit"
Year 6 Events for Week 9
Monday at 6 pm the Farewell Mass for Year 6 will be held in the Church.
Wednesday the Year 6 students will be attending the movies as a breakup activity and class party afterwards.
Thursday the End of School Year Mass at 1:40 pm.
Friday will be the P & F fun day. Year 6 will then have the option to leave school to attend a parental arranged activity at Putt-Putt at the City Golf Club. Please note this is not a school-organised event and no teachers will be present. Parents must provide transport for their child to and from this event. Parents will be supervising the children and other parents are welcome to attend to assist with this. This event begins at 1 pm for those attending.
Swimming Carnival 8-12 Years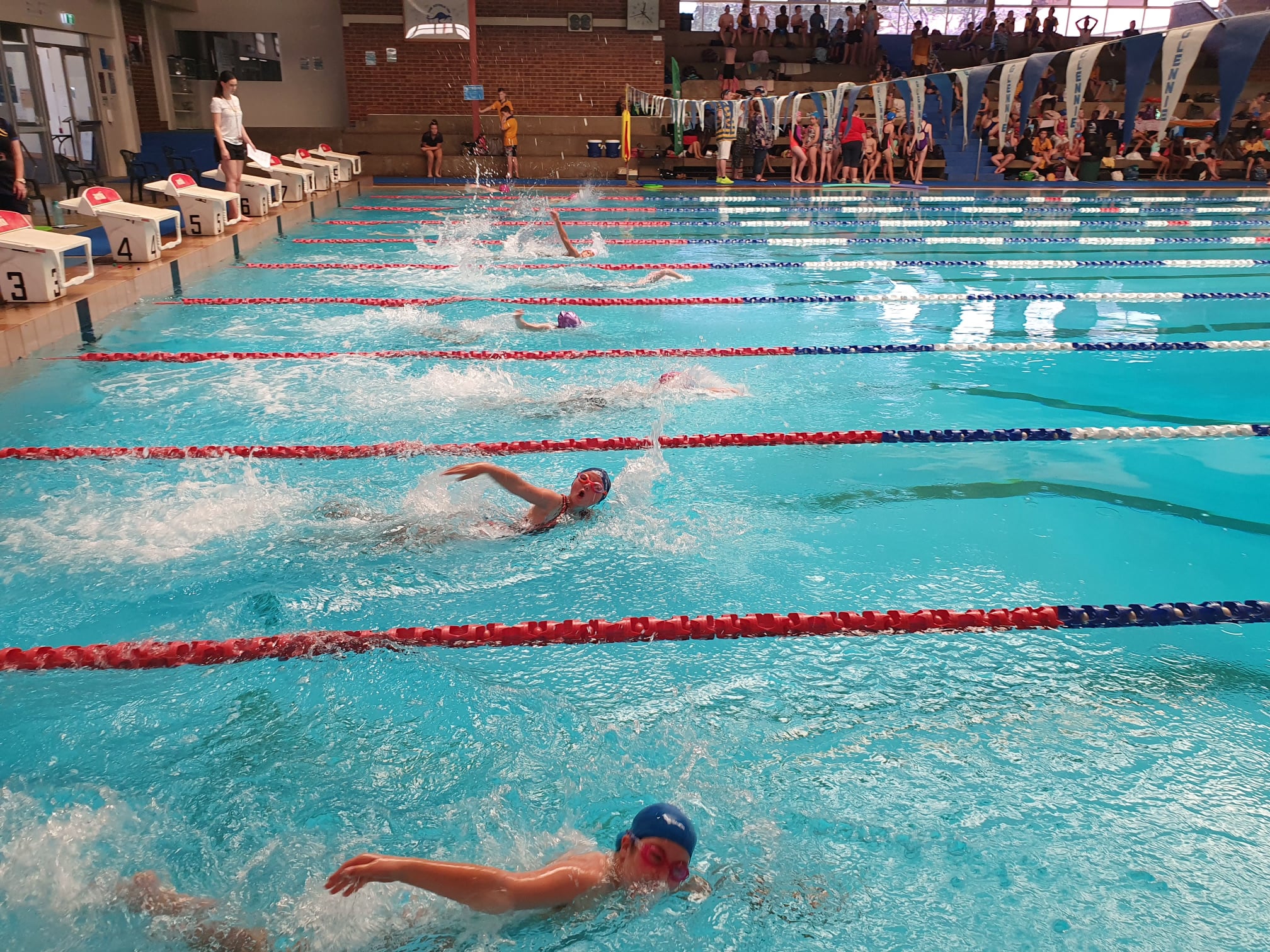 The 2021 Senior Swimming Carnival will be held on Tuesday 30th November at The Glennie Aquatic Centre. This year the swimming carnival will be open to all students born from 2009 to 2013.
The Central Zone and Catholic Carnival Teams for 2022 will be selected from the results of the 50m events. Correct technique is a requirement for some strokes. The Central Zone Carnival will have strict nominating times that will need to be adhered to. Children born in 2013 will be eligible to be nominated in these carnivals in 2022 if they choose to swim 50m events at our school carnival.
Important Information
A teacher will be on duty from 8 am at the venue.
Years 3-6 teachers will attend the carnival. We encourage and it is expected that all students attend the carnival regardless of their swimming ability and have a go in at least 1 event. There will be no supervision at school for these year levels.
Kickboard events are for competitors who

are not

competing in the 25m or 50m events.
Competitors may only swim

one distance per stroke. 50m Freestyle or 25m Freestyle or 25m Kickboard. Not all three.
Students who are capable of swimming 50m in a particular stroke are strongly encouraged to do so.
Only competitors who nominate as

50m

swimmers will be eligible for age champion.
Only

50m

events will have heats if there are sufficient numbers. Otherwise, 50m events will be straight finals.
Only

50m events

will be timed.
Ribbons will be given to 1st, 2nd, 3rd, 4th

places of kickboard, 25m, and finals of 50m events.
Age champion trophies will be given to 9yrs-13yrs champion swimmers who nominate/compete in 50m events.
Some events may have to be combined due to the number of nominations but will be judged separately.
Open 100m Freestyle and Open 4x50m Individual medley events are for house points

ONLY.
If you have any queries, please contact Stacey Hancock (Year5)
Awards
Well done to our final award recipients for 2021!
Prep Gold

Annabelle

Morgan

Prep Red


Eric

Tyler

1 Blue

Abel

Jonah J

Fred

Dion

1 Gold

Wyatt

Ollie

Jax

Tomas

1 Red

Mia

Mason

Will

Maddison

Tion

Tong

2 Blue

Isla

Zayne

Fletcher

2 Gold

Hugo

Bryson

Kaylee

Bryce

2 Red

Kathryn

Emily

Jonathon

3 Blue

Dor

Finlay

Indianna

3 Gold

Sam W

Zoe

Abigail

3 Red

Aluel

Sophia

4 Blue

Maeve

Nickol

4 Gold

Fletcher

Nathan

4 Red

Fletcher

5 Blue

Richard

Grace

5 Gold

Matthew

Addison

5 Red

Remeeka

Gloria

6 Blue

Arcade

Jonah

6 Gold

Grace

Zac

OSHC

Archi
Wonderful work from all the children who received GOTCHA tickets last week. Congratulations to our final GOTCHA lucky draw children for the year.
Dates to keep in mind for Term 4...
We have added a few new important dates this week, so please make sure you check the dates against your calendar!
Date

Event

Monday, November 29th

Year 6 Graduation and Farewell Celebration from 6:00 pm

St Thomas More's Church




Junior Swimming Carnival

TAS

Tuesday, November 30th

Senior Swimming Carnival

Glennie Pool

Wednesday, December 1st

P&F Carols Evening - 4:45 - 7:00 pm on the Bottom Oval

Thursday, December 2nd

End of Year Mass for Prep-Year 6

Sports Centre from 1:40 pm

Families welcome

Friday, December 3rd

P&F Student Fun Day
OSHC School Update
Operating Hours
Before School Care:
Mon-Tues: Please contact us for care
Wed-Fri: 6:30am – 8:30am
After School Care:
Contact Details:
Phone: Main- 0429297592, Other- 0429301476
Email: stmcare@tckc.qld.edu.au
Did you know we offer Before School Care?
We are open from 6:30 am and take the children to the quad at 8:15 am. We provide breakfast for the children and a range of activities to interact and play with. If you are interested in your children attending before school care, please contact 0429 297 592 or stmcare@tckc.qld.edu.au
Donations Needed!
During the vacation care program, we are completing a range of activities that will require boxes and jars, if you have any boxes and jars at work or home that you could bring in that would be wonderful.
Thank you!
A huge thank you to Westridge Fruit and Vegetables for their continued support with the donation of fresh fruit every week for our students!

Parish News
Click on the link to download a copy of the Parish Bulletin.