Term 1 - Week 3 - Update
Prayer of the Week
Image retrieved from https://twitter.com/revmarkjames/status/1169122803137830913
From our Principal
Dear Parents,
Welcome back to all of our students, staff & families to what has already been a disrupted year. I'd particularly like to welcome new members to our school community. As well as our Prep families, we have a number of other families new to our school. I hope they are all made to feel welcome & settle quickly into their new environment.
Welcome to our new teachers, Katie Almeida (Yr 3), Rebekah Groer (Yr 3), Joy Wright (Yr 2) & Katie Hargrave (Yr 1). I am very excited about what they will bring to our school. We also welcome Jodie Ramage as our new Admin Officer, replacing Eileen McKay, who resigned over the holidays. Josie Stockwell (Jacinta Twidale) & Lisa Trethewie (Jo Burchell) will be working in the school during Term 1, replacing staff on Long Service Leave.
I appreciate your patience while we've been finalising our staffing in the office. Jodie will officially start next Monday, 14 February, although St Joseph's College has generously allowed her to spend some time at the school this week. Special thanks to Leah Gierke, Jenny McCall & Deb Murphy for assisting in the office over the past four weeks.
Due to the Covid situation & having to limit the number of people on-site, we have had to cancel or postpone a number of planned events. Where possible, events will be re-scheduled or the format changed to suit the current situation.
According to the CHO, we can expect that a combination of Covid positive cases and close contacts will impact on both student and staff attendance for the remainder of the term.
Thanks to the P & F for their beautification work around the school, particularly in the toilets. Special thanks to Audrey Williams, Brett Danvers & Dom Haddin for sharing their creative skills.
God bless,
Mr Michael Cash
Principal
A Safe and Smooth Start to 2022
This week we are so pleased to welcome our staff and students back to STM! Over the last two weeks, Mr Cash has shared some top tips and fast facts with the community to help ensure everyone knows what to expect for our return to school this year and how we can continue to ensure we are keeping ourselves and others safe. Please find a summary of this information below.
Sports Uniform Days
Years 4 - 6: Monday and Friday
Years 1 - 3: Tuesday and Friday
Priority Rapid Antigen Tests (RATs) for schools
If students are unwell they must not attend school. If they are displaying Covid symptoms, they should attend their local Queensland Health testing clinic where they will be given prioritised access to receive a RAT.
If a student develops COVID-19 symptoms while at school, they will be able to access free RATs from their school. If we do not have any RATs available, students will be directed to a testing clinic.
The school's supply of RATs has not arrived as yet.
Managing Activities at School
We have been directed to adopt the following measures:
Limit visitors (including parents) on school sites, with exceptions for parents and carers of students experiencing vulnerability, and all students attending Prep or Year 1.
Suspension of school camps, excursions, assemblies, and large gatherings.
Parent Information Nights & the Twilight Tour scheduled for next week have been cancelled.
School Photos have been postponed.
Due to the shortened term, Toowoomba Primary Schools Sports Association had already cancelled Friday interschool sport for Term 1.
Face Masks
While it is not mandatory under the CHO Directions, students in Years 3–6 are strongly encouraged to wear masks when physical distancing is not possible. (The school has a supply of masks for these students).
School Office
We are currently finalising a replacement for Eileen McKay who resigned over the holidays. Jacinta Twidale is also on LSL for Term 1.
This week the school office will be open all day Monday & Friday as well as Tuesday, Wednesday & Thursday mornings.
It will be a few weeks before school fee accounts are sent out. Thank you for your patience at this time.
Parent Portal
A number of parents are still awaiting Parent Portal keys, please email Mr Cash directly if you require a key.
Tuckshop
Due to the need to limit the number of people visiting the school, Tuckshop will not commence until Term 2.
Book Club
As our Book Club co-ordinator is currently on leave, Book Club orders will need to be made online following the instructions on the order form. We will not be accepting Book Club orders or payments through the school office this term.
From our APRE
There is certainly no denying that the start of the 2022 school year is unlike any other in recent memory ... but as we have seen throughout the COVID pandemic, the community at STM is always exceptional at rising to a challenge! Over the past two weeks, while providing supervision for the students who attended school, staff have also been working outstandingly hard to condense units to accommodate a shorter term and plan, prepare and resource lessons across all learning areas that are exciting and engaging. Thank you to all our STM staff for your flexibility and open-mindedness during these trying times.
Flexibility will be something we will all need to adopt this term as we continue to navigate the challenges that COVID-19 presents us with. In accordance with directives from TCSO, various Prayer Celebrations, Masses and School Events have been altered, postponed, or cancelled this term. I have included further details of these changes further down in the newsletter under the section about the calendar. We thank Father Michael and John Briffa for their flexibility, guidance and creativity during this time as we find new ways to nurture the Religious Life of our School and continue to nurture our connection with the STM parish.
I would like to take this opportunity to extend a sincere welcome to those who are new to our community in 2022. We have a number of new families across all year levels and we warmly welcome you to our STM Community. I know our whole school community also joins me in welcoming our new staff for 2022 ...
Mrs Jodie Ramage: School Officer: Administration
Mrs Josie Stockwell: School Officer: Administration (Term 1)
Mrs Katie Hargrave: Teacher
Mrs Joy Wright: Teacher
Mrs Katie Almeida: Teacher
Miss Bek Groer: Teacher
This year we will definitely continue with our Year 6 Service Club, Worship Choir and Year 5 Social Justice Club (if Year 5 students are interested) but will hold off on having meetings of these student groups for now. Once COVID restrictions have eased, these groups will commence for 2022.
During the Week 0 Professional Development Day, the STM staff had the opportunity to reflect on our school vision, mission, and values. We are keen to collect some baseline data about what the rest of our school community thinks about how these things are evident in our school community at large. One way students and families can do this is by contributing to the hallway display outside my room. Can you think of how we live life in all its fullness at STM? Or perhaps you can think of what justice, joy, hope and faith looks like at STM. I'd love to know your thoughts. Feel free to add to the giant poster or grab a justice, joy, hope and faith sheet and share what you think.
Have a wonderful week!
God Bless.
Miss Kristin Byrne
Assistant Principal: Religious Education
Sport News
Representative Swimming Carnivals
Congratulations to Olivia, Isabella, Nate, Remeeka, Kiara, Tamsyn, Mya, Makayla, Charlie, Matthew, Scarlett and Harrison on being selected to represent St Thomas More's at the Catholic Swimming Carnival and the Central Zone Swimming Carnival. Information has been emailed home to parents about attending these carnivals. We wish these students the best of luck. Unfortunately, the Catholic Swimming Carnival has been cancelled. I'm sure our swimmers are looking forward to the Central Zone Swimming Carnival.
Interschool Sport
Unfortunately, a decision has been made by the Toowoomba School Sport Association to cancel Term 1 interschool sport. The Year 5 & 6 teachers will run the same sports the students were going to be playing on a Friday afternoon instead. We will be offering boys AFL, girls touch and mixed volleyball. Towards the end of the term our focus will switch to practicing for our school cross country. Fingers crossed for Term 3 & 4 sport!
Representative Sport Information
Throughout the year Toowoomba Primary School Sport and Darling Downs School Sport run trials in a variety of sports to choose representative teams.  In most cases students are required to participate in a Toowoomba Trial to be eligible for a Darling Downs Trial. These teams will then travel away to Regional and State Championships. 

For a student to be eligible for nomination they must meet the following criteria:

1.        Be turning 10, 11 or 12 in the current calendar year. i.e. born in 2012, 2011, 2010

2.        Have had a reasonable amount of experience in their chosen sport.

3.        Have a high level of skill in their chosen sport.
 
In some cases, like touch football, where there are a number of interested candidates, the school may conduct in-house trials to choose players to be nominated for these trials.  This is important for a number of reasons; 1) the players that the school nominates need to meet the required selection criteria, 2) be of a suitable standard to trial and 3) schools are limited to a certain number of students at these trials. 

With the exception of Netball and Boys Rugby League, all teams chosen are 12 year old sides.  While 10 and 11 year olds are eligible, they must be of a very high standard.  Most teams chosen will consist predominantly of 12 year olds. 10 year olds are NOT eligible for Girls Rugby League or Rugby Union.

It is also important to note, that only students who are available to attend both the Regional and State Championships, will be eligible for nomination.  All nominations for these trials need to go through the school, and decisions on which students are nominated is at the sole discretion of the school.   

Please note that the dates for trials are subject to change.

If your child would like to be considered for Toowoomba, Zone or Darling Downs Team selection, please check your availability for ALL the trial dates and complete the application form below. 

If your child meets the criteria to attend a chosen trial, they will receive information about the trial as it gets sent through to the school. 
Please complete the link below to register your child's nomination for representative sport.
https://forms.office.com/r/UqeXB10BEC
Upcoming Important Sport Dates
Central Zone Swimming Carnival – Wednesday 16th February
Darling Downs Swimming Carnival – Wednesday 2nd March
STM Cross Country – Tuesday 22nd March
Year 4 T-Ball Gala Day – Tuesday 29th March
2022 TOOWOOMBA SCHOOL SPORT
12 YEARS AND UNDER SPORTING CALENDAR
As at 4 February 2022 (Dates are subject to change)
SPORT

TOOWOOMBA ZONE

TRIAL DATES

REGIONAL SELECTION

TRIAL DATES

STATE CHAMPIONSHIP DATES

Aquathlon

Schools Nominate to DD

Friday 28 October 2022

(for 2023 Championships)

19 February

Australian Football

Schools Nominate to DD

Thursday 17 March

June 9-12

Basketball

Boys & Girls

Boys - Thurs 3 March

Girls - Mon 7 March

Tuesday 29 March

May 26-29

Cricket - Boys

Mon 15 & Tues 16 August

Country Trials

Friday 19 August

DD Trials August 29-30

October 16-20

Cricket – Girls

Wed 17 August

Tuesday August 30

October 16-19

Cross Country

Fri 29 April

Tuesday 17 May

Wet Day 18 May

July 16-18

Football – Boys

Wed 20 April

Monday 9 &

Tuesday 10 May

July 28-31

Football – Girls

Wed 20 April

Tuesday 10 May

July 28-31

Golf

Schools Nominate to DD

Tuesday 15 February

May 22-25

Hockey

Boys & Girls

Tues 29 March

Tuesday 26 April

June 16-19

Netball

11 Yrs

Tues 29 March & Wed 30 March

Tuesday 26 April

August 13-14

Netball

12 Yrs

Tues 29 March & Wed 30 March

Tuesday 26 April

June 16-19

Orienteering

Schools Nominate to DD

Thursday 10 March

July 23-24

Rugby League

10 yrs

Sun 27 Feb

-

-

Rugby League

11 Yrs

Sun 27 & Mon 28 Feb

Tuesday 26 April

Selected players 27 April

July 4-8

Rugby League

Boys - 12 Yrs

Sun 27 & Mon 28 Feb

Tuesday 26 April

Selected players 27 April

June 23-28

Rugby League – Girls - 12 Yrs

Tues 7 & Thurs 9 June

Tuesday 19 July

September 15-18

Rugby Union

12 Yrs

Thurs 5, Fri 6 & Fri 13 May

Monday 6

& Tuesday 7 June

July 28 – 31

Softball – Girls & Boys

Thurs 24 Feb

Tuesday 29 March

August 25-28

Squash

Boys & Girls

Schools Nominate to DD

Tuesday 8 March

May 26-29

Swimming

Noms Due 7 Feb

Range – 14 Feb

West – 15 Feb

Central – 16 Feb

Wednesday 2 March

March 21-23

Tennis

Boys & Girls

Fri 22 April

Monday 23 May

August 18-21

Touch Football – Boys & Girls

Range – 21 Feb

West – 22 Feb

Central – 23 Feb

Tuesday 17 March

June 16-19

Track & Field

Noms Due 22 July

1500m – 27 July

Range – 8 August

West – 9 August

Central – 10 August

Wednesday 24 August

Wet Day: Wed 29 August

October 11-12

Track & Field

(Multi-Class)

Schools Nominate to DD

Friday 12 August

October 11-12

Triathlon

Schools Nominate to DD

Sunday 23 October

(for 2023 Championships)

17-19 February
Have a great week!
Mrs Stacey Hancock
H&PE Teacher
2022 Calendar
We are so excited to share our official STM calendar with each of our families. The P&F and School collaborated on this project and we are very thankful to all our wonderful sponsors for their support.
John Gilbert Electrical

Reilly Real Estate

Westridge Fruit and Vegetables

Red Fox Lastercut and Engrave

Excavation Equipment

Glitter Gals

Tierney Signs

Ferrier & Co Solicitors

Horizon Accounting

Catering People

Busby's Electrical

Ardi's Test + Tag
Calendars will be sent home this week with the eldest student in each family. If you do not receive your calendar this week, please do a double check of school bags before contacting the school. If due to family circumstances you require a second calendar, please let Miss Byrne (Kristin.Byrne@twb.catholic.edu.au) or the Office know and we can arrange for another one to be sent home. We have a limited amount of additional calendars available.
COVID has impacted many school events in Term 1, so please find a list below of some dates you may need to alter in your calendar.
Please note that all our school assemblies and class and whole school Prayer Celebrations (include Ash Wednesday) will now be moved online. As we currently have students who we are unable to photograph or film, these celebrations will not be recorded and shared with the school community at this time. While we understand this is disappointing for our community, we are committed to respecting the privacy of our students and families.
Dates/Information to cross out …
Start of Term 1: Now Monday, February 7

th

Parent Information Evening (8/2/22) cancelled

School Board Meeting (8/2/22) cancelled

Catholic Swimming Carnival (9/2/22) cancelled

P&F Family Fun Day (13/2/22) cancelled



School Photos (22/2/22) postponed – new date TBC

Twilight Tour (16/3/22) cancelled
Dates/Information to change …
Year 4 Gold Prayer Celebration –

moved from 18/2/22 to 25/2/22

Year 6 Camp (7/3/22 – 11/3/22) –

moved to 1/8/22 – 3/8/22

Year 5 Camp (14/2/22 - 16/2/22) - moved to 31/8/22 and 1/9/22 as DAY TRIPS
Mother's Day Prayer Celebration

(6/5/22)

– change being led by

1 Gold

to

being led by 1 Blue
Dates to add …
Olympian visit for Year 4 – Year 6 (24/2/22)
We will continue to keep you updated of any further changes to the dates in our school calendar!
Something is different at STM this year ...
Over the holidays, we had an amazing team of parents from our school community kick start some wonderful projects. Thank you to the P&F for funding and organising for the beautification of the toilets, the wonderful 'step art', and the colourful mural on the way into the Year 3 and Year 4 building. If you have not checked these out yet, make sure you do this week! I am sure there are more specific thank-yous that need to be said which the P&F will do in the Newsletter next week.
P&F Projects
From our P&F
The P&F would like to invite all parents (new and old) to our next P&F meeting on Monday 14th February at 7 pm online via Zoom (invitation/link below).

P&F is a great way to get an idea of what's happening around the school and be an engaged and active participant in bettering your children's school.

If you have anything you would like discussed in the meeting please email THOPandF@twb.Catholic.edu.au

Zoom Invitation
Topic: P&M Valentine's Day Meeting
Time: Feb 14, 2022 07:00 PM Brisbane

Join from PC, Mac, Linux, iOS or Android: https://twbcatholic.zoom.us/j/64818813385

Join from SIP/H.323 room system: SIP: 64818813385@zmau.us H.323: 202.177.207.158 (meeting ID: 648 1881 3385)

Join from telephone (meeting ID: 648 1881 3385): (02) 8015 2088 (Sydney) (07) 3053 8570 (Brisbane) (08) 7150 1149 (Adelaide) (03) 8375 9112 (Melbourne)
International numbers available: https://twbcatholic.zoom.us/u/eeaVTWQ4kq

Join from Skype for Business (Lync): https://twbcatholic.zoom.us/skype/64818813385

We look forward to seeing you all on Zoom,
P&F Committee
Sentral Parent Portal App
If you haven't signed up for the Sentral Parent Portal app yet, please do so as soon as possible. Contact our office for more information.

Did you know you can submit student absences through the Sentral Parent Portal App? It's as easy as 1, 2, 3
Step 1: Open the Sentral Parent Portal App and click on the "Absences" icon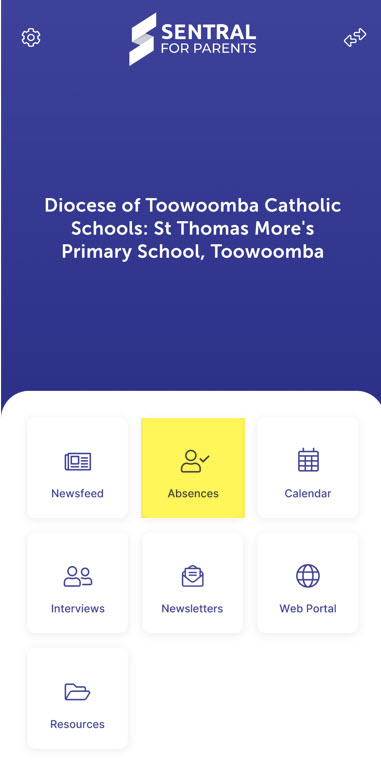 Step 2: Click on the + to add a new absence request (this needs to be completed for each student)
Step 3: Complete the details and hit "Submit"
OSHC Update
Operating Hours
Before School Care:
After School Care:
Mon - Fri 3:00pm – 6:00pm
Contact Details:
Phone: Main- 0429297592, Other- 0429301476
Email: stmcare@tckc.qld.edu.au
Did you know we offer Before School Care?
We are open from 6:30 am and take the children to the quad at 8:15 am. We provide breakfast for the children and a range of activities to interact and play with. If you are interested in your children attending before school care, please contact 0429 297 592 or stmcare@tckc.qld.edu.au
Thank you!
A huge thank you to Westridge Fruit and Vegetables for their continued support with the donation of fresh fruit every week for our students!

Dates to keep in mind for Term 1...
Each week in the update and newsletter we will include the important dates for the coming term. Make sure you check this weekly as new events will be added as they come up.
Date

Event

Monday, February 7th
Delayed Return to School for all STM Students
Friday, February 11th

Year 5 Parish Mass

9 am in the STM Church

Wednesday, February 16th
Central Zone Swimming Carnival
Friday, February 18th

Year 2 Parish Mass

9 am in the STM Church

Thursday, February 24th
Olympian Visit to STM for Year 4 - Year 6
Friday, February 25th

Year 3 Parish Mass

9 am in the STM Church




4 Gold Online Prayer Celebration

Tuesday, March 1st

Year 1 Dr Suess Dress Up Day

Wednesday, March 2nd

Ash Wednesday

DD Swimming Carnival

Sunday, March 6th

P&F Working Bee

Tuesday, March 8th

School Board Meeting

Friday, March 11th

Year 6 Just Leadership Day at STM


Year 1 Parish Mass

9 am in the STM Church




5 Gold Online Prayer Celebration

Monday, March 14th

P&F Meeting

Thursday, March 17th

St Patrick's Day

Wear your best green accessories

Friday, March 18th

Year 4 Parish Mass

9 am in the STM Church




2 Blue Online Prayer Celebration

Tuesday, March 22nd

STM Cross Country

Anderson Park

Monday, March 28th - Thursday, March 31st

Parent-Teacher Interviews

Friday, April 1st

Last Day of Term 1




Holy Week Prayer Celebration

Details TBC
Parish News
Click on the link to download a copy of the latest Parish Bulletin.