Term 1 - Week 4 - Newsletter
Prayer of the Week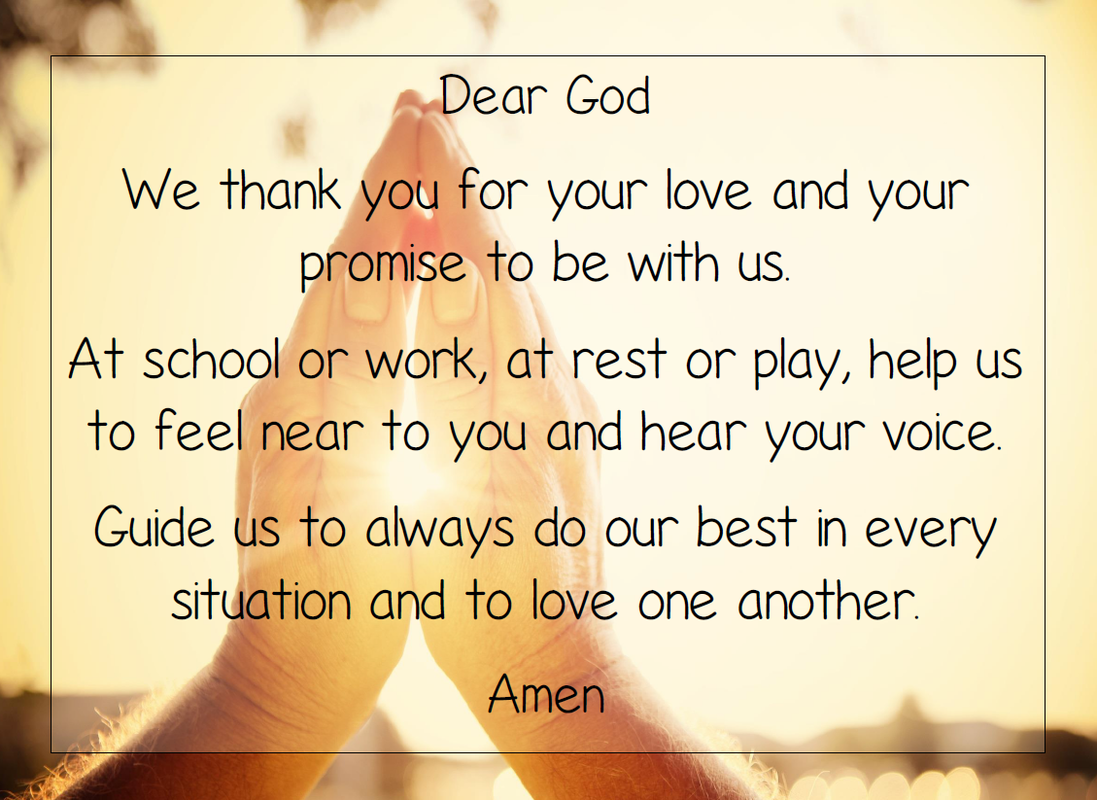 Image retrieved from https://www.hathernprimary.org/school-prayer.html
From our Principal
Dear STM Families,
As COVID-19 remains active in our community I ask you to continue to monitor your health and if you develop any flu-like symptoms:
Stay at home if you are unwell

Seek a PCR or Rapid Antigen test where it is recommended

Follow the advice of

Queensland Health

.
If any students or close family contacts are diagnosed with COVID-19 please inform the school immediately so we can support you and take any necessary action at a school level.
As we continue to navigate the pandemic, we encourage all in our STM community to continue to:
wear a mask when it is required or when you cannot physically distance

maintain good hand hygiene by regularly washing your hands

practice social distancing from others where possible
God bless,
Mr Michael Cash
Principal
From our APRE
Happy Valentine's Day!
What a wonderful school community to be part of on a day like today when we take the time to reflect on the good things in our lives! STM is a very loving and caring community, which is so evident in the interactions that are seen each and every day, especially in the sickbay during break times! There is never a shortage of helpers and support people for those injured on the playground!
Just a reminder that we are conducting all our Prayer Celebrations and School Assemblies online for the foreseeable future. We appreciate the support of the STM community during this time as we endeavour to ensure the safety of our students and staff.
We have some exciting things happening at STM this year. Keep your eyes peeled for further information in the emails about our production of Matilda Jnr The Musical! Mrs Skinner and I are very excited to work with students and families to bring this wonderful story and musical to life later this year.
This week I will be meeting with the Year 6 Students Representatives, House Representatives and Service Club to plot out a course of action for the year. I can't wait to hear what the students have in plan for STM in 2022! These meetings come at a perfect time as this week we will share a blessing of our leaders with Father Michael and Deacon Nathan. Unfortunately due to COVID restrictions families are unable to attend, but later this term when restrictions ease we plan to have a whole school celebration to induct our 2022 leaders.
Worship Choir (Year 3 - Year 6), Year 5 Social Justice Team and Service Club are definitely happening again this year but have been postponed until later this term pending COVID restrictions.
Have a wonderful week!
God Bless.
Miss Kristin Byrne
Assistant Principal: Religious Education
Sport News
Representative Swimming Carnivals
Congratulations to Olivia, Isabella, Nate, Remeeka, Kiara, Tamsyn, Mya, Makayla, Charlie, Matthew, Scarlett and Harrison on being selected to represent St Thomas More's at the Catholic Swimming Carnival and the Central Zone Swimming Carnival. Information has been emailed home to parents about attending these carnivals. We wish these students the best of luck. Unfortunately, the Catholic Swimming Carnival has been cancelled. I'm sure our swimmers are looking forward to the Central Zone Swimming Carnival.
Interschool Sport
Unfortunately, a decision has been made by the Toowoomba School Sport Association to cancel Term 1 interschool sport. The Year 5 & 6 teachers will run the same sports the students were going to be playing on a Friday afternoon instead. We will be offering boys AFL, girls touch and mixed volleyball. Towards the end of the term our focus will switch to practicing for our school cross country. Fingers crossed for Term 3 & 4 sport!
Representative Sport Information
Throughout the year Toowoomba Primary School Sport and Darling Downs School Sport run trials in a variety of sports to choose representative teams.  In most cases students are required to participate in a Toowoomba Trial to be eligible for a Darling Downs Trial. These teams will then travel away to Regional and State Championships. 

For a student to be eligible for nomination they must meet the following criteria:

1.        Be turning 10, 11 or 12 in the current calendar year. i.e. born in 2012, 2011, 2010

2.        Have had a reasonable amount of experience in their chosen sport.

3.        Have a high level of skill in their chosen sport.
 
In some cases, like touch football, where there are a number of interested candidates, the school may conduct in-house trials to choose players to be nominated for these trials.  This is important for a number of reasons; 1) the players that the school nominates need to meet the required selection criteria, 2) be of a suitable standard to trial and 3) schools are limited to a certain number of students at these trials. 

With the exception of Netball and Boys Rugby League, all teams chosen are 12 year old sides.  While 10 and 11 year olds are eligible, they must be of a very high standard.  Most teams chosen will consist predominantly of 12 year olds. 10 year olds are NOT eligible for Girls Rugby League or Rugby Union.

It is also important to note, that only students who are available to attend both the Regional and State Championships, will be eligible for nomination.  All nominations for these trials need to go through the school, and decisions on which students are nominated is at the sole discretion of the school.   

Please note that the dates for trials are subject to change.

If your child would like to be considered for Toowoomba, Zone or Darling Downs Team selection, please check your availability for ALL the trial dates and complete the application form below. 

If your child meets the criteria to attend a chosen trial, they will receive information about the trial as it gets sent through to the school. 
Please complete the link below to register your child's nomination for representative sport.
https://forms.office.com/r/UqeXB10BEC
Upcoming Important Sport Dates
Central Zone Swimming Carnival – Wednesday 16th February
Darling Downs Swimming Carnival – Wednesday 2nd March
STM Cross Country – Tuesday 22nd March
Year 4 T-Ball Gala Day – Tuesday 29th March
2022 TOOWOOMBA SCHOOL SPORT
12 YEARS AND UNDER SPORTING CALENDAR
As at 4 February 2022 (Dates are subject to change)
SPORT

TOOWOOMBA ZONE

TRIAL DATES

REGIONAL SELECTION

TRIAL DATES

STATE CHAMPIONSHIP DATES

Aquathlon

Schools Nominate to DD

Friday 28 October 2022

(for 2023 Championships)

19 February

Australian Football

Schools Nominate to DD

Thursday 17 March

June 9-12

Basketball

Boys & Girls

Boys - Thurs 3 March

Girls - Mon 7 March

Tuesday 29 March

May 26-29

Cricket - Boys

Mon 15 & Tues 16 August

Country Trials

Friday 19 August

DD Trials August 29-30

October 16-20

Cricket – Girls

Wed 17 August

Tuesday August 30

October 16-19

Cross Country

Fri 29 April

Tuesday 17 May

Wet Day 18 May

July 16-18

Football – Boys

Wed 20 April

Monday 9 &

Tuesday 10 May

July 28-31

Football – Girls

Wed 20 April

Tuesday 10 May

July 28-31

Golf

Schools Nominate to DD

Tuesday 15 February

May 22-25

Hockey

Boys & Girls

Tues 29 March

Tuesday 26 April

June 16-19

Netball

11 Yrs

Tues 29 March & Wed 30 March

Tuesday 26 April

August 13-14

Netball

12 Yrs

Tues 29 March & Wed 30 March

Tuesday 26 April

June 16-19

Orienteering

Schools Nominate to DD

Thursday 10 March

July 23-24

Rugby League

10 yrs

Sun 27 Feb

-

-

Rugby League

11 Yrs

Sun 27 & Mon 28 Feb

Tuesday 26 April

Selected players 27 April

July 4-8

Rugby League

Boys - 12 Yrs

Sun 27 & Mon 28 Feb

Tuesday 26 April

Selected players 27 April

June 23-28

Rugby League – Girls - 12 Yrs

Tues 7 & Thurs 9 June

Tuesday 19 July

September 15-18

Rugby Union

12 Yrs

Thurs 5, Fri 6 & Fri 13 May

Monday 6

& Tuesday 7 June

July 28 – 31

Softball – Girls & Boys

Thurs 24 Feb

Tuesday 29 March

August 25-28

Squash

Boys & Girls

Schools Nominate to DD

Tuesday 8 March

May 26-29

Swimming

Noms Due 7 Feb

Range – 14 Feb

West – 15 Feb

Central – 16 Feb

Wednesday 2 March

March 21-23

Tennis

Boys & Girls

Fri 22 April

Monday 23 May

August 18-21

Touch Football – Boys & Girls

Range – 21 Feb

West – 22 Feb

Central – 23 Feb

Tuesday 17 March

June 16-19

Track & Field

Noms Due 22 July

1500m – 27 July

Range – 8 August

West – 9 August

Central – 10 August

Wednesday 24 August

Wet Day: Wed 29 August

October 11-12

Track & Field

(Multi-Class)

Schools Nominate to DD

Friday 12 August

October 11-12

Triathlon

Schools Nominate to DD

Sunday 23 October

(for 2023 Championships)

17-19 February
Have a great week!
Mrs Stacey Hancock
H&PE Teacher
From our School Counsellor
I want to extend a warm welcome to all our new and returning families to our school community. I hope you have all started to settle in at school after an extended school holiday break. This year has started a little differently than previously and there may be challenges ahead dealing with the changes that the pandemic has brought, however there are ways to support your child through these difficult times to feel calmer and to be able to cope with these challenges. Learning how to relax and manage change is a skill that can be learnt and with practice can be effective in building resilience.
First identify what is causing stress for your child and consider how you already support your child, looking at what seems to help the best when they are upset or angry. Talk about any worries and work out a way to help your child to manage them. Teach your child who they can talk to about their feelings (e.g., family, teachers, friends). Teach your child to become aware of what they are feeling, and how to name the feeling and how it feels in their body (e.g., any physical sensations like butterflies in my tummy). Teach your child a few calming techniques (e.g., positive self-talk, slow breathing, fidget toy, comfort toy, take a break, ask for help, use coping cards). Practice using these calming techniques at home and encourage your child to use them at school when they need to feel calmer. Speak to your child's Teacher if you have any concerns for your child and to arrange further support in class and at school if this is needed.
Wishing you all the best this year!
Jayne Farquharson
School Counsellor
For more ideas check out these websites:
*Go Zen: 50 Calm-Down ideas to Try with Kids of all Ages:
https://gozen.com/50-calm-down-ideas-to-try-with-kids-of-all-ages/
*Coping Skills for Kids: Calming Anxiety in Children and Managing Anger:
Anxiety - https://copingskillsforkids.com/calming-anxiety/;
Anger - https://copingskillsforkids.com/managing-anger
2022 Calendar
We are so excited to share our official STM calendar with each of our families. The P&F and School collaborated on this project and we are very thankful to all our wonderful sponsors for their support.
John Gilbert Electrical

Reilly Real Estate

Westridge Fruit and Vegetables

Red Fox Lastercut and Engrave

Excavation Equipment

Glitter Gals

Tierney Signs

Ferrier & Co Solicitors

Horizon Accounting

Catering People

Busby's Electrical

Ardi's Test + Tag
Calendars were sent home with the eldest student in each family last week. If you did not receive a calendar, please contact the school. If due to family circumstances you require a second calendar, please let Miss Byrne (Kristin.Byrne@twb.catholic.edu.au) or the Office know and we can arrange for another one to be sent home. We have a limited amount of additional calendars available.
COVID has impacted many school events in Term 1, so please find a list below of some dates you may need to alter in your calendar.
Please note that all our school assemblies and class and whole school Prayer Celebrations (include Ash Wednesday) will now be moved online. As we currently have students who we are unable to photograph or film, these celebrations will not be recorded and shared with the school community at this time. While we understand this is disappointing for our community, we are committed to respecting the privacy of our students and families.
Dates/Information to cross out …
Start of Term 1: Now Monday, February 7

th

Parent Information Evening (8/2/22) cancelled

School Board Meeting (8/2/22) cancelled

Catholic Swimming Carnival (9/2/22) cancelled

P&F Family Fun Day (13/2/22) cancelled



School Photos (22/2/22) postponed – new date TBC

Twilight Tour (16/3/22) cancelled
Dates/Information to change …
Year 4 Gold Prayer Celebration –

moved from 18/2/22 to 25/2/22

Year 6 Camp (7/3/22 – 11/3/22) –

moved to 1/8/22 – 3/8/22

Year 5 Camp (14/2/22 - 16/2/22) - moved to 31/8/22 and 1/9/22 as DAY TRIPS
Mother's Day Prayer Celebration

(6/5/22)

– change being led by

1 Gold

to

being led by 1 Blue
Dates to add …
Olympian visit for Year 4 – Year 6 (24/2/22)
We will continue to keep you updated of any further changes to the dates in our school calendar!
From our P&F
The P&F would like to invite all parents (new and old) to our next P&F meeting on Monday 14th February at 7 pm online via Zoom (invitation/link below).

P&F is a great way to get an idea of what's happening around the school and be an engaged and active participant in bettering your children's school.

If you have anything you would like discussed in the meeting please email THOPandF@twb.Catholic.edu.au

Zoom Invitation
Topic: P&M Valentine's Day Meeting
Time: Feb 14, 2022 07:00 PM Brisbane

Join from PC, Mac, Linux, iOS or Android: https://twbcatholic.zoom.us/j/64818813385

Join from SIP/H.323 room system: SIP: 64818813385@zmau.us H.323: 202.177.207.158 (meeting ID: 648 1881 3385)

Join from telephone (meeting ID: 648 1881 3385): (02) 8015 2088 (Sydney) (07) 3053 8570 (Brisbane) (08) 7150 1149 (Adelaide) (03) 8375 9112 (Melbourne)
International numbers available: https://twbcatholic.zoom.us/u/eeaVTWQ4kq

Join from Skype for Business (Lync): https://twbcatholic.zoom.us/skype/64818813385

We look forward to seeing you all on Zoom,
P&F Committee
Parent Engagement in 2022
"When families and schools work together, children are more likely to build good relationships and do better at school."
https://cspqld.schoolzineplus.com/parent-engagement

To continue on with our goals of building an engaged and active parent/teacher community that works together to provide the best outcomes for our whole school community, the Parent Engagement Committee has committed to providing a volunteer Parent Representative to each year level.

The Parent Rep for each cohort will:
-liaise with the teaching staff of their cohort to find out any goals/idea they may have to increase parent engagement in their particular grade (as a start, teachers and parent reps may need to introduce themselves via email whilst parents of higher grounds aren't on school grounds)
-keep up to date with all school correspondence-provide a friendly, welcoming face for all parents, especially new families to the school
-meet with new families to help them settle in, perhaps showing them areas such as lost property, tuckshop, stop, drop and go etc if needed-provide support for matters that don't necessarily need teacher intervention ie questions such as, where is the cross country held, how do we order tuckshop, how do I sign up to after school care, what is the email for the uniform shop.
-possibility to organise end of term or start of year catch ups for those who are interested (cohort dependent)

The role of the teachers in regards to the Parent Rep role will include :
- invite families to join our families Facebook page to connect with other parents. The group can be found at https://www.facebook.com/groups/612293628865467/
-introduce the Parent Reps via appropriate channels ie class newsletter, weekly email-where possible teaching staff are to meet with their cohort's parent rep to discuss ideas for the year
-continue the Parent Engagement goals of weekly communication with all parents and advising individual parents if their child is to receive an award (when face to face assemblies recommence)
-distribute emails from parent reps to all families to encourage parent engagement ... for example if there is to be an end of term play or class celebration
Our Parent Reps for this year are:

Prep
Jacinta McGovern: Cintab88@hotmail.com

Nicole Ward nichorgan@hotmail.com

Grade One
Megan Boulus: meganboulus@gmail.com
Kylie Haywood: kyliehaywoodbusiness@gmail.com

Grade Two
Sara Olive: jsolive@bigpond.com
Grade Three
Kylie Haywood: kyliehaywoodbusiness@gmail.com

Grade Four
Lisa Trethewie: ltrethewie@hotmail.com
Grade Five
Shontelle Petrie: shontelle.petrie@gmail.com

Grade Six
Annette Sturtridge: annettesturt@hotmail.com

We have such a wonderful team of parents and we look forward to working together with you all in 2022.
Kind regards,
The Parent Engagement committee
Takatsuki Photo Competition to mark Sister City mileston
To mark the 30th anniversary of Toowoomba's Sister City ties with Takatsuki in Japan, Toowoomba Regional Council is calling on photographers to submit pictures capturing the Regions' special features.
Toowoomba Region Mayor Paul Antonio said entries were open for the youth and adult categories in the Sister City Photographic Competition, which closes on February 27.
"We're proud to mark 30 years of friendship with Takatsuki and will commemorate the occasion with our Sister City Exhibition and Photographic Competition," Mayor Antonio said.
"Photographers of all abilities are invited to enter their pictures that reveal our Region's unique landscapes or characters. The competition also is open to Takatsuki photographers, with prizes on offer. "
Participants can enter up to four photographs. To submit entries, visit https://toowoombasistercities.myphotoclub.com.au/ Winners will be announced on March 7.
In addition to hosting a competition, the website listed above contains an online Sister City Photography Exhibition that has been curated by the Toowoomba Photographic Society and the Takatsuki Koeisha Photograph Association.
A full catalogue of competition entries will be added to the exhibition when the winners are announced.
Budding photographers can take advantage of free online workshops with Toowoomba Photographic Society members this month.
Register for one of the workshops to fine-tune your skills whether you are using a DSLR camera or a smartphone.
Workshops will be held on February 12 and 16 with youth events on February 14 and 19. Visit www.tr.qld.gov.au/photoworkshop for details.
Full story: https://www.tr.qld.gov.au/about-council/news-publications/media-releases/15118-toowoomba-takatsuki-photo-comp-to-mark-sister-city-milestone
Sentral Parent Portal App
If you haven't signed up for the Sentral Parent Portal app yet, please do so as soon as possible. Contact our office for more information.

Did you know you can submit student absences through the Sentral Parent Portal App? It's as easy as 1, 2, 3
Step 1: Open the Sentral Parent Portal App and click on the "Absences" icon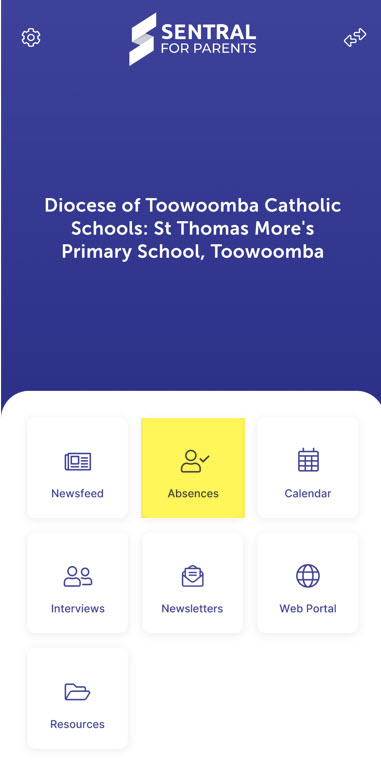 Step 2: Click on the + to add a new absence request (this needs to be completed for each student)
Step 3: Complete the details and hit "Submit"
OSHC Update
Operating Hours
Before School Care:
After School Care:
Mon - Fri 3:00pm – 6:00pm
Contact Details:
Phone: Main- 0429297592, Other- 0429301476
Email: stmcare@tckc.qld.edu.au
Did you know we offer Before School Care?
We are open from 6:30 am and take the children to the quad at 8:15 am. We provide breakfast for the children and a range of activities to interact and play with. If you are interested in your children attending before school care, please contact 0429 297 592 or stmcare@tckc.qld.edu.au
Thank you!
A huge thank you to Westridge Fruit and Vegetables for their continued support with the donation of fresh fruit every week for our students!

Dates to keep in mind for Term 1...
Each week in the update and newsletter we will include the important dates for the coming term. Make sure you check this weekly as new events will be added as they come up.
Date

Event

Wednesday, February 16th
Central Zone Swimming Carnival
Friday, February 18th

Year 2 Parish Mass

9 am in the STM Church

Thursday, February 24th
Olympian Visit to STM for Year 4 - Year 6
Friday, February 25th

Year 3 Parish Mass

9 am in the STM Church




4 Gold Online Prayer Celebration

Tuesday, March 1st

Year 1 Dr Suess Dress Up Day

Wednesday, March 2nd

Ash Wednesday

DD Swimming Carnival

Sunday, March 6th

P&F Working Bee

Tuesday, March 8th

School Board Meeting

Friday, March 11th

Year 6 Just Leadership Day at STM


Year 1 Parish Mass

9 am in the STM Church




5 Gold Online Prayer Celebration

Monday, March 14th

P&F Meeting

Thursday, March 17th

St Patrick's Day

Wear your best green accessories

Friday, March 18th

Year 4 Parish Mass

9 am in the STM Church




2 Blue Online Prayer Celebration

Tuesday, March 22nd

STM Cross Country

Anderson Park

Monday, March 28th - Thursday, March 31st

Parent-Teacher Interviews

Friday, April 1st

Last Day of Term 1




Holy Week Prayer Celebration

Details TBC
Saint Vincent De Paul Learn to Drive Program
Saint Vincent De Paul is offering driving lessons for migrants and refugees 25 years and over. The cost is $20 per lesson. Preference is given to those who have reasonable English comprehension and who have had some driving experience.
To make an appointment phone 1800 846 643 or email Vicki at charity.tba@svdpqld.org.au
Please see some further details in the flyers below.
Parish News
Click on the link to download a copy of the latest Parish Bulletin.