Term 1 - Week 5 - Update
Prayer of the Week
Image retrieved from https://www.pinterest.com.au/pin/800514902498057243/
From our Principal
Allergy Awareness and Management
Late in 2021, Allergy & Anaphylaxis Australia changed their guidelines for managing anaphylaxis in schools.
We are seeking your help to support the students in our school who are at risk of anaphylaxis.
Anaphylaxis is a severe allergic reaction that is potentially life-threatening. The most common causes of anaphylaxis in schools are food and insect allergies. The only way to prevent allergic reactions is to avoid being exposed to the allergen.
Food allergy is now common in school-aged children. Children can be allergic to any food, and it is not possible to completely remove all foods from our school. To help manage food allergies, our school is following the National Allergy Strategy Best Practice Guidelines (2021) which do not recommend banning foods as this is difficult to enforce and can bring a false sense of safety. Instead, we have chosen not to stock nuts and nut products in our canteen as these foods are not staple foods in the diet. We request that parents also consider not sending nuts to school, especially for younger students.
Our school is supporting students at risk of anaphylaxis in the following ways:
• training staff,
• encouraging good hygiene practices,
• encouraging students not to share food with friends.
As we educate our school community to help with the management of food allergy and anaphylaxis, the parents of the student with food allergy will continue to educate their child on self-management at a developmentally appropriate level.
We ask you to support the school's risk minimisation strategies outlined so that we can increase safety and provide an environment that meets the needs of all our students.
Pick Up Procedures Moving Forward

This week we will return to our normal pick up procedures with children being collected from 3pm at either the Ramsay St or South St entrance. To limit congestion at these points, students being collected after 3:15pm will still be supervised in the quad until the appropriate time.
Please ensure that your child/ren is/are aware of when & where they will need to wait as we will no longer be collating a list for this purpose.
Parents who wish to collect children early will need to sign them out at the office.
God bless,
Mr Michael Cash
Principal
From our APRE
Welcome to Week 5!
Last week we had a special visit from Deacon Nathan. With Father Michael's blessing he came along to help us celebrate our Year 6 leaders. We had a lovely blessing and badge ceremony. Thank you to the Year 5 and Year 6 teachers for making time in your busy timetables to allow us to share this special celebration and to Deacon Nathan for coming along to lead the celebration for us. It was also really special to have Olivia and Penny join us online!
Over the past week or so, I have been lucky enough to have had the opportunity to meet with our School Representatives, House Representatives and Service Club Leaders. I call myself lucky because these meetings have been an absolute joy! One of the many things we do well at STM is encouraging student voice and I think our leaders this year are going to have loud and proud voices! Our School Reps, House Reps and Service Club leaders and I have worked together to map out what their role as leaders will look like for the rest of 2022 and the one thing that is constant in all of the meetings I have had with these students is their desire to be hands-on leaders - to be servant leaders leading from the crowd just like Jesus. I can't wait to see what they will achieve with their enthusiasm and passion as the year unfolds! Make sure you check the Update and Newsletter each week so you don't miss messages from our Student Leaders about the wonderful things they have planned for Term 1!
This term our Year 1 students have been having a ball exploring texts by Dr Suess. To celebrate Dr Suess Day this year, our Year 1 students and staff are going to have their very own Dr Suess Dress Up Day next week. While this day usually brings lots of excited children and parents to school to share in a Dr Suess Parade, as we are still operating within TCS COVID Guidelines parents will not be able to attend the parade this year. I am sure the teachers will share some happy snaps of the day in their weekly news so I families don't miss out. Thank you in advance to the Year 1 families for your adherence to our current guidelines about limiting visits to the school grounds.
Now the dust has settled on the excitement that comes with the start of the school year I have finally been able to crack open the Matilda Jnr box that was delivered at the end of last year! Mrs Skinner and I are super excited to be working with children from Prep to Year 6 on bringing Matilda to life later this year. This term classes will find out which song they will be performing and will start to learn the lyrics in Music Lessons and in class. We will also look at holding auditions for the speaking parts later this term. If you're not familiar with Matilda, check out the link below with some highlights from the recent Australian tour. Although our budget won't match the national tour I know our STM enthusiasm will shine super bright when it is our turn to take to the stage!
https://www.youtube.com/watch?v=0yBTBSYEWZA
We currently have an army of staff excited to help out with the musical and over the coming weeks, I will let families know how they can be involved as well!
As mentioned a few weeks ago, during the Week 0 Professional Development Day, the STM staff had the opportunity to reflect on our school vision, mission, and values. We are still very keen to collect some baseline data about what the rest of our school community thinks about how these things are evident in our school community at large. One way students and families can do this is by contributing to the hallway display outside my room. Can you think of how we live life in all its fullness at STM? Or perhaps you can think of what justice, joy, hope and faith looks like at STM. I'd love to know your thoughts. Feel free to add to the giant poster or grab a justice, joy, hope and faith sheet and share what you think.
Have a wonderful week!
God Bless.
Miss Kristin Byrne
Assistant Principal: Religious Education
School-Wide Positive Behaviour Support (SWPBS)
St. Thomas More's is proud to introduce you to School-Wide Positive Behaviour Support (SWPBS), a framework that we utilise to support positive behaviour within our school. The purpose of SWPBS is to establish a climate in which appropriate behaviour is the norm. Teaching behavioural expectations, and rewarding students for following them is a much more positive approach than waiting for misbehaviour to occur before responding. The St. Thomas More's community has identified three school values: Be Safe, Be Responsible, Be Respectful as being the key expectations required to develop a school culture and climate that would best facilitate increased student engagement, learning and wellbeing.
As part of the SWPBS framework, we have a behaviour matrix that sets our expectations for all students across all settings of the school and is based on our three school values. The matrix outlines the behaviours we will be explicitly teaching and expecting our students to display. This matrix is shown below and can also be found in our Student Behaviour Support Plan.
As part of the SWPBL process, we will be implementing a school-wide behaviour reward system in the form of GOTCHA tickets. Gotcha tickets will be distributed to all staff members to be used in both the classroom and in the playground. When students are 'caught' following our school-wide expectations, teachers will provide positive reinforcement to the child receiving the Gotcha ticket at the time the teacher sights the student engaging in the expected behaviour. The Junior Primary (P-1), Middle Primary (2-4) and Upper Primary (5-6) have a Gotcha box for playground Gotchas. Teachers will place completed Gotcha tickets in the appropriate box by Thursday afternoon ready for Friday morning assembly. The Gotcha tickets will be drawn at Friday morning assembly as a way to celebrate positive behaviour as a whole school. The students whose names are drawn will receive a prize from the school prize box. One ticket will be drawn from each box – 3 in total.
Names of students who received a GOTCHA ticket for the week will be entered onto a school Positive Behaviour database. Once a student achieves a set number of Gotchas, parents will be notified that their child will be receiving a certificate at assembly so that they can attend.
Our long-term goal as a SWPBS school is for staff, students and parents to name, acknowledge and teach these positive expected behaviours – Be Safe, Be Responsible, Be Respectful.
Sport News
Representative Swimming
Well done to all our students who attended the Central Zone Swimming Carnival last week. Congratulations to Remeeka Briggs, who has been selected in the Zone Team to compete at the Darling Downs Trials in March. Remeeka has been selected in the 11 Years Backstroke and Breaststroke. We wish her all the best.
Cross Country Training
Cross country training for Years 3-6 will commence this Wednesday (23rd Feb) morning. Training will be held at Anderson Park from 7:20am. We will try to run training each Wednesday and Friday mornings up until the carnival. If you wish your child to participate and they haven't already brought home a note, they will need to come see Mrs H for one. A reminder to bring a water bottle and any medication if required (e.g Asthma puffer).
Representative Sport Information
Throughout the year Toowoomba Primary School Sport and Darling Downs School Sport run trials in a variety of sports to choose representative teams.  In most cases students are required to participate in a Toowoomba Trial to be eligible for a Darling Downs Trial. These teams will then travel away to Regional and State Championships. 
**Please note that nominations have closed for some sports**

For a student to be eligible for nomination they must meet the following criteria:

1.        Be turning 10, 11 or 12 in the current calendar year. i.e. born in 2012, 2011, 2010

2.        Have had a reasonable amount of experience in their chosen sport.

3.        Have a high level of skill in their chosen sport.
 
In some cases, like touch football, where there are a number of interested candidates, the school may conduct in-house trials to choose players to be nominated for these trials.  This is important for a number of reasons; 1) the players that the school nominates need to meet the required selection criteria, 2) be of a suitable standard to trial and 3) schools are limited to a certain number of students at these trials. 

With the exception of Netball and Boys Rugby League, all teams chosen are 12 year old sides.  While 10 and 11 year olds are eligible, they must be of a very high standard.  Most teams chosen will consist predominantly of 12 year olds. 10 year olds are NOT eligible for Girls Rugby League or Rugby Union.

It is also important to note, that only students who are available to attend both the Regional and State Championships, will be eligible for nomination.  All nominations for these trials need to go through the school, and decisions on which students are nominated is at the sole discretion of the school.   

Please note that the dates for trials are subject to change.

If your child would like to be considered for Toowoomba, Zone or Darling Downs Team selection, please check your availability for ALL the trial dates and complete the application form below. 

If your child meets the criteria to attend a chosen trial, they will receive information about the trial as it gets sent through to the school. 
Please complete the link below to register your child's nomination for representative sport.
https://forms.office.com/r/UqeXB10BEC
Upcoming Important Sport Dates
Central Zone Swimming Carnival – Wednesday 16th February
Darling Downs Swimming Carnival – Wednesday 2nd March
STM Cross Country – Tuesday 22nd March
Year 4 T-Ball Gala Day – Tuesday 29th March
2022 TOOWOOMBA SCHOOL SPORT
12 YEARS AND UNDER SPORTING CALENDAR
As at 17 February 2022 (Dates are subject to change)
SPORT

TOOWOOMBA ZONE

TRIAL DATES

REGIONAL SELECTION

TRIAL DATES

STATE CHAMPIONSHIP DATES

Aquathlon

Schools Nominate to DD

Friday 28 October 2022

(for 2023 Championships)

19 February

Australian Football

Schools Nominate to DD

Thursday 17 March

June 9-12

Basketball

Boys & Girls

Boys - Thurs 3 March

Girls - Mon 7 March

Tuesday 29 March

May 26-29

Cricket - Boys

Mon 15 & Tues 16 August

Country Trials

Friday 19 August

DD Trials August 29-30

October 16-20

Cricket – Girls

Wed 17 August

Tuesday August 30

October 16-19

Cross Country

Fri 29 April

Tuesday 17 May

Wet Day 18 May

July 16-18

Football – Boys

Wed 20 April

Monday 9 &

Tuesday 10 May

July 28-31

Football – Girls

Wed 20 April

Tuesday 10 May

July 28-31

Golf

Schools Nominate to DD

Tuesday 15 February

May 22-25

Hockey

Boys & Girls

Tues 29 March

Tuesday 26 April

June 16-19

Netball

11 Yrs

Tues 29 March & Wed 30 March

Tuesday 26 April

August 13-14

Netball

12 Yrs

Tues 29 March & Wed 30 March

Tuesday 26 April

June 16-19

Orienteering

Schools Nominate to DD

Thursday 10 March

July 23-24

Rugby League

10 yrs

Sun 27 Feb

-

-

Rugby League

11 Yrs

Sun 27 & Mon 28 Feb

Tuesday 26 April

Selected players 27 April

July 4-8

Rugby League

Boys - 12 Yrs

Sun 27 & Mon 28 Feb

Tuesday 26 April

Selected players 27 April

June 23-28

Rugby League – Girls - 12 Yrs

Tues 7 & Thurs 9 June

Tuesday 19 July

September 15-18

Rugby Union

12 Yrs

Thurs 5, Fri 6 & Fri 13 May

Monday 6

& Tuesday 7 June

July 28 – 31

Softball – Girls & Boys

Thurs 24 Feb

Tuesday 29 March

August 25-28

Squash

Boys & Girls

Schools Nominate to DD

Tuesday 8 March

May 26-29

Swimming

Noms Due 7 Feb

Range – 14 Feb

West – 15 Feb

Central – 16 Feb

Wednesday 2 March

March 21-23

Tennis

Boys & Girls

Fri 22 April

Monday 23 May

August 18-21

Touch Football – Boys & Girls

Range – 21 Feb

West – 22 Feb

Central – 23 Feb

Tuesday 17 March

June 16-19

Track & Field

Noms Due 22 July

1500m – 27 July

Range – 8 August

West – 9 August

Central – 10 August

Wednesday 24 August

Wet Day: Wed 29 August

October 11-12

Track & Field

(Multi-Class)

Schools Nominate to DD

Friday 12 August

October 11-12

Triathlon

Schools Nominate to DD

Sunday 23 October

(for 2023 Championships)

17-19 February
Library News
Get Hooked on Reading - Prep, Year 1 and Year 2
Students who are in Prep, Year 1 and Year 2 can participate in the Get Hooked on Reading House Challenge by filling out a Reading sheet (attached below). The idea is that students can read a book or have a book read to them. The books can be school library books, books from home or books from the town library. Every ten books read will be ten points towards the House Reading Challenge and one entry into the Get Hooked on Reading Prize Draw. Students may complete more than one sheet. You are welcome to print out as many sheets as you need. More sheets are more points for your team and more chances to win. It also means more reading and more learning. A win-win situation for everybody!
Look Who Got Caught Reading!
Thank you to all the families who have sent photos of students who have been caught reading at home. Some students have been caught reading in some unusual locations. Our fishing net is looking great. Please continue to send me photos on my email - margy.heuschele@twb.catholic.edu.au. Each photo is one token for your child in our Get Hooked on Reading Promotion. Here are a few photos that have been sent in.
Get Caught Reading Photos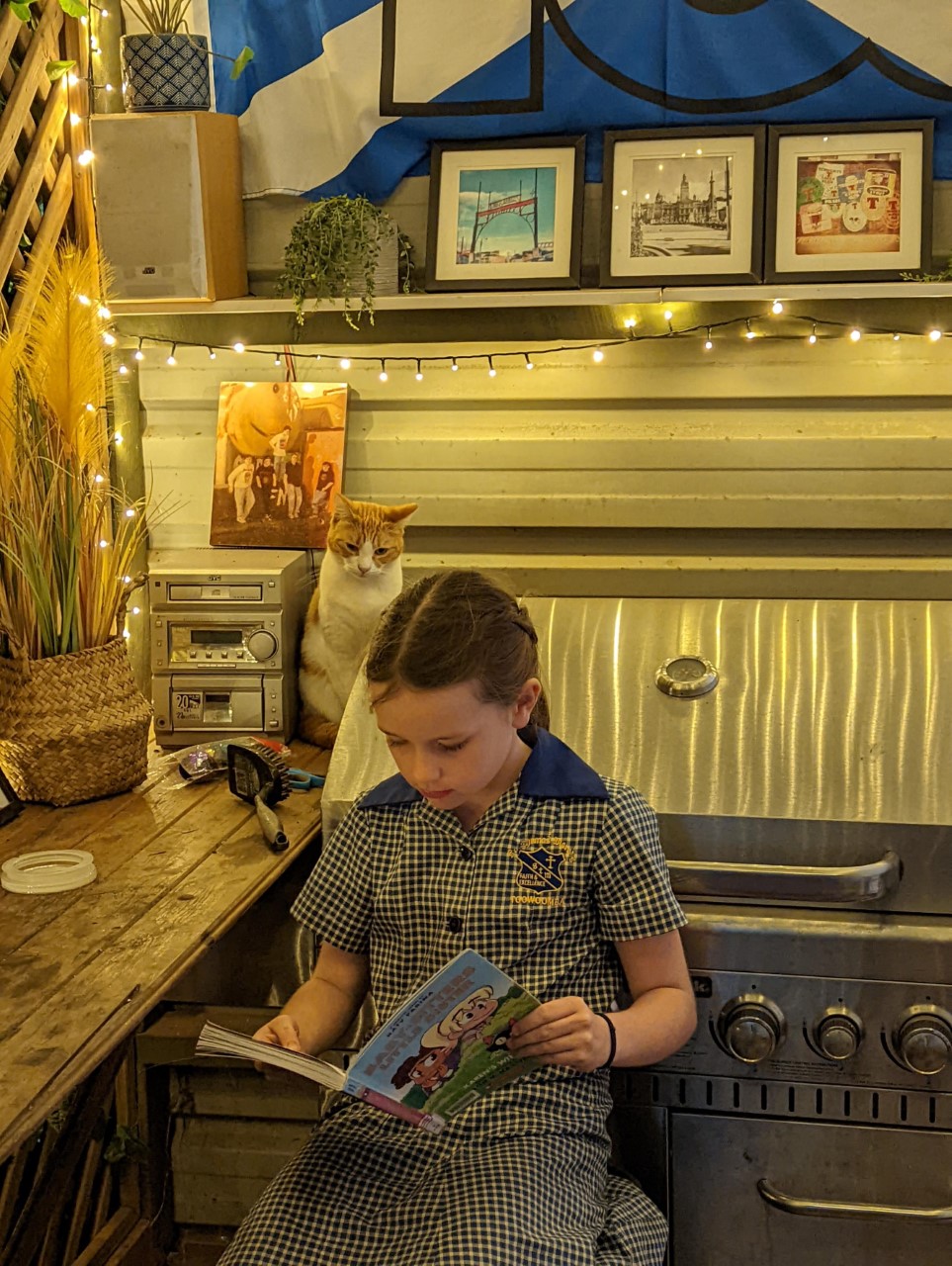 Don't forget to send in your camping, fishing and boating photos as well.
Boating, Camping and Fishing Photos
Library Fun
To go with the Get Hooked on Reading theme we have some fun camping and boating places for the students to read quietly. The students have really enjoyed getting into the spirit of the theme.
Fun in the Library Photos
Student Spotlight
This year we have an extremely enthusiastic group of Year 6 leaders. Over the coming weeks, we are going to introduce our leaders to you in the Update and Newsletter. This week we would like to introduce our community to our Student Representatives.
A message from Darcy ...
Hi, my name is Darcy. I have been at this school for 7 years this year and I am one of your 2022 School Representatives. As a school rep this year my fellow school rep and I have decided to take a very hands-on leadership approach. I want to make sure all of the school is connected from Prep to Grade Six.
I hope we can make this year a great one.
Thank you.
A message from Ava ...

Hello. My name is Ava. I started at St Thomas More's in Prep. I am one of your 2022 Student Representatives. This year my fellow School Rep and I are very passionate about being hands-on leaders. Ever since we started Prep we've learned a lot. This year, as School Representatives, we want to help all the other students learn lots as well and have a bright future.

I know we can make this year a great one!
God bless.
Awards
Wonderful work from our Week 3 and Week 4 award recipients! What a wonderful start to the 2022 school year for our students. As we are currently hosting our weekly assembly online we won't be posting a group photo of our award recipients at this time. Thank you again for your understanding with all of the COVID restrictions in place to help keep our STM community safe.
| | |
| --- | --- |
| Prep Gold | Layla and Steven |
| Prep Red | George and Eve |
| 1 Blue | Raiha, Erika, Annabelle, Elsie and Rueben |
| 1 Red | Florence, Lachlan, Thomas and Emily |
| 2 Blue | Mariana, Liam, Hallie, Ryan, Millie |
| 2 Gold | Max, Lilah, Joseph and Lauren |
| 2 Red | Brielle, Abel, Jax and Jonah |
| 3 Blue | Zayne, Penny, Imogen and Rhythm |
| 3 Gold | Noah, Malual, Jacob and Porscha |
| 3 Red | Noah, Leon, Carter and Kendall |
| 4 Blue | Isla, Esther, Charlotte, Abel and Abigail |
| 4 Gold | Elly, Mitchell, Annie and Vance |
| 4 Red | Mya, Audrey, Pippa, Harrison, Ali and Finlay |
| 5 Blue | Dakota-May, Riley, Zirayha, Harrison, Hudson and Navya |
| 5 Gold | Zara, Nathan, Cooper and Maeve |
| 5/6 Red | Ruby, Amelia, Toby, Braith, Isaac and Brooklyn |
| 6 Blue | Slate, Aidan P, Lillee, Will, Gloria and Lucy |
| 6 Gold | Ava, Makenzie, Lincoln, Thomas, Ryder and Aimee |
| Sport | Darcy and Sebastian |
| OSHC | None this fortnight |
Uniform Shop Update
The Uniform Shop will have reduced hours this term.
Monday: 8.15 am-8.45 am
Friday: 8.15 am-8.45 am
Email orders are encouraged thouniform@twb.catholic.edu.au
2022 Calendar
We are so excited to share our official STM calendar with each of our families. The P&F and School collaborated on this project and we are very thankful to all our wonderful sponsors for their support.
John Gilbert Electrical

Reilly Real Estate

Westridge Fruit and Vegetables

Red Fox Lastercut and Engrave

Excavation Equipment

Glitter Gals

Tierney Signs

Ferrier & Co Solicitors

Horizon Accounting

Catering People

Busby's Electrical

Ardi's Test + Tag
Calendars have been sent home with a list of dates to change. Fingers crossed COVID won't change too many plans beyond Term 1. If your family did not receive a calendar or you need an additional calendar because of family circumstances, please come and see Jodie in the office. Alternatively, you can contact Jodie (stthomas@twb.catholic.edu.au) or Kris (Kristin.Byrne@twb.catholic.edu.au) via email and another calendar can be arranged for you.
Please note that all our school assemblies and class and whole school Prayer Celebrations (include Ash Wednesday) will now be moved online. As we currently have students who we are unable to photograph or film, these celebrations will not be recorded and shared with the school community at this time. While we understand this is disappointing for our community, we are committed to respecting the privacy of our students and families.

We will continue to keep you updated of any further changes to the dates in our school calendar!
From our Uniform Shop
The Uniform Shop will be operating at reduced hours this term. Please see Term 1 hours below ...
Monday: 8:15am - 8:45am
Friday: 8:15am - 8:45am
Email orders are encouraged. You can email your orders through to thouniform@twb.catholic.edu.au
Parent Engagement in 2022
"When families and schools work together, children are more likely to build good relationships and do better at school."
https://cspqld.schoolzineplus.com/parent-engagement

To continue on with our goals of building an engaged and active parent/teacher community that works together to provide the best outcomes for our whole school community, the Parent Engagement Committee has committed to providing a volunteer Parent Representative to each year level.

The Parent Rep for each cohort will:
-liaise with the teaching staff of their cohort to find out any goals/idea they may have to increase parent engagement in their particular grade (as a start, teachers and parent reps may need to introduce themselves via email whilst parents are discouraged from coming on school ground in accordance with COVID guidelines received from TCSO)
-keep up to date with all school correspondence-provide a friendly, welcoming face for all parents, especially new families to the school
-meet with new families to help them settle in, perhaps showing them areas such as lost property, tuckshop, stop, drop and go etc if needed-provide support for matters that don't necessarily need teacher intervention ie questions such as, where is the cross country held, how do we order tuckshop, how do I sign up to after school care, what is the email for the uniform shop.
-possibility to organise end of term or start of year catch ups for those who are interested (cohort dependent)


The role of the teachers in regards to the Parent Rep role will include :
- invite families to join our families Facebook page to connect with other parents. The group can be found at https://www.facebook.com/groups/612293628865467/
-introduce the Parent Reps via appropriate channels ie class newsletter, weekly email-where possible teaching staff are to meet with their cohort's parent rep to discuss ideas for the year
-continue the Parent Engagement goals of weekly communication with all parents and advising individual parents if their child is to receive an award (when face to face assemblies recommence)
-distribute emails from parent reps to all families to encourage parent engagement ... for example if there is to be an end of term play or class celebration
Our Parent Reps for this year are:
Prep
Jacinta McGovern: Cintab88@hotmail.com
Nicole Ward nichorgan@hotmail.com
Grade One
Megan Boulus: meganboulus@gmail.com
Kylie Haywood: kyliehaywoodbusiness@gmail.com
Grade Two
Sara Olive: jsolive@bigpond.com
Grade Three
Kylie Haywood: kyliehaywoodbusiness@gmail.com
Grade Four
Lisa Trethewie: ltrethewie@hotmail.com
Grade Five
Shontelle Petrie: shontelle.petrie@gmail.com
Grade Six
Annette Sturtridge: annettesturt@hotmail.com
We have such a wonderful team of parents and we look forward to working together with you all in 2022.
Kind regards,
The Parent Engagement Committee
From our P&F
Every parent/carer is automatically a member of the P&F and can attend our monthly meetings (held on the second Monday of each month at 7pm). You can contact the P&F by emailing THOPandF@twb.catholic.edu.au

🔵Meet the 2022 P&F committee 🟡
The executive committee is made up of volunteers, elected by their peers, all committed to making a positive difference to the school community.

This year's executive committee is:
🔵President -Kylie Haywood
🟡Vice President - Shontelle Petrie
🔵Secretary - Jacqui Milligan
🟡Treasurer - Jacinta Mah Yen
🔵Diocesan Reps - Christine L'Estrange, Andrew Ward and Megan Boulus
🟡Committee Members - Lisa Trethewie, Tina Walsh, Carissa Dewer and Jacinta McGovern

We look forward to working with parents, staff and students this year to continue creating a welcoming, inclusive and progressive community.
Sentral Parent Portal App
If you haven't signed up for the Sentral Parent Portal app yet, please do so as soon as possible. Contact our office for more information.

Did you know you can submit student absences through the Sentral Parent Portal App? It's as easy as 1, 2, 3
Step 1: Open the Sentral Parent Portal App and click on the "Absences" icon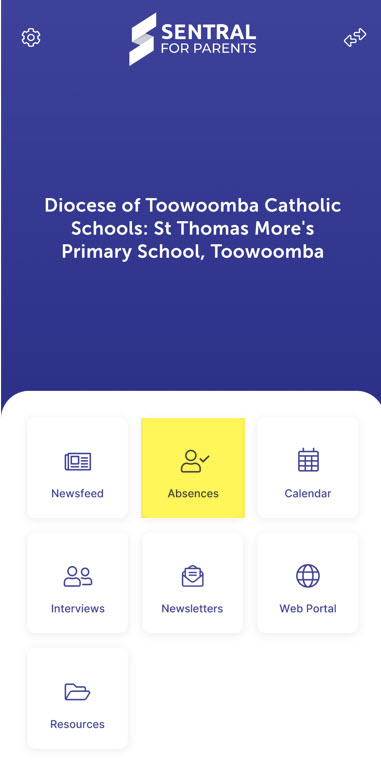 Step 2: Click on the + to add a new absence request (this needs to be completed for each student)
Step 3: Complete the details and hit "Submit"
OSHC Update
Come and join our OSHC Service!
We offer before school care from 6:30am – 8:15am. We provide the children with activities and games in the morning as well as breakfast if required.
We are still offering after school care running from 3:00pm – 6:00pm, we provide the children with afternoon tea and a late snack after 5pm.
Vacation Care will now be held in the school hall throughout the holidays, and we are open for the full day on pupil free days.
We love for you to join our OSHC family, if you would like to enrol your child please click on the following link to locate the enrolment form.
If you have any other queries about the services we offer, please contact Georgia-
Phone: 0429 297 592
Email- stmcare@tckc.qld.edu.au
Thank you!
A huge thank you to Westridge Fruit and Vegetables for their continued support with the donation of fresh fruit every week for our students!

Dates to keep in mind for Term 1...
Each week in the update and newsletter we will include the important dates for the coming term. Make sure you check this weekly as new events will be added as they come up.
Date

Event

Thursday, February 24th
Olympian Visit to STM for Year 4 - Year 6
Friday, February 25th

Year 3 Parish Mass

9 am in the STM Church




4 Gold Online Prayer Celebration

Tuesday, March 1st

Year 1 Dr Suess Dress Up Day

Wednesday, March 2nd

Ash Wednesday

DD Swimming Carnival

Sunday, March 6th

P&F Working Bee

Tuesday, March 8th

School Board Meeting

Friday, March 11th

Year 6 Just Leadership Day at STM


Year 1 Parish Mass

9 am in the STM Church




5 Gold Online Prayer Celebration

Monday, March 14th

P&F Meeting

Thursday, March 17th

St Patrick's Day

Wear your best green accessories

Friday, March 18th

Year 4 Parish Mass

9 am in the STM Church




2 Blue Online Prayer Celebration

Tuesday, March 22nd

STM Cross Country

Anderson Park

Monday, March 28th - Thursday, March 31st

Parent-Teacher Interviews

Friday, April 1st

Last Day of Term 1




Holy Week Prayer Celebration

Details TBC
Parish News
Click on the link to download a copy of the latest Parish Bulletin.