Term 1 - Week 6 - Newsletter
Prayer of the Week
Image retrieved from https://www.pinterest.com.au/pin/726979564833156251/
From our Principal
For parents who have not consented for their child's image to be used in the media:
As a school, we will do everything practicable to ensure that your child's image is not included in any photos or videos taken by school staff. We also have a protocol in place for parents and visitors to ensure that your decision and your family and child's privacy is maintained.
In supporting your request, during school events and when school photographs are taken, your child will be treated with dignity and care, and we will plan how they are engaged in these events without having their image included in photographs or videos taken by school staff. We will also remind parents and visitors of the protocol as appropriate.
Please be aware that this includes all school photos taken including ones at these school events:
- the class photo element of school photos from the visiting photographer
- weekly assembly award photos
- class liturgy photos
Please find the TCS Protocol around the photography of students below for your perusal.
God bless,
Mr Michael Cash
Principal
From our APRE
This week we celebrate Ash Wednesday, which marks the beginning of Lent, a special time in the year for the Church. On Wednesday Deacon Nathan will visit all of our classes and share an Ash Wednesday celebration with the students and staff. Ash Wednesday is an opportunity for individuals to consider the upcoming Lenten and Easter seasons and consider how God and Jesus are present in their lives. When I was a little girl, Lent was always a time when we would be encouraged to give something up - chocolate and lollies usually topping the list of suggestions. Although giving up something you enjoy does send a clear message about a commitment to fasting (a key element of Lent), I instead urge our STM school community to consider Pope Francis' ideas on fasting instead ...
Image retrieved from http://judyrigby.com/category/lent/
Instead of giving up something we enjoy, let's take the challenge of kindness this year during our Lenten journey and find something kind to do for someone else each day! If you need some ideas I have attached a Lenten calendar at the bottom of my section that might help you out. I also encourage the big and little members of our school community to make use of our kindness envelopes during Lent as well! Pick a kind deed from the 'kindness is like confetti' display that is outside my room and see how many people you can make smile!
Over the weekend a group of Year 6 students and staff attended the Project Compassion Launch Mass a St Patrick's Cathedral. Project Compassion is our main fundraising and awareness action in Term 1 and it was wonderful to see so many Year 6 leaders volunteer to be part of the special launch Mass over the weekend. Our Project Compassion campaign will begin this Wednesday, Ash Wednesday, as we begin our Lenten journey. Project Compassion is about much more than just donating money - although this is of course an important part of it. The theme for Project Compassion this year is For All Future Generations. Each week during Lent, our Service Club leaders will explore this theme by sharing stories and information with the school community.
As those who have been in our school community would know, we have a very active and passionate student body here at STM! One of the ways this passion is made most evident is in the commitment to the various student groups that run during term time. Mrs Heuschele has been busy organising her Library Monitors and Green Team Leaders and this week my groups will also start for 2022 from my room. Please see my groups for this term below. These groups will run weekly from 10:30 am - 11:05 am. Students can bring their lunch boxes down with them.
Monday: Worship Choir (Year 3 - Year 6)
Tuesday: Student Representative Meeting
Wednesday: Service Club Meeting
Thursday: House Representative Meeting
Friday: Year 5 Social Justice Team Meeting
Service Club fully intend on running their own groups this term and these details will be shared as soon as they have been finalised.
Have a wonderful week!
God Bless.
Miss Kristin Byrne
Assistant Principal: Religious Education
Sport News
Representative Sport Information
Throughout the year Toowoomba Primary School Sport and Darling Downs School Sport run trials in a variety of sports to choose representative teams.  In most cases students are required to participate in a Toowoomba Trial to be eligible for a Darling Downs Trial. These teams will then travel away to Regional and State Championships. 
**Please note that nominations have closed for some sports**

For a student to be eligible for nomination they must meet the following criteria:

1.        Be turning 10, 11 or 12 in the current calendar year. i.e. born in 2012, 2011, 2010

2.        Have had a reasonable amount of experience in their chosen sport.

3.        Have a high level of skill in their chosen sport.
 
In some cases, like touch football, where there are a number of interested candidates, the school may conduct in-house trials to choose players to be nominated for these trials.  This is important for a number of reasons; 1) the players that the school nominates need to meet the required selection criteria, 2) be of a suitable standard to trial and 3) schools are limited to a certain number of students at these trials. 

With the exception of Netball and Boys Rugby League, all teams chosen are 12 year old sides.  While 10 and 11 year olds are eligible, they must be of a very high standard.  Most teams chosen will consist predominantly of 12 year olds. 10 year olds are NOT eligible for Girls Rugby League or Rugby Union.

It is also important to note, that only students who are available to attend both the Regional and State Championships, will be eligible for nomination.  All nominations for these trials need to go through the school, and decisions on which students are nominated is at the sole discretion of the school.   

Please note that the dates for trials are subject to change.

If your child would like to be considered for Toowoomba, Zone or Darling Downs Team selection, please check your availability for ALL the trial dates and complete the application form below. 

If your child meets the criteria to attend a chosen trial, they will receive information about the trial as it gets sent through to the school. 
Please complete the link below to register your child's nomination for representative sport.
https://forms.office.com/r/UqeXB10BEC
Upcoming Important Sport Dates
STM Cross Country – Tuesday 22nd March
Year 4 T-Ball Gala Day – Tuesday 29th March
2022 TOOWOOMBA SCHOOL SPORT
12 YEARS AND UNDER SPORTING CALENDAR
**As at 17 February 2022 (Dates are subject to change)
SPORT

TOOWOOMBA ZONE

TRIAL DATES

REGIONAL SELECTION

TRIAL DATES

STATE CHAMPIONSHIP DATES

Aquathlon

Schools Nominate to DD

Friday 28 October 2022

(for 2023 Championships)

19 February

Australian Football

Schools Nominate to DD

Thursday 17 March

June 9-12

Basketball

Boys & Girls

Boys - Thurs 3 March

Girls - Mon 7 March

Tuesday 29 March

May 26-29

Cricket - Boys

Mon 15 & Tues 16 August

Country Trials

Friday 19 August

DD Trials August 29-30

October 16-20

Cricket – Girls

Wed 17 August

Tuesday August 30

October 16-19

Cross Country

Fri 29 April

Tuesday 17 May

Wet Day 18 May

July 16-18

Football – Boys

Wed 20 April

Monday 9 &

Tuesday 10 May

July 28-31

Football – Girls

Wed 20 April

Tuesday 10 May

July 28-31

Golf

Schools Nominate to DD

Tuesday 15 February

May 22-25

Hockey

Boys & Girls

Tues 29 March

Tuesday 26 April

June 16-19

Netball

11 Yrs

Tues 29 March & Wed 30 March

Tuesday 26 April

August 13-14

Netball

12 Yrs

Tues 29 March & Wed 30 March

Tuesday 26 April

June 16-19

Orienteering

Schools Nominate to DD

Thursday 10 March

July 23-24

Rugby League

10 yrs

Sun 27 Feb

-

-

Rugby League

11 Yrs

Sun 27 & Mon 28 Feb

Tuesday 26 April

Selected players 27 April

July 4-8

Rugby League

Boys - 12 Yrs

Sun 27 & Mon 28 Feb

Tuesday 26 April

Selected players 27 April

June 23-28

Rugby League – Girls - 12 Yrs

Tues 7 & Thurs 9 June

Tuesday 19 July

September 15-18

Rugby Union

12 Yrs

Thurs 5, Fri 6 & Fri 13 May

Monday 6

& Tuesday 7 June

July 28 – 31

Softball – Girls & Boys

Thurs 24 Feb

Tuesday 29 March

August 25-28

Squash

Boys & Girls

Schools Nominate to DD

Tuesday 8 March

May 26-29

Swimming

Noms Due 7 Feb

Range – 14 Feb

West – 15 Feb

Central – 16 Feb

Wednesday 2 March

March 21-23

Tennis

Boys & Girls

Fri 22 April

Monday 23 May

August 18-21

Touch Football – Boys & Girls

Range – 21 Feb

West – 22 Feb

Central – 23 Feb

Tuesday 17 March

June 16-19

Track & Field

Noms Due 22 July

1500m – 27 July

Range – 8 August

West – 9 August

Central – 10 August

Wednesday 24 August

Wet Day: Wed 29 August

October 11-12

Track & Field

(Multi-Class)

Schools Nominate to DD

Friday 12 August

October 11-12

Triathlon

Schools Nominate to DD

Sunday 23 October

(for 2023 Championships)

17-19 February
Have a great week!
Mrs Stacey Hancock
H&PE Teacher
Student Spotlight
This term we will be introducing our Student Leaders each week through our Updates and Newsletters. This week we want to introduce two of our Service Club Leaders to you - Olivia and Oliver.
Hello, my name is Olivia. I have been at St Thomas More's Primary School since Prep. This year I am one of your Service Club Leaders. Service Club have been a big part of the school community during all of my time at STM. I want to continue their good work this year.
God Bless,
Olivia
Hello, my name is Oliver. I have been at St Thomas More's since Prep and this year I will be one of your seven Service Club leaders. Service Club has played a big role in the school community throughout all of STM history. I'm hoping to be the best Service Club leader I can be.
Thanks,
Oliver
Awards
Congratulations to our Week 5 award recipients! Wonderful work!
Prep Gold

Enoch

Prep Red

William

Evelyn

1 Blue

Ruby

Louie

Morgan

1 Red

Eric

Isabel

Michael

2 Blue

Chloe

Zane

2 Gold

Mia

Maddison

2 Red

Axel

James

Aaliyah

3 Blue

Marley

Emily

3 Gold

Amelie

Ruby

3 Red

Shanya

Nicholas

4 Blue

Gabriel

Crystal

Rigveda

4 Gold

Nhyckah

Wyatt

4 Red

James McG

Matilda

5 Blue

Patience

Kuai

Seth

5 Gold
Emma
5/6 Red

Abby

Braxtyn

Erin

6 Blue

Jorja

Rita

Charlie

6 Gold

Hendrix

Addison

Etycas

Sport

Noah

Liam

OSHC
None this week
Gotcha Luck Draw Winners
Morgan, Jonah J and Izabella
From our Uniform Shop
The Uniform Shop will be operating at reduced hours this term. Please see Term 1 hours below ...
Monday: 8:15am - 8:45am
Friday: 8:15am - 8:45am
Email orders are encouraged. You can email your orders through to thouniform@twb.catholic.edu.au
2022 St Thomas More's Sacramental Program
Confirmation and First Communion 2022
Parents are invited to register their child for Sacramental Preparation 2022 which will take place after Easter. The Sacrament of Confirmation will be celebrated at St Thomas More's Church on Wednesday 1st June at 6.30 pm. First Communion will be celebrated at St Thomas More's Church over the weekend of 18 & 19 June. Registration is open to children in Year 4 and above who have been Baptised and completed preparation to receive the Sacrament of Penance. A Parent Information Session will be held on Wednesday 27 April and will outline the preparation program. All parents are encouraged to attend.
A more detailed letter regarding the Sacramental Program for 2022 will be sent home this week with students in Year 4, Year 5 and Year 6 which includes a registration form. Registrations forms can be handed into Miss Byrne or directly to the Parish Office.
Any queries can be directed to John Briffa, the Parish Leader on 0428 720 865 or by email: parishleader@stthomasmores.org.au
Parent Engagement in 2022
"When families and schools work together, children are more likely to build good relationships and do better at school."
https://cspqld.schoolzineplus.com/parent-engagement

To continue on with our goals of building an engaged and active parent/teacher community that works together to provide the best outcomes for our whole school community, the Parent Engagement Committee has committed to providing a volunteer Parent Representative to each year level.

The Parent Rep for each cohort will:
-liaise with the teaching staff of their cohort to find out any goals/idea they may have to increase parent engagement in their particular grade (as a start, teachers and parent reps may need to introduce themselves via email whilst parents are discouraged from coming on school ground in accordance with COVID guidelines received from TCSO)
-keep up to date with all school correspondence-provide a friendly, welcoming face for all parents, especially new families to the school
-meet with new families to help them settle in, perhaps showing them areas such as lost property, tuckshop, stop, drop and go etc if needed-provide support for matters that don't necessarily need teacher intervention ie questions such as, where is the cross country held, how do we order tuckshop, how do I sign up to after school care, what is the email for the uniform shop.
-possibility to organise end of term or start of year catch ups for those who are interested (cohort dependent)


The role of the teachers in regards to the Parent Rep role will include :
- invite families to join our families Facebook page to connect with other parents. The group can be found at https://www.facebook.com/groups/612293628865467/
-introduce the Parent Reps via appropriate channels ie class newsletter, weekly email-where possible teaching staff are to meet with their cohort's parent rep to discuss ideas for the year
-continue the Parent Engagement goals of weekly communication with all parents and advising individual parents if their child is to receive an award (when face to face assemblies recommence)
-distribute emails from parent reps to all families to encourage parent engagement ... for example if there is to be an end of term play or class celebration
Our Parent Reps for this year are:
Prep
Jacinta McGovern: Cintab88@hotmail.com
Nicole Ward nichorgan@hotmail.com
Grade One
Megan Boulus: meganboulus@gmail.com
Kylie Haywood: kyliehaywoodbusiness@gmail.com
Grade Two
Sara Olive: jsolive@bigpond.com
Grade Three
Kylie Haywood: kyliehaywoodbusiness@gmail.com
Grade Four
Lisa Trethewie: ltrethewie@hotmail.com
Grade Five
Shontelle Petrie: shontelle.petrie@gmail.com
Grade Six
Annette Sturtridge: annettesturt@hotmail.com
We have such a wonderful team of parents and we look forward to working together with you all in 2022.
Kind regards,
The Parent Engagement Committee
From our P&F
Every parent/carer is automatically a member of the P&F and can attend our monthly meetings (held on the second Monday of each month at 7pm). You can contact the P&F by emailing THOPandF@twb.catholic.edu.au

🔵Meet the 2022 P&F committee 🟡
The executive committee is made up of volunteers, elected by their peers, all committed to making a positive difference to the school community.

This year's executive committee is:
🔵President -Kylie Haywood
🟡Vice President - Shontelle Petrie
🔵Secretary - Jacqui Milligan
🟡Treasurer - Jacinta Mah Yen
🔵Diocesan Reps - Christine L'Estrange, Andrew Ward and Megan Boulus
🟡Committee Members - Lisa Trethewie, Tina Walsh, Carissa Dewer and Jacinta McGovern

We look forward to working with parents, staff and students this year to continue creating a welcoming, inclusive and progressive community.
Sentral Parent Portal App
If you haven't signed up for the Sentral Parent Portal app yet, please do so as soon as possible. Contact our office for more information.

Did you know you can submit student absences through the Sentral Parent Portal App? It's as easy as 1, 2, 3
Step 1: Open the Sentral Parent Portal App and click on the "Absences" icon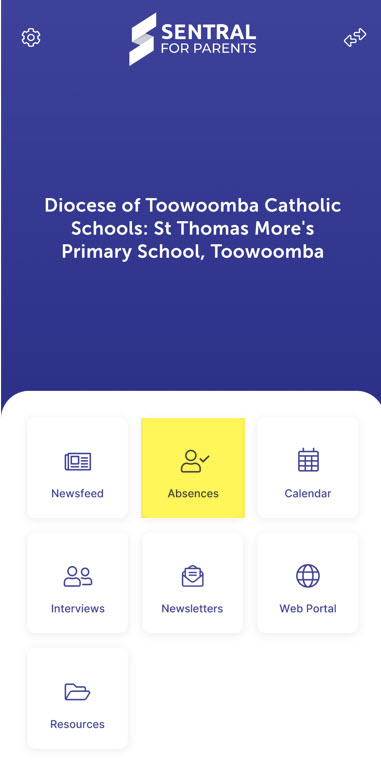 Step 2: Click on the + to add a new absence request (this needs to be completed for each student)
Step 3: Complete the details and hit "Submit"
Thank you!
A huge thank you to Westridge Fruit and Vegetables for their continued support with the donation of fresh fruit every week for our students!

Dates to keep in mind for Term 1...
Each week in the update and newsletter we will include the important dates for the coming term. Make sure you check this weekly as new events will be added as they come up.
Date

Event

Tuesday, March 1st

Year 1 Dr Suess Dress Up Day

Wednesday, March 2nd

Ash Wednesday

Sunday, March 6th

P&F Working Bee

Tuesday, March 8th

School Board Meeting

Friday, March 11th

Year 6 Just Leadership Day at STM


Year 1 Parish Mass

9 am in the STM Church




5 Gold Online Prayer Celebration

Monday, March 14th

P&F Meeting

Thursday, March 17th

St Patrick's Day

Wear your best green accessories

Friday, March 18th

Year 4 Parish Mass

9 am in the STM Church




2 Blue Online Prayer Celebration




Primary Leaders Mayoral Morning Tea

Tuesday, March 22nd

STM Cross Country

Anderson Park

Monday, March 28th - Thursday, March 31st

Parent-Teacher Interviews

Friday, April 1st

Last Day of Term 1




Holy Week Prayer Celebration

Details TBC
OSHC News
Please find attached the OSHC news for this week.
Parish News
Click on the link to download a copy of the latest Parish Bulletin.