Term 1 - Week 7 - Update
Prayer of the Week
Image retrieved from https://slideplayer.com/slide/3170606/
From our Principal
Dear STM Families,
As you are no doubt aware, some Covid related restrictions were eased at the end of last week. This included the lifting of the mask mandate in most settings, including schools, & the removal of density limits. This allows our school to return to large group gatherings for assemblies, liturgies & prayer celebrations. Restrictions on school camps & excursions have also be lifted.
Close contact rules remain unchanged & parents of children who are unwell or exhibiting Covid symptoms should:
Keep your child/children at home

Seek a PCR or Rapid Antigen test where it is recommended

Follow the advice of

Queensland Health

.
If a child exhibits Covid symptoms at school, parents will be notified to collect their child & will be provided with a RA Test to administer at home.
At this stage, I will continue to inform the school community of known cases.
Vaccine mandates remain in place for school staff, contractors & volunteers.
I had been asked if a vaccination clinic would be conducted at the school. This isn't planned by Qld Health but they have requested that the attached information be circulated to families.
God bless,
Mr Michael Cash
Principal
From our APRE
Last week marked the beginning of the season of Lent for the Catholic Church. On Wednesday Deacon Nathan came and celebrated Ash Wednesday with each class. He spoke with the children about the symbolism behind the ashes and how we can use the ashes to remind us that even from the worst of times and experiences, good things can happen. Although we could not distribute the ashes to our school community in the usual fashion, Deacon Nathan blessed a small jar of ashes for each class to place on their prayer table. These ashes will be a reminder to all those in our STM community who see them that God is with us on our Lenten journey this year. We thank Deacon Nathan for sharing Ash Wednesday celebrations with our classes (8 Prayer Celebrations in total!) and 5/6 Red for representing STM so beautifully at the Parish Ash Wednesday Mass.
Ash Wednesday at STM
Ash Wednesday marked the beginning of our Project Compassion Campaign at STM. Make sure you check out the information further down from Tobia and Ollie from the Service Club. They have some thoughts to share about what Lent is and how we can support others during Lent, as well as some information about how CARITAS uses the money raised during Project Compassion to help people around the world.
A belated thank you to 4 Gold for leading us in our first Prayer Celebration of the year in Week 5. It's always difficult being the first class to share ... and even more so when you are the first to share online! Thank you Miss Sore and 4 Gold for sharing some thoughts on the beginning of the school year with us. I think the pep talk from the Kid President (see below) was one of the highlights for me!
This Friday our Year 6 students will have the chance to reflect on some of the topics the Kid Present covers in his pep talk as they engage in their very own CARITAS Just Leadership Day. The children will be led through a series of activities that encourage them to think about what leadership means and how we need to see, act and judge to be good leaders.
We are also pleased to announce a rescheduled date for our Start of Year/Leadership Mass now our COVID restirctions have eased! Father Michael will come and celebrate Mass with Prep to Year 6 on Tuesday, March 29th. We will confirm the time of this celebration with our school community next week, but it will likely be in the morning session. Families members are most welcome to attend.
Just a reminder that groups running from my room have started again. All groups run from 10:30am - 11:05am. Please see details below ...
Monday: Worship Choir
Tuesday: Student Representative Meeting (fortnightly)
Wednesday: Service Club Meeting
Thursday: House Representative Meeting (fortnightly)
Friday: Year 5 Social Justice Club Meeting
Have a wonderful week!
God Bless.
Miss Kristin Byrne
Assistant Principal: Religious Education
Sport News
Cross Country Training
Cross country training for Years 3-6 will commence this Wednesday (23rd Feb) morning. Training will be held at Anderson Park from 7:20am. We will try to run training each Wednesday and Friday mornings up until the carnival. If you wish your child to participate and they haven't already brought home a note, they will need to come see Mrs H for one. A reminder to bring a water bottle and any medication if required (e.g Asthma puffer).
Representative Sport Information
Throughout the year Toowoomba Primary School Sport and Darling Downs School Sport run trials in a variety of sports to choose representative teams.  In most cases students are required to participate in a Toowoomba Trial to be eligible for a Darling Downs Trial. These teams will then travel away to Regional and State Championships. 
**Please note that nominations have closed for some sports**
For a student to be eligible for nomination they must meet the following criteria:

1.        Be turning 10, 11 or 12 in the current calendar year. i.e. born in 2012, 2011, 2010

2.        Have had a reasonable amount of experience in their chosen sport.

3.        Have a high level of skill in their chosen sport.
 
In some cases, like touch football, where there are a number of interested candidates, the school may conduct in-house trials to choose players to be nominated for these trials.  This is important for a number of reasons; 1) the players that the school nominates need to meet the required selection criteria, 2) be of a suitable standard to trial and 3) schools are limited to a certain number of students at these trials. 

With the exception of Netball and Boys Rugby League, all teams chosen are 12 year old sides.  While 10 and 11 year olds are eligible, they must be of a very high standard.  Most teams chosen will consist predominantly of 12 year olds. 10 year olds are NOT eligible for Girls Rugby League or Rugby Union.

It is also important to note, that only students who are available to attend both the Regional and State Championships, will be eligible for nomination.  All nominations for these trials need to go through the school, and decisions on which students are nominated is at the sole discretion of the school.   

Please note that the dates for trials are subject to change.

If your child would like to be considered for Toowoomba, Zone or Darling Downs Team selection, please check your availability for ALL the trial dates and complete the application form below. 

If your child meets the criteria to attend a chosen trial, they will receive information about the trial as it gets sent through to the school. 
Please complete the link below to register your child's nomination for representative sport.
https://forms.office.com/r/UqeXB10BEC
Upcoming Important Sport Dates
STM Cross Country – Tuesday 22nd March
Year 4 T-Ball Gala Day – Tuesday 29th March
2022 TOOWOOMBA SCHOOL SPORT
12 YEARS AND UNDER SPORTING CALENDAR
As at 17 February 2022 (Dates are subject to change)
SPORT

TOOWOOMBA ZONE

TRIAL DATES

REGIONAL SELECTION

TRIAL DATES

STATE CHAMPIONSHIP DATES

Aquathlon

Schools Nominate to DD

Friday 28 October 2022

(for 2023 Championships)

19 February

Australian Football

Schools Nominate to DD

Thursday 17 March

June 9-12

Basketball

Boys & Girls

Boys - Thurs 3 March

Girls - Mon 7 March

Tuesday 29 March

May 26-29

Cricket - Boys

Mon 15 & Tues 16 August

Country Trials

Friday 19 August

DD Trials August 29-30

October 16-20

Cricket – Girls

Wed 17 August

Tuesday August 30

October 16-19

Cross Country

Fri 29 April

Tuesday 17 May

Wet Day 18 May

July 16-18

Football – Boys

Wed 20 April

Monday 9 &

Tuesday 10 May

July 28-31

Football – Girls

Wed 20 April

Tuesday 10 May

July 28-31

Golf

Schools Nominate to DD

Tuesday 15 February

May 22-25

Hockey

Boys & Girls

Tues 29 March

Tuesday 26 April

June 16-19

Netball

11 Yrs

Tues 29 March & Wed 30 March

Tuesday 26 April

August 13-14

Netball

12 Yrs

Tues 29 March & Wed 30 March

Tuesday 26 April

June 16-19

Orienteering

Schools Nominate to DD

Thursday 10 March

July 23-24

Rugby League

10 yrs

Sun 27 Feb

-

-

Rugby League

11 Yrs

Sun 27 & Mon 28 Feb

Tuesday 26 April

Selected players 27 April

July 4-8

Rugby League

Boys - 12 Yrs

Sun 27 & Mon 28 Feb

Tuesday 26 April

Selected players 27 April

June 23-28

Rugby League – Girls - 12 Yrs

Tues 7 & Thurs 9 June

Tuesday 19 July

September 15-18

Rugby Union

12 Yrs

Thurs 5, Fri 6 & Fri 13 May

Monday 6

& Tuesday 7 June

July 28 – 31

Softball – Girls & Boys

Thurs 24 Feb

Tuesday 29 March

August 25-28

Squash

Boys & Girls

Schools Nominate to DD

Tuesday 8 March

May 26-29

Swimming

Noms Due 7 Feb

Range – 14 Feb

West – 15 Feb

Central – 16 Feb

Wednesday 2 March

March 21-23

Tennis

Boys & Girls

Fri 22 April

Monday 23 May

August 18-21

Touch Football – Boys & Girls

Range – 21 Feb

West – 22 Feb

Central – 23 Feb

Tuesday 17 March

June 16-19

Track & Field

Noms Due 22 July

1500m – 27 July

Range – 8 August

West – 9 August

Central – 10 August

Wednesday 24 August

Wet Day: Wed 29 August

October 11-12

Track & Field

(Multi-Class)

Schools Nominate to DD

Friday 12 August

October 11-12

Triathlon

Schools Nominate to DD

Sunday 23 October

(for 2023 Championships)

17-19 February
From our Library
Old Towels
Would anybody have any old towels they don't need anymore? They make really good worm blankets but they naturally break down over time and I have run out of my own supply. Stains, rips, holes are all welcome!
Free Plants
If you have just received your rates noticed lately and you don't need your free plant voucher, we would love you to donate them to the school. You can drop them off at the Office or at the Library.
Recycling Drink Containers
Near the library, we have a big wheelie bin labelled "EE Waste - Return 'em for Cash". If you have drink containers at home that can be recycled – bottles, poppers and cans and you would like to donate that money to the school, you are encouraged to put your containers in the bin. Alternatively, when you are recycling them at a Containers for Change Depot you can use our Scheme ID – C10473351 and that will ensure the money is deposited into our account. You can even add the Scheme ID to your mobile wallet. Over the two years that we have been collecting drink containers we have raised over $300 which goes towards Green Team projects.
Let's Catch Parents Reading!
This week I would love your children to catch you reading! Your children absorb everything that you do so why not be a reading role model for your children. I would love you to join in the fun, get the children to take a photo of you reading and send it to me via my email - margy.heuschele@twb.catholic.edu.au. Just to make it a bit more fun I will give every student 3 tokens for a photo of a parent/significant other reading.
Here are a few more students who have been caught reading in some pretty unusual locations! Please keep sending them in!

Students Caught Reading
Parents Caught Reading
House Challenge
Our fishing tournament is underway. At this point in time, MacKillop is leading the tally but it is still early days. Every time a student reads a book they can write a mini book review on a fish and add it to their house team's hook. Every time a student in Prep-Year 2 completes a reading sheet they get 10 points for their team. So the totals can change very quickly. We have three weeks left of the competition. Which team will win?

Get Caught Reading Competition Winners (Weeks 4 -6)
BOOK PRIZE WINNERS:
Elsie 1 Blue
Crystal 4 Blue
Rita 6 Blue
Scarlett 5 Gold
Emelia 5 Blue
TREASURE BOX PRIZE WINNERS:
Morgan 1 Blue
Mya 4 Red
Lauren 2 Gold
Max 2 Gold
Shanya 3 Red
Max 2 Gold
Fred 2 Gold
Isla 4 Blue
Abigail 1 Red
Ruby 3 Gold
We also have some other fun things happening in the library this year! See the flyers below for some information on our STM Bookclub and our Bee's Knees Magazine.
Student Spotlight
This year we have an extremely enthusiastic group of Year 6 leaders. Over the coming weeks, we are going to introduce our leaders to you in the Update and Newsletter. This week we would like to introduce our community to two more of our Service Club Leaders!
A message from Makenzie ...
Hello. My name is Makenzie and I am one of your Service Club leaders this year. I joined Service Club because I wanted to help other people. This year I want to be a hands-on leader and help as many people as I can.
God bless,
Makenzie
A message from Aidan ...
Hello, I'm Aidan and I am one of the Service Club leaders this year. I have been in STM for 7 years and I'm dedicated to Service Club. The reason I joined Service Club is because I want to help the school and other people.
God bless,
Aidan
Year 1 Dr Suess Day
This term Year 1 has been having a great time reading a range of Dr Suess stories. Dr Suess Day is celebrated across the world on March 2nd each year, which happens to be Dr Suess's birthday! This year our Year 1 classes celebrated a day early (because of Ash Wednesday) with a special Dr Suess Dress Up Day last Tuesday. Check out all these crazy Dr Suess characters?
Awards
Wonderful work from our Week 6 award recipients! Now that restrictions have lifted the plan is to go back to face-to-face assemblies and prayer celebrations starting this week which means we will be back to our weekly award winner photos in the next newsletter!
Prep Gold

Matthew

Kora

Prep Red

Adeline

Joyce

1 Blue

Patrick

Scarlett

Taj

1 Red

Jackson

Esther

Isabella

2 Blue

Isaac

Ava

2 Gold

Melitah

Dion

2 Red

Gavin

Landon

Ella

3 Blue

Oliver

Ryan

3 Gold

Johnathon

Olivia

3 Red

Alice

Hugo

4 Blue

Sophia

Jaxon

4 Gold

Eva

Peter

4 Red

Matthew

Zoe

5 Blue

Piper

Matilda

Ellouise

5 Gold

Izabella

Scarlet

5/6 Red

Paul

Tanisa

6 Blue

Namiya

Rehan

Penny

6 Gold

Aidan

Maria

Nate

Sport

Eric

Jonathon W

Gotcha Lucky Draw
Isabella C, Jett, Charlotte
OSHC
Raiden
From our Service Club
This week we will be sharing some information with you about Project Compassion. Project Compassion happens during Lent. Lent is a time for prayer, fasting, and almsgiving. This means during Lent we pray, we try to do good things for others and we give money to those in need. This year we are going to bring back 50c Fridays. Each Friday we encourage all students and staff to bring along 50c to put in their class Project Compassion Box. The class that raises the most money each week will receive the Project Compassion Cross to put on their prayer table for the following week. We will also be bringing back our Easter chocolate raffle during Lent to help raise more money for Project Compassion.
During our Project Compassion Campaign, we will be teaching you about some of the people CARITAS helps with Project Compassion money. This week we want to introduce you to Anatercia. She lives in Mozambique, which is an African country. Her village doesn't have electricity, a high school, a hospital or a supermarket. It used to be hard for her to get water for her family. She would spend up to 5 hours a day collecting water in 25L buckets for her family. The generous donations from people around the world allowed CARITAS to help Anatercia's village have easier access to water. CARITAS also bought her school supplies and a school uniform. She now gets to go to school every day. Please watch this video to learn a bit more about Anatercia.
We know that we can help people like Anatercia this year with our Project Compassion Campaign, so dig deep and donate what you can!
God Bless,
Tobias and Ollie
From our Uniform Shop
The Uniform Shop will be operating at reduced hours this term. Please see Term 1 hours below ...
Monday: 8:15am - 8:45am
Friday: 8:15am - 8:45am
Email orders are encouraged. You can email your orders through to thouniform@twb.catholic.edu.au
From our P&F
Every parent/carer is automatically a member of the P&F and can attend our monthly meetings (held on the second Monday of each month at 7pm). You can contact the P&F by emailing THOPandF@twb.catholic.edu.au
Our next P&F meeting will be held next Monday 14th March. This meeting will be held in person with an option to dial in via zoom. A zoom link will be sent out later this week for those who wish to attend online. All parents and staff are invited to join us for our next P&F meeting - it is a great way to be involved in your child's school and contribute to 'just one thing' in the school community.
See you all there!
Kylie, Shontelle, Jacqui and Jacinta
🔵Meet the 2022 P&F committee 🟡
The executive committee is made up of volunteers, elected by their peers, all committed to making a positive difference to the school community.

This year's executive committee is:
🔵President -Kylie Haywood
🟡Vice President - Shontelle Petrie
🔵Secretary - Jacqui Milligan
🟡Treasurer - Jacinta Mah Yen
🔵Diocesan Reps - Christine L'Estrange, Andrew Ward and Megan Boulus
🟡Committee Members - Lisa Trethewie, Tina Walsh, Carissa Dewer and Jacinta McGovern

We look forward to working with parents, staff and students this year to continue creating a welcoming, inclusive and progressive community.
Just One Thing in 2022
This year, the P&F has decided to introduce the concept of "Just One Thing".
The idea behind this is that if every family within the school volunteers their time to do "Just One Thing" we will be able to achieve so much as a community.
We know everyone doesn't have tonnes of hours to spare so we decided to put together a list of all the things that require volunteer support throughout the year so you can take a look and see what area you might be able to contribute to.
Over the last few years with the support of amazing volunteers we have achieved so much including but not limited to: the building of the peace garden, the assembly of the soccer nets around the school, the art work in the toilets, the mothers and fathers day's celebrations and family fun days!
Below is a link to a form with a list of what we have happening this year. Please take the time to look at it and see what and when your family might be able to contribute some time/resources towards the school.
https://forms.office.com/Pages...
If you would like, select the event/s you are able to help with and we can send you more information when available. Most events are child friendly or happen in school hours.
We know how wonderful this community of St Thomas More's is and we know with everyone chipping in to do "Just One Thing" we can make this school and community even better.
Thanking you
The P&F committee
Sacramental Program 2022
Confirmation and First Communion 2022
Parents are invited to register their child for Sacramental Preparation 2022 which will take place after Easter. The Sacrament of Confirmation will be celebrated at St Thomas More's Church on Wednesday 1st June at 6.30 pm. First Communion will be celebrated at St Thomas More's Church over the weekend of 18 & 19 June. Registration is open to children in Year 4 and above who have been Baptised and completed preparation to receive the Sacrament of Penance. A Parent Information Session will be held on Wednesday 27 April and will outline the preparation program. All parents are encouraged to attend.
A more detailed letter regarding the Sacramental Program for 2022 was sent home last week with students in Year 4, Year 5 and Year 6 which included a registration form. Registration forms can be handed into Miss Byrne or directly to the Parish Office.
Any queries can be directed to John Briffa, the Parish Leader on 0428 720 865 or by email: parishleader@stthomasmores.org.au
From our OSHC
We had a wonderful week at OSHC even though it rained some afternoons. Lillee took some amazing photos of the children on Wednesday and Thursday, some of those are featured below.
Below you can see our delicious afternoon tea being served by Maria, Esther and Ella. We provide the children healthy food to eat afterschool. Each day we have a different specialty food, popcorn, yoghurt, scrolls, mini pizzas and wraps/sandwiches. After the children eat they can have free play and can choose to participate in homework club or our planned activity.
The Easter Holidays are coming up fast! If you would like to book your child/ren in for vacation care please contact Georgia via phone or email.
OSHC Photos
Sentral Parent Portal App
If you haven't signed up for the Sentral Parent Portal app yet, please do so as soon as possible. Contact our office for more information.

Did you know you can submit student absences through the Sentral Parent Portal App? It's as easy as 1, 2, 3
Step 1: Open the Sentral Parent Portal App and click on the "Absences" icon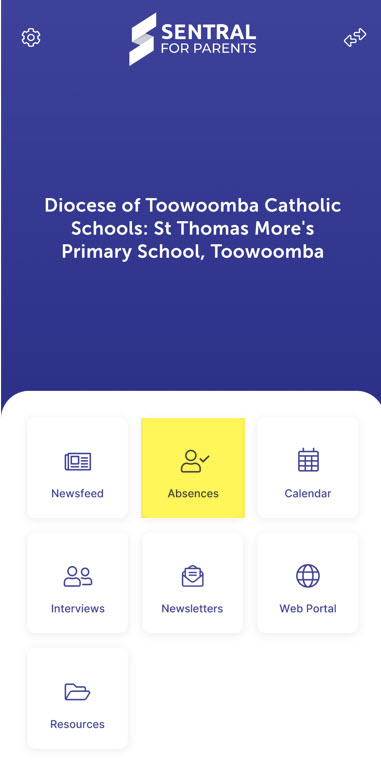 Step 2: Click on the + to add a new absence request (this needs to be completed for each student)
Step 3: Complete the details and hit "Submit"
Thank you!
A huge thank you to Westridge Fruit and Vegetables for their continued support with the donation of fresh fruit every week for our students!

Dates to keep in mind for Term 1...
Each week in the update and newsletter we will include the important dates for the coming term. Make sure you check this weekly as new events will be added as they come up.
Date

Event

Tuesday, March 8th

School Board Meeting

Friday, March 11th

Year 6 Just Leadership Day at STM


Year 1 Parish Mass

9 am in the STM Church




5 Gold Prayer Celebration

11:30 am in the STM Church

Families Welcome

Monday, March 14th

P&F Meeting

Thursday, March 17th

St Patrick's Day

Wear your best green accessories

Friday, March 18th

Year 4 Parish Mass

9 am in the STM Church




2 Blue Prayer Celebration

11:30 am in the STM Church

Families Welcome

Sunday, March 20th

P&F Working Bee

Tuesday, March 22nd

STM Cross Country

Anderson Park

Monday, March 28th - Thursday, March 31st

Parent-Teacher Interviews

Tuesday, March 29th

Rescheduled Start of Year Leadership Mass

Time TBC (Morning Session) in the Sportscentre

Families Welcome

Friday, April 1st

Last Day of Term 1




Stations of the Cross Celebration

1:45 pm in the Sportscentre

Families welcome
Parish News
Click on the link to download a copy of the latest Parish Bulletin.