Term 1 - Week 8 - Newsletter
Prayer of the Week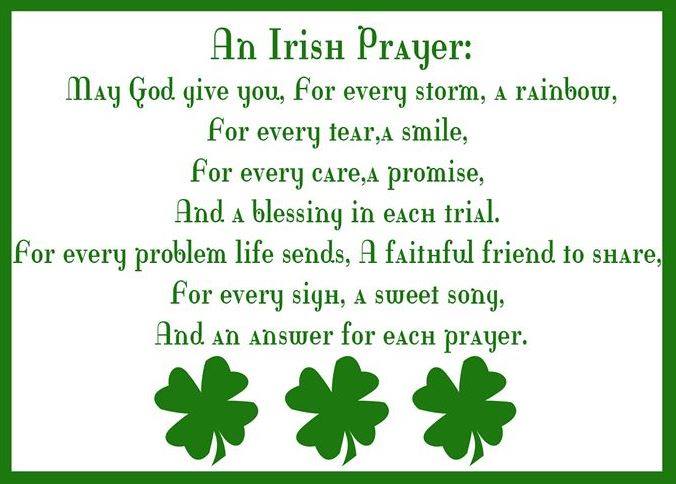 Image retrieved from https://www.facebook.com/saintpatricksdayquotes/photos/an-irish-prayer-st-patricks-day-paddy-irishman-jokes-funny-irish-puns-clean-stor/331159137288498/
From our Principal
Over the past year there have been a number of discussions at school board and P & F meetings regarding the school uniform.
To give all parents the opportunity to share their opinions, a survey (devised by parents) can be found at the following link.
As we have contractual obligations with some suppliers & the need to deplete current stocks, agreed upon changes will take some time to implement.
This survey is the beginning of a process and is a genuine attempt to give everyone wishing to have their say the opportunity to do so. No decisions have been made and I do not have any preconceived ideas as to what the final result will be.
The survey will close 3pm, Thursday, 31 March.
Michael Cash
Principal
St Thomas More's School
From our APRE
How wonderful was it last week to be able to gather together again as a school community! As I said at assembly, the children showed such wonderful listening behaviours, which is such a credit to them and their teachers when it was the first time meeting together as a whole school all year! Well done to our Year 6 leaders who ran assembly for us last week too! It's always a bit scary speaking in front of so many students and parents for the first time and Amelia, Addison and Matthew did such a wonderful job!
The easing of restrictions regarding social gatherings in schools has allowed us to reschedule our Beginning of Year Mass and invite STM families to join us to celebrate both the 2022 school year and commemorate the events leading up to Easter with the Stations of the Cross. Check below for details.
Tuesday, March 29th at 9:00 am - Year 6 Leadership and Start of Year Mass
Friday, April 1st at 1:45 pm - Stations of the Cross (led by Year 5)
Last week I was lucky enough to have the chance to work through a Just Leadership retreat with the Year 6 leaders. First of all, thank you to Mrs Grimshaw, Mr Fechner and Ms Roberts for your support on the day and for putting aside time in your busy schedules to allow the Year 6 group to meet together and explore the concept of leadership from a Catholic perspective. The children really blew me away with their reflections on concepts like poverty and justice and made some really good connections between the work CARITAS does and Catholic Social Teachings. The challenge we have posed to all our Year 6 leaders now is how they are going to use what they learned at this retreat to inspire their leadership this year. Watch this space ... I think we are going to see some truly wonderful things from our 2022 school leaders!
We are very excited to announce the return of Family Mass for 2022! We will be sharing a Family Mass with the St Thomas More's Parish once per term this year. Our Term 1 Family Mass will be on Saturday, March 26th at 6:00 pm. I know this is the Saturday of the Toowoomba Show long weekend, but I am hoping we have enough families hanging close to home who are interested in celebrating with us. If your children would like to be involved in the Mass (reading, singing or bringing forward a symbol), please contact me via email (Kristin.Byrne@twb.catholic.edu.au) by the end of this week so I can arrange parts for them and take them down to the church for a practice next week.
What's happening in Week 8 in Miss Byrne's Room ...
Monday: Worship Choir (Don't forget this week! We have lots to learn!)
Tuesday: Student Representatives Meeting
Wednesday: Service Club Meeting
Thursday: House Representative Meeting
Matilda the Musical preparations are well underway! My aim is to have some audition details out to students by the end of this week. Auditions will occur at the start of Term 2, so plenty of time to prepare singing and dialogue over the break!
Have a wonderful week!
God Bless.
Miss Kristin Byrne
Assistant Principal: Religious Education
Looking for a part time job in Retail?
EXPRESSIONS OF INTEREST – Uniform Shop Co-ordinator – commencing Term 2, 2022
Our Uniform Shop is seeking a Co-ordinator to continue this service for our school. The position pays at casual rates with flexible working hours. Volunteers can be appointed for assistance. If you are looking for a way to be involved in our vibrant school community this is the perfect opportunity to meet our families.
Duties include:
Direct sales
Email orders and enquiries
Stock management and ordering
Liaising with office staff for payment receipts and enquiries
Data entry
Square and cash payment system
MYOB invoice and stock entries
The successful applicant will be to hold or be eligible for a Working with Children Blue Card (Paid).
Expressions of Interest should be sent to: michael.cash@twb.catholic.edu.au
Closes: 3pm, Monday 21 March
From our Sport Desk
Year 4 T-Ball Gala Day
The Year 4 T-Ball Gala Day will be held on Tuesday 29th March at Kearney Springs. This is a great opportunity for these students to participate in a fun and non-competitive carnival that promotes exercise, participation and skill development. More information to come from the Year 4 teachers.
Cross Country Training
Cross country training will continue in week 8 for Years 3-6. Training will be held at Anderson Park from 7:20am. If you wish your child to participate and they haven't already brought home a note, they will need to come see Mrs H for one. A reminder to bring a water bottle and any medication if required (e.g Asthma puffer).
2022 STM Cross Country Program
Tuesday 22nd March

Andersen Park

Starting Time 11:00am
The program for the day is below.
All students require water bottles, sunscreen, and hats. Asthma puffers ( if required ) to be carried at all times. If any students have reactions to insect bites or any other allergies, please ensure the required medication ( epi pens ) has been given to teachers so that the required action can be taken.
If students are going to be absent on the day, or parents wish to take them home at conclusion of the cross country, then teachers must be notified either by note, email or seen in person on the day, as official rolls need to be marked.
Time

( All Times approx. Give or take 10 Min. )

Event

Born

Distance

11:00am

U 12 Girls/Boys

2010

2400m ( 3 Laps )

11:15am

U 11yr Girls

2011

2400m ( 3 Laps )

11:30am

U 11yr Boys

2011

2400m ( 3 Laps )

11:45 am

U 10yr Girls

2012

1600m ( 2 Laps )

12:00pm

U 10yr Boys

2012

1600m ( 2 Laps )

12:15pm

U 9yr Girls

2013

1600m ( 2 laps )

12:30pm

U 9yr Boys

2013

1600m ( 2 Lap )

12:45pm

U 8yr Girls

2014

800m ( 1 Lap )

12:55pm

U 8yr Boys

2014

800m ( 1 Lap )

01:00pm

U 7yr Girls

2015

800m ( 1 Lap )

01:10pm

U 7yr Boys

2015

800m ( 1 Lap )

01:20pm

U 6yr Girls

2016

500m ( 1/2Lap )

01:30pm

U 6yr Boys

2016

500m ( 1/2Lap )

01:40pm

Prep Girls

2017

300m ( 1/4 Lap )

01:45pm

Prep Boys

2017

300m ( 1/4 Lap )

01:50:pm

01:55pm

Clean Up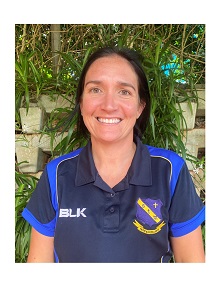 God bless,
Stacey Hancock
HPE Teacher
From our Library
Check out our Get Hooked on Reading winners for the past week! Well done.
BOOK PRIZE WINNERS:
Mackenzie Prep Gold
Flynn 4 Red
TREASURE BOX PRIZE WINNERS:
Patrick 1 Blue
Billy 1 Red
Mia Prep Red
Abigail 4 Blue
Layla Prep Gold
God bless,
Margaret Heuschele
Teacher Librarian
From our Service Club
This week we have a few notices. Service Club's Hire a Hat is now running. We had noticed that lots of children forget their hats. We want all children to be able to play so we have some Service Club school hats you can borrow. At the moment we have 3 hats. You can borrow them from Miss Byrne's room at the start of play, but you have to bring them back at the end of each playtime. We want to thank Mrs Ward for taking the hats home and washing them and getting them embroidered with Service Club for us!
All classes have tried hard with their Project Compassion fundraising. We will be presenting a special Project Compassion cross to the class that raises the most money each week. Last week as a school we raised over $130. The class that raised the most money was 5 Gold and they raised just over $32. Well done!
Each week during Project Compassion we are going to teach you about someone CARITAS helps. This week we would like to introduce you to Biru. Biru has a disability that affects his legs. He has limited mobility in his legs. He lives in India. He is 30 years old and lives with his 4 daughters and wife. He used to be a farmer but his disability made it hard for him to look after cows on his farm. With the help of CARITAS, he has now opened a bicycle repair shop. He didn't go to school when he was a child, but he is happy to now be able to send his children to school. Please watch this video about Biru.
Service Club are excited to bring their Service Club Groups back this term. We will be doing groups during second break on Monday and Friday. Monday will be creative group in Miss Byrne's room. Friday's group is still to be decided.
Have a great week!
God bless.
Aimee, Olivia and Makenzie from the Service Club
Student Spotlight
This term we will be introducing our Student Leaders each week through our Updates and Newsletters. This week we want to introduce the last three of our Service Club Leaders to you - Toby, Joseph and Aimee.
A message from Aimee ...
Hello, my name is Aimee. I joined Service Club so that I could help people and do kind things to make people's day! I want to inspire others to be nice to each other and to give everything a go.
God bless,
Aimee
A message from Toby ...
Hello, my name is Toby. I joined Service Club because I wanted to be able to be kind to the younger grades. I have been at this school since Year 1. I want to be a good and inspiring leader.
Thank you,
Toby
A message from Joseph ...
Hello, my name is Joseph. I wanted to become a Service Club leader as I wanted to help with big events happening around the school. I have been at this school for seven years, from Prep to Year 6.
God bless,
Joseph
Awards
Congratulations to our Week 5 award recipients! Wonderful work!
| | |
| --- | --- |
| Prep Gold | Amie and Akuot |
| Prep Red | Elena |
| 1 Blue | Ben-Arry, Max and Alek |
| 1 Red | Aimee, Joanna and Tom A |
| 2 Blue | Rose and Zane |
| 2 Gold | Lincoln and Frederick |
| 2 Red | Giorgia, Levi and Paige |
| 3 Blue | Hamish and Madeline |
| 3 Gold | Isla and Christian |
| 3 Red | Lliam and Jacob |
| 4 Blue | Jamie, Aluel and Cinta |
| 4 Gold | Jordan, Arianna and Darshan |
| 4 Red | Penelope, Samuel and Frankie |
| 5 Blue | Emilia, Annabel and Melissa |
| 5 Gold | Jan and Sam |
| 5/6 Red | Bella, Abigail and Nikol |
| 6 Blue | Emily, Remeeka and Elijah |
| 6 Gold | Richard, Olivia and Brady |
| H&PE with Mrs H | Elly and Zara |
| OSHC | No award this week |
| Gotcha Luck Draw Winners | Bryson, Evelyn and Matthew |
Creating a Kindness Culture
This Friday is Bullying No Way Day, a day set aside to promote inclusion, respect and student belonging in school communities. The theme for this year is Kindness Culture: it starts with you. Kindness is an important value that helps to foster empathy towards others. Hopefully you have experienced someone showing you a random act of kindness, where they have offered to pay for your coffee or let you in front of them in a line. This experience when you have helped someone else through a kind act or you have received kindness, increases feel good hormones in the brain and results in that warm fuzzy feeling inside. Kindness is good for us and for our community. One of the positive effects of a kindness culture in schools, is that it increases more kindness towards others, and it helps to reduce bullying. This week I would like to encourage families to take up the kindness challenge. Have a chat with your child about ways they could be kind to someone this week such as smiling at others or inviting someone new to play at recess. It's also important to have a chat with your child about what to do when they experience others being unkind. Help your child to know how to stand up for themselves and how to seek help if they need it. Being kind online is also a focus this year for Bullying No way Day. There are several new resources that have been developed by Bullying No Way to support students to feel safe online. Its important children know how to block content, report it, and seek support if they see or experience cyberbullying. For more information on these online resources please follow the links below.
In a world where we can be anything, let's teach our kids to be kind.
Be Kind Online:
Bullying No Way: https://bullyingnoway.gov.au/resources/classroom-resources
E Safety Commissioner: A Guide for Parents and Carers: https://www.esafety.gov.au/parents/big-issues/cyberbullying
Acts of Kindness ideas for Kids:
Write a thank you note
Smile at others
Say something nice to someone
Pick up litter
Offer to help someone
Play with someone new
Say sorry if you do something wrong
Make a gift for someone
Wishing you well.
Jayne Farquharson
Counsellor
From our Uniform Shop
The Uniform Shop will be operating at reduced hours this term. Please see Term 1 hours below ...
Monday: 8:15am - 8:45am
Friday: 8:15am - 8:45am
Email orders are encouraged. You can email your orders through to thouniform@twb.catholic.edu.au
2022 St Thomas More's Sacramental Program
Confirmation and First Communion 2022
Parents are invited to register their child for Sacramental Preparation 2022 which will take place after Easter. The Sacrament of Confirmation will be celebrated at St Thomas More's Church on Wednesday 1st June at 6.30 pm. First Communion will be celebrated at St Thomas More's Church over the weekend of 18 & 19 June. Registration is open to children in Year 4 and above who have been Baptised and completed preparation to receive the Sacrament of Penance. A Parent Information Session will be held on Wednesday 27 April and will outline the preparation program. All parents are encouraged to attend.
A more detailed letter regarding the Sacramental Program for 2022 will be sent home this week with students in Year 4, Year 5 and Year 6 which includes a registration form. Registrations forms can be handed into Miss Byrne or directly to the Parish Office. Registration forms must be handed in before March 30th to allow enough time to purchase resources for families participating in the program.
Any queries can be directed to John Briffa, the Parish Leader on 0428 720 865 or by email: parishleader@stthomasmores.org.au
Sentral Parent Portal App
If you haven't signed up for the Sentral Parent Portal app yet, please do so as soon as possible. Contact our office for more information.

Did you know you can submit student absences through the Sentral Parent Portal App? It's as easy as 1, 2, 3
Step 1: Open the Sentral Parent Portal App and click on the "Absences" icon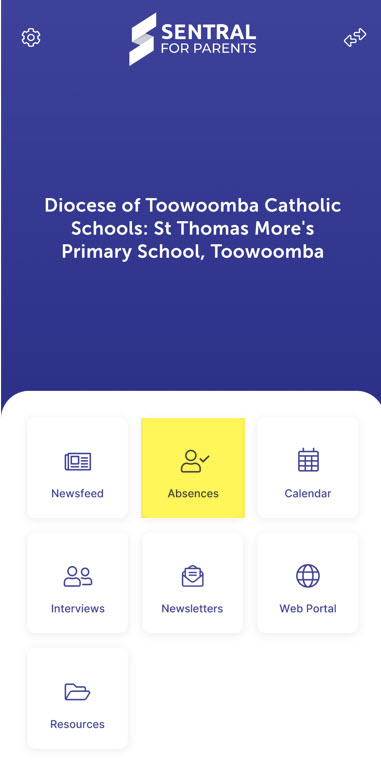 Step 2: Click on the + to add a new absence request (this needs to be completed for each student)
Step 3: Complete the details and hit "Submit"
Dates to keep in mind for Term 1...
Each week in the update and newsletter we will include the important dates for the coming term. Make sure you check this weekly as new events will be added as they come up.
Date

Event

Monday, March 14th

P&F Meeting

Thursday, March 17th

St Patrick's Day

Wear your best green accessories

Friday, March 18th

Year 4 Parish Mass

9 am in the STM Church

2 Blue Online Prayer Celebration

Primary Leaders Mayoral Morning Tea

Tuesday, March 22nd

STM Cross Country

Anderson Park

Monday, March 28th - Thursday, March 31st

Parent-Teacher Interviews

Friday, April 1st

Last Day of Term 1

Holy Week Prayer Celebration

Details TBC
P & F News
NEXT MEETING - TONIGHT
MARCH 14 - 7PM - LIBRARY
NEXT TERM
APRIL 9 - 7PM - LIBRARY
Our next P&F meeting will be held tonight March 14 - 7pm - Library. This meeting will be held in the music roomwith an option to dial in via zoom (link below). All parents and staff are invited to join us for our this P&F meeting - it is a great way to be involved in your child's school and contribute to 'just one thing' in the school community.
See you all there!
Kylie, Shontelle, Jacqui and Jacinta
Topic: March 14th P&F Meeting
Time: Mar 14, 2022 07:00 PM Brisbane
If you can't attend inperson, please join us via the link below.
OSHC News
Please find attached the OSHC news for this week.
Parish News
Click on the link to download a copy of the latest Parish Bulletin.
Thank you!
A huge thank you to Westridge Fruit and Vegetables for their continued support with the donation of fresh fruit every week for our students!