Term 1 - Week 9 - Update
Prayer of the Week
Image retrieved from https://ministry-to-children.com/five-finger-prayer/
From our Principal
Dear Parents / Guardians,
My current contract as Principal of St Thomas More's Primary School expires at the end of this year. I have notified Dr Pat Coughlan, Executive Director TCS, that I will not be seeking a contract extension beyond this term.
I have been privileged to have been at the school for 12 years and I believe that it will benefit the school to have a change of leadership. I am very grateful to the school and parish communities for your welcome and support during my time as Principal.
The timing of this announcement is to allow an extensive recruitment process to occur and to also facilitate a smooth transition into the role for the successful candidate.
I still maintain a passion for education and will be seeking a role within a Diocese of Toowoomba Catholic School for 2023 and beyond.
My commitment for the remainder of 2022 will be to continue to follow our schools' vision and mission statements to leave it in the best possible position for the incoming Principal.
God bless,
Michael Cash
Principal
St Thomas More's School
From our APRE
Last week as a school community we celebrated St Patrick's Day. St Patrick is an important saint to many Australians for many reasons. 2 Blue shared some of these reasons beautifully at their Prayer Celebration on Friday last week which commemorated St Patrick's Day. Thank you to Ms Souter and 2 Blue for leading the lower school in prayer! You did a wonderful job!
As you may have heard from the children, our school community was very sad to hear about the passing of Sr Rosie last week. We did have lots of sad staff and students when the news was broken. I am sure our wider school community joins me in sending our thoughts and prayers to Father Michael in what is sure to be a sad time for him.
Don't forget to book in for your Parent-Teacher Interviews ASAP! All bookings are done via the Parent Portal App. You must download this app ASAP if you have not already. Not only are interviews booked via the app, but lots of other important information is also shared with the community via the portal including the school newsletter and Report Cards later in the year.
This weekend we join with the St Thomas More's Parish for our Term 1 Family Mass. All STM families are most welcome to attend. Family Mass this term is on this Saturday evening (March 26th) from 6:00 pm in the STM church. We have a few jobs students and families are most welcome to do, so if you are coming along and would like to read or carry forward a symbol, please contact me by email (Kristin.Byrne@twb.catholic.edu.au) before this Wednesday so I can let you know how you can help.
This week as a school community we join with the rest of Australia celebrating Harmony Week! The theme for Harmony Week this year is everyone belongs. We are very lucky at STM to have such a diverse community, with families from all different cultures and experiences. We encourage our students to share their stories with us all year round, but especially during Harmony Week. If any of our adults out there have a special story or song from your culture you would like to share with the school community, please feel free to contact your classroom teacher. I am sure they would love to invite you in this week to share your culture with the children. As part of our Harmony Week celebrations this week we will once again be working on a whole school art project (watch this space!) and having an Orange Free Dress Day this Thursday (March 24th). Our Free Dress Day is one small way we can show our support for Harmony Week, so no coin donation is needed. Don't worry if you don't have orange clothes at home, just send the children along in their favourite brightly coloured clothes. We don't expect anyone to go out and buy new clothes for Orange Day!
This morning we welcomed Mackenzie Duffy to our school as part of the Olympians Unleashed program. Mackenzie is an Olympic Sprint Kayaker. She shared a bit of her journey with the children and encouraged them to keep working hard to achieve their goals. What an inspirational young lady!
In the next few weeks, the Religious Life of our School is really going to flourish with the easing of COVID restrictions. In Week 10 we welcome Father Michael to share our belated Start of the Year Leadership Mass with us. On the Friday of the last week of school, we will also be sharing a Stations of the Cross with our whole school community. Families are most welcome to both of these celebrations. Details are in the date claimers at the end of the update this week.
Have a wonderful week!
God Bless.
Miss Kristin Byrne
Assistant Principal: Religious Education
Disabled Parking
Please ensure that the disabled carparks are used only for their intended purpose and not for general parking.
From our Sport Desk
Representative Sport
Congratulations to the follow students on their selection in school representative sport. We wish you all the best in the next stage of trials.
Koby Heit – Toowoomba Rugby League (1st Round of trials)
Xavier McDonald – Toowoomba Softball
William Koelmeyer – Darling Downs AFL
Year 4 T-Ball Gala Day
The Year 4 T-Ball Gala Day will be held on Tuesday 29th March at Kearney Springs. This is a great opportunity for these students to participate in a fun and non-competitive carnival that promotes exercise, participation and skill development. More information to come from the Year 4 teachers.
2022 STM Cross Country Program
Tuesday 22nd March

Andersen Park

Starting Time 11:00am

Students can either wear their sports uniform or their house colours.
The program for the day is below.
All students require water bottles, sunscreen, and hats. Asthma puffers (if required) to be carried at all times. If any students have reactions to insect bites or any other allergies, please ensure the required medication (epi pens) has been given to teachers so that the required action can be taken.
If students are going to absent on the day, or parents wish to take them home at conclusion of the cross country, then teachers must be notified either by note, email or seen in person on the day, as official rolls need to be marked.
Time

(All Times approx. Give or take 10 Min.)

Event

Born

Distance

11:00am

U 12 Girls/Boys

2010

2400m ( 3 Laps )

11:15am

U 11yr Girls

2011

2400m ( 3 Laps )

11:30am

U 11yr Boys

2011

2400m ( 3 Laps )

11:45 am

U 10yr Girls

2012

1600m ( 2 Laps )

12:00pm

U 10yr Boys

2012

1600m ( 2 Laps )

12:15pm

U 9yr Girls

2013

1600m ( 2 laps )

12:30pm

U 9yr Boys

2013

1600m ( 2 Lap )

12:45pm

U 8yr Girls

2014

800m ( 1 Lap )

12:55pm

U 8yr Boys

2014

800m ( 1 Lap )

01:00pm

U 7yr Girls

2015

800m ( 1 Lap )

01:10pm

U 7yr Boys

2015

800m ( 1 Lap )

01:20pm

U 6yr Girls

2016

500m ( 1/2Lap )

01:30pm

U 6yr Boys

2016

500m ( 1/2Lap )

01:40pm

Prep Girls

2017

300m ( 1/4 Lap )

01:45pm

Prep Boys

2017

300m ( 1/4 Lap )

01:50:pm

01:55pm

Clean Up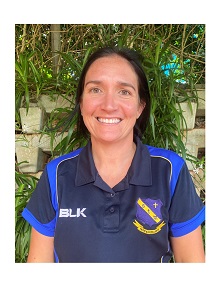 God bless,
Stacey Hancock
HPE Teacher
From our Library
Our Library Competitions are heating up! Check out our winners from last week.
"GET HOOKED ON READING" COMPETITION WINNERS (WEEK 8)
BOOK PRIZE WINNERS:
Shaun Prep Gold
Lucy 6 Blue
TREASURE BOX PRIZE WINNERS:
Makayla 4 Red
Lauren 2 Gold
Erica 1 Blue
Ava 6 Gold
Amelie 3 Gold
Check out Lauren and Erica excitedly choosing their treasure box items!
House Fishing Tournament
The competition is heating up in the House Fishing Tournament. With one week to go MacKillop is in the lead but that can change very quickly. Who will win?
Get Caught Reading
A big thank you to those parents who were very happy to be "caught" reading. We still have one week to go and I would love to fill our fishing net. Please continue to send the photos to margy.heuschele@twb.catholic.edu.au.
Fishing, Boating and Camping Photos
We have some fabulous photos of students going fishing, boating and camping. There is one week to go to send in some more photos.
Stig Wemyss Visit
On Wednesday last week our students had the opportunity of listening to the wonderfully entertaining, energetic and highly engaging, Stig Wemyss, narrator of the Andy Griffith audiobooks. Throughout this free visit, organised by the Toowoomba Regional Library, the children and staff were in fits of laughter. The purpose of the visit was to promote the free audiobook service that is available through Regional Libraries. If you are not a member I highly recommend you and your children become members. It is totally free and they have so many amazing resources.
StoryBox Library App
StoryBox Library is a fabulous resource that is available for free to all our STM families through our school subscription. The wonderful people at StoryBox Library have now created an app for subscribers to use. To access it go to https://storyboxlibrary.com.au/ - Log In – School and Early Childhood Log in. The Username is stmstorybox and password is library.
Download the StoryBox app now, featuring:
Over 400 diverse stories, with new stories added regularly
Quick and easy search filters and playlist functions
Language learning and audio-visual support, including closed-captioning
Individual profile settings for parents and children for family subscribers
God bless,
Dr Margy Heuschele
Teacher Librarian
From our Service Club
This week we have a few messages.
Hire a hat is going well BUT you must tell Miss Byrne or another adult that you are borrowing a hat. Please don't come in and just take one. Hats are borrowed for each break time, not for the whole day. Please don't take the Service Club hats home.
Our Easter Raffle is looking great! Thank you to the teachers and students who have donated chocolate already. We would love any other donations from families of eggs and chocolates for our raffle if you can spare anything. You can drop them into Miss Byrne's room any time. We will start selling tickets on Monday next week. Tickets will be 50c each. You can buy tickets at second break in Miss Byrne's room each day.
Don't forget we have Creative Group each Monday at second break for the rest of this term. We invite all children to come along!
This week, for Project Compassion, we want to tell you about Janice. Janice is an indigenous woman who lives in the Northern Territory. She is on Jawoyn Country in Arnhem Land. Only 37% of indigenous people in the Northern Territory have jobs. Janice is proud of her culture and wants to make sure she passes it on to future generations. She loves dancing and telling stories through her dance. Janice takes inspiration from the land. CARITAS has helped Janice and her community create the Djilpin Arts Centre, which is a place that preserves indigenous culture and is a safe place for Janice and her community. Please watch this video to learn more about Janice.
We can all help people like Janice during Lent by donating to Project Compassion. Don't forget 50c Friday for the rest of this term. Our Project Compassion fundraising winners for this week are 2 Gold. They raised $31.85. 2 Gold will get to have the special Project Compassion cross on their prayer space next week. Well done 2 Gold! So far the whole school has raised $255! What a great effort.
Have a wonderful week!
God bless.
Joseph and Aidan from the Service Club
Student Spotlight
This week we begin introducing our House Representatives to our school community. Meet our Hall House Representatives.
A message from Gloria ...
Hello, my name is Gloria. I am one of the Hall House Representatives. I wanted to be a House Representative because I like to help the younger students and help the teachers pack up the equipment at the end of Sports Days. I want to be a good role model for other students.
Thank you,
Gloria
A message from Matthew ...
Hi, my name is Matthew. I am 11. I am one of the Hall House Representatives. I ran for House Representative because I wanted to represent my house and represent the school. I want to teach people to be good sports and show sportsmanship.
Thank you,
Matthew
Awards
Congratulations to our Week 8 award recipients! Wonderful work!
| | |
| --- | --- |
| Prep Gold | Hugo and Ellie |
| Prep Red | Nixon and Ava |
| 1 Blue | Laila, Tong and Zana |
| 1 Red | Tyler, Emily and Christian |
| 2 Blue | Wyatt, Ellie and Lola |
| 2 Gold | Tong and Simphorian |
| 2 Red | Ollie, Alfie and Addison |
| 3 Blue | Aviana and Saito |
| 3 Gold | Amelia, Hunter and Ryan |
| 3 Red | Emily, Fletcher and Anok |
| 4 Blue | Dor, Zacheriah and Blessing |
| 4 Gold | Majd and Jarrell |
| 4 Red | Grace, Amelia and Makayla |
| 5 Blue | Fletcher, Xabier, Amy and Koby |
| 5 Gold | Isaac and Annabelle |
| 5/6 Red | Jake, Kiara and Grace |
| 6 Blue | Oliver, Annebelle and Charlotte |
| 6 Gold | Reyaaz, Sebastian and Isla |
| H&PE with Mrs H | Peter and Mason |
| Gotcha Lucky Draw Winners | Isabel, Porscha and Aidan O |
| OSHC | None this week |
Parking Infringements
A reminder from our local Road Safety Officer at the Toowoomba Regional Council, Bridgette Singleton.
I have noticed an increase in incidences of parents parking in No Parking zones that are close or next to school crossings. This puts our School Crossing Supervisors and the children they are helping across the road at risk, as the Supervisors are unable to see incoming traffic as clearly. A reminder to parents the importance of following the rules so that all children and Supervisors are safe on the roads. Your help is much appreciated in keeping our kids safe.
Kind regards,
Bridgette Singleton
Road Safety Officer Toowoomba | Southern Region
Customer Services Branch | Customer Services, Safety and Regulation | Department of Transport and Main Roads
From our Uniform Shop
The Uniform Shop will be operating at reduced hours this term. Please see Term 1 hours below ...
Monday: 8:15am - 8:45am
Friday: 8:15am - 8:45am
Email orders are encouraged. You can email your orders through to thouniform@twb.catholic.edu.au
2022 St Thomas More's Sacramental Program
Confirmation and First Communion 2022
Parents are invited to register their child for Sacramental Preparation 2022 which will take place after Easter. The Sacrament of Confirmation will be celebrated at St Thomas More's Church on Wednesday 1st June at 6.30 pm. First Communion will be celebrated at St Thomas More's Church over the weekend of 18 & 19 June. Registration is open to children in Year 4 and above who have been Baptised and completed preparation to receive the Sacrament of Penance. A Parent Information Session will be held on Wednesday 27 April and will outline the preparation program. All parents are encouraged to attend.
A more detailed letter regarding the Sacramental Program for 2022 will be sent home this week with students in Year 4, Year 5 and Year 6 which includes a registration form. Registrations forms can be handed into Miss Byrne or directly to the Parish Office. Registration forms must be handed in before March 30th to allow enough time to purchase resources for families participating in the program.
Any queries can be directed to John Briffa, the Parish Leader on 0428 720 865 or by email: parishleader@stthomasmores.org.au
Sentral Parent Portal App
If you haven't signed up for the Sentral Parent Portal app yet, please do so as soon as possible. Contact our office for more information.

Did you know you can submit student absences through the Sentral Parent Portal App? It's as easy as 1, 2, 3
Step 1: Open the Sentral Parent Portal App and click on the "Absences" icon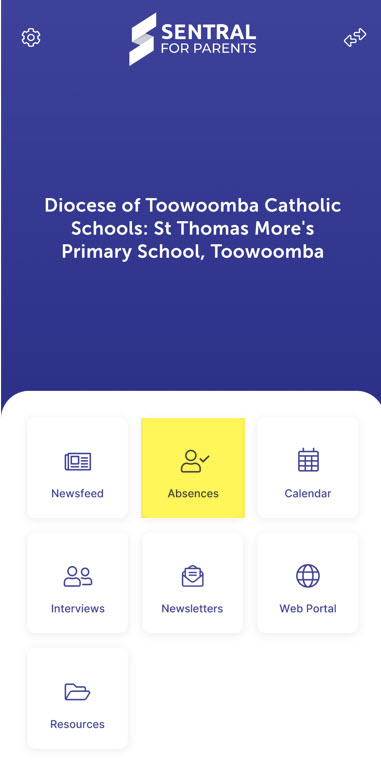 Step 2: Click on the + to add a new absence request (this needs to be completed for each student)
Step 3: Complete the details and hit "Submit"
Dates to keep in mind for Term 1...
Each week in the update and newsletter we will include the important dates for the coming term. Make sure you check this weekly as new events will be added as they come up.
Date

Event

Monday, March 21st

Olympians Unleashed Visit for Year 4 - Year 6

9:45 am in the Sportscentre

Tuesday, March 22nd

STM Cross Country

Anderson Park

Thursday, March 24th

Harmony Week Free Dress Day

Wear your best orange clothes/accessories to show your support for Harmony Week.

NO COIN DONATION NEEDED

Friday, March 25th

Toowoomba Show Holiday

Monday, March 28th - Thursday, March 31st

Parent-Teacher Interviews

Bookings are currently open in the Parent Portal

Tuesday, March 29th

Whole School Start of Term 1 Leadership Mass

P-6 in the Sportscentre from 9:00am

Families are most welcome

Tuesday, March 29th

Year 4 T-Ball Gala Day

Friday, April 1st

Last Day of Term 1

Holy Week Prayer Celebration

P - 6 in the Sportscentre from 1:45pm

Families are most welcome
P & F News
NEXT MEETING
APRIL 9 - 7PM - LIBRARY
See you all there!
Kylie, Shontelle, Jacqui and Jacinta
OSHC News
Please find attached the OSHC news for this week.
Parish News
Click on the link to download a copy of the latest Parish Bulletin.
Thank you!
A huge thank you to Westridge Fruit and Vegetables for their continued support with the donation of fresh fruit every week for our students!