Term 1 - Week 10 - Newsletter
Prayer of the Week
Although we don't celebrate Easter until the end of the holidays, we would like to share a special Easter prayer with our STM community this week.
Image retrieved from https://www.effectivechurchcom.com/pdf-jelly-bean-prayer/
Important Date Claimers
Changes for Week 10
Please be aware that both the T-Ball Gala Day (Year 4) and Whole School Start of Term Leadership Mass scheduled for tomorrow have been cancelled. We will celebrate our Year 6 leaders at Mass at the beginning of Term 2 on Thursday, April 21st at 11:30 am.
Assembly this week has been moved to an online assembly.
At this stage, our Stations of the Cross will go ahead on Friday outdoors from 1:45 pm.
Term 2
Don't forget Term 2 begins on Wednesday, April 20th.
From our Principal
At our last meeting, the school board adopted the Cancer Council Sun Smart policy.
The policy is based on the actions of:
Seek shade
Slip on sun protective clothing
Slap on a hat
Slop on sunscreen
Slide on sunglasses [if practical]
Key points from the policy include:
Students who do not have appropriate hats or outdoor clothing are asked to play in the shade or a suitable area protected from the sun. For most at STM this is the library.
All students and staff wear hats that protect their face, neck and ears whenever they are outside. For students, this will be the school hat.
The school supplies SPF30 (or higher) broad-spectrum, water-resistant sunscreen for staff and students' use.
Students are to wear sunsafe clothing when outdoors. This includes free dress days and school camps.
God bless,
Michael Cash
Principal
St Thomas More's School
From our APRE
Thank you to all of the STM families who were able to come along to Family Mass over the weekend. It was great to see so many students, parents, grandparents and staff come along to join in the Mass with the parish. A big thank you to our readers and singers! You all did a marvelous job! Family Mass will be back again next term. I will share the Term 2 dates with you once we return from holidays.
This week we were set to have a busy week with the Religious Life of the School however there are now a few changes to our celebrations.
Our whole school Mass, which was scheduled for tomorrow at 9:00 am, has been postponed until the start of next term due to our current spike in COVID cases. This will allow all of our Year 6 Leaders to be present. Thank you in advance for your understanding of this postponement.
On Friday we will still gather as a whole school at 1:45 pm to share the Stations of the Cross led by Year 5. This celebration may need to take place outdoors, but we will let you know towards the end of the week if a change of venue needs to occur. Once again, all families are most welcome to attend.
This week is the final week of our Project Compassion campaign. Don't forget ...
50c on Friday (last one for the year)

Service Club Easter Egg Hamper Raffle - tickets are on sale before school each day this week and during breaks from Monday - Thursday in Miss Byrne's Room. Tickets are 50c each and the winners will be announced at assembly on Friday this week.
Nominations are now open for both the Spirit of Catholic Education Awards and the TCSO Excellence Awards. During Catholic Education Week we celebrate not only our wonderful schools and students but our wonderful teachers as well! If there is a teacher at STM you think is doing a great job, we encourage you to submit a nomination for them. Let's share the love!
To nominate a teacher or staff member for the Spirit of Catholic Education Award visit https://catholiceducationweek.com.au/catholic-education-week-awards/?fbclid=IwAR272cUnC6uvWjjPbIubxM1me5zbvItYrYleP-0VzBv-j3FEJszqrqkqjg8
To nominate a teacher or staff member for a TCS Excellence Award visit www.twb.catholic.edu.au
Thank you to our whole community for a great term. Although we had a less than ideal start, students and staff have worked so hard over the past 8 weeks. Thank you for your passion, dedication and commitment this term. I wish our whole school community a safe and happy Easter break and look forward to working together again in Term 2.
Have a wonderful week and a happy and safe holiday!
God Bless.
Miss Kristin Byrne
Assistant Principal: Religious Education
From Learning Support
NAPLAN Online 2022
NAPLAN tests are taking place again this year for students in years 3 and 5. The test dates are between: 10-20th May, with specific dates being made available early next term. Students in year 3 and 5 will complete the NAPLAN writing, reading, conventions of Language and Numeracy tests on computers, excluding the Year 3 Writing test which will still be delivered using paper and pencil.
To find out more information about NAPLAN Online, visit www.nap.edu.au. NAPLAN assessments provide parents and school with an understanding of how individual students are performing at the time of the test. NAPLAN is not a test that can be studied for and students are not expected to do so. Students can see the types of questions and experience the types of skills both at school and home by visiting www.nap.edu.au/online-assessment/public-demonstration-site.
For more information, please contact me by either email: patricia.wardle@twb.catholic.edu.au or by contacting the school.
Mrs Patricia Wardle
Learning Support Teacher
From our Sport Desk
Cross Country
Our annual cross country was held last Wednesday. Congratulations to everyone who participated in the carnival. It was fantastic to see the smiles on faces, 100% effort, cheering from teammates and the congratulating of each other at the finish line. It was a great afternoon and congratulations to the age champions and runners up from the carnival. We will announce the overall winners of the carnival at the end of Mass on Tuesday 29th March.
Mr Fechner will shortly be giving out information to those children who have been selected to represent St Thomas More's at the zone cross country carnival next term.
12 Years Girls & Boys
Age Champions Runners Up
Jorja Duggan
Namiya Luker
Slate Reed
Will Koelmeyer
11 Years Girls & Boys
Age Champions Runners Up
Remeeka Briggs
Tamsyn Milligan
Thomas Randall
Xavier MacDonald
10 Years Girls & Boys
Age Champions Runners Up
Amelia Tribe
Izabella Randall
Samuel Wark
Jordan Darr
9 Years Girls & Boys
Age Champions Runners Up
Arianna Riwoe
Amelie Fawcett
Hamish Plath
Hunter Lindenmayer
Year 4 T-Ball Gala Day
Unfortunately, the Year 4 T-Ball Gala Day has been cancelled for tomorrow Tuesday 29th March. This is due to the increase in Covid cases within our schools and the wet weather.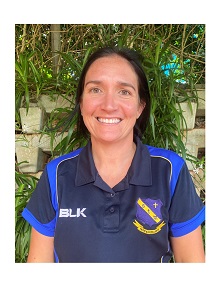 God bless,
Stacey Hancock
HPE Teacher
Matilda Jnr the Musical - Update
Image retrieved from https://www.mtishows.com/roald-dahls-matilda-the-musical-jr
This year we are excited to stage our own production of Matilda Jnr! While students from Prep to Year 6 will all learn at least one song from the show so they can sing along, the show will only be performed by students from Year 4 - Year 6. Students in the Upper School will be part of a musical number in the show. Our main roles will also be filled by students from Year 4, Year 5 and Year 6.
It was with great excitement that our audition packs were made available last week. Students can still collect audition packs this week. Below is a little snapshot of the roles that students can audition for.
Main Roles – Singing and Speaking

Smaller Roles – Singing and Speaking

Speaking Only Roles

Matilda

Miss Honey

Trunchbull

Bruce

Escapologist

Acrobat

Children at school …

Amanda

Alice

Hortensia

Tommy

Lavender

Nigel

Eric

Mr Wormwood

Mrs Wormwood

Michael Wormwood

Mrs Phelps (Librarian)

Rudolpho (dance teacher)

Sergei (enemy of Mr Wormwood)
Auditions will be held at the beginning of Term 2, giving students all holidays to prepare their audition items. Audition packs give students the details they need in regard to what they need to prepare for their audition. We will share specific details around when auditions will be held either before the end of this term or over the holidays.
Students will need permission from their parents to audition as we will require our Matilda cast for many rehearsals during playtime in Term 2 and Term 3 and some rehearsals outside of school hours (after school or weekends).
Please ensure all auditions application forms are returned to Miss Byrne before Friday this week.
If you have any questions around the auditions for Matilda Jnr, please feel free to contact me via email at Kristin.Byrne@twb.catholic.edu.au
From our Library
Get Hooked on Reading Competition Winners (Week 9)
BOOK PRIZE WINNERS:
Erica 1 Blue
Mia Prep Red
Taj 1 Blue
TREASURE BOX PRIZE WINNERS:
Erin 5/6 Red
Aimee 1 Red
Shaun Prep Gold
Eve Prep Red
Fred 2 Gold
Elly 4 Gold
Abigail 1 Red
StoryBox Library App
StoryBox Library is a fabulous resource that is available for free to all our STM families through our school subscription. The wonderful people at StoryBox Library have now created an app for subscribers to use. To access it go to https://storyboxlibrary.com.au/ - Log In – School and Early Childhood Log in. The Username is stmstorybox and password is library.
Download the StoryBox app now, featuring:
Over 400 diverse stories, with new stories added regularly
Quick and easy search filters and playlist functions
Language learning and audio-visual support, including closed-captioning
Individual profile settings for parents and children for family subscribers
God bless,
Dr Margy Heuschele
Teacher Librarian
From our Music Room
Choir News
The choir has been preparing for our 2 performances in Term 2, the Eisteddfod and Sing Out. Please note the Eisteddfod will be on the weekend of the 11-14 May. Confirmation of day and time will be known after the holidays. Last week, choir students were sent home with a choir folder with music. Please encourage them to learn the songs and the words. There are links below to youtube clips of other choirs singing the songs so that students can watch them and sing along.
May You Always Have a Song
Sesere Eeye
Dansi Na Kuimba
Whisper!
Tears from Clouds
Have a wonderful week!
Mrs Liz Skinner
Music Teacher/Choir Conductor
From our Service Club
Don't forget our Project Compassion Campaign! Keep on bringing in your money for your classroom money boxes and our Easter Raffle. We have lots of hampers to raffle and would love to sell as many tickets as we can! You can buy your tickets for 50c from Miss Byrne's Room before school and during each break this week.
Service Club wish all STM families a happy holidays.
Have a wonderful week!
God bless.
Service Club
From our Uniform Shop
The Uniform Shop will be operating at reduced hours this term. Please see Term 1 hours below ...
Monday: 8:15am - 8:45am
Friday: 8:15am - 8:45am
Email orders are encouraged. You can email your orders through to thouniform@twb.catholic.edu.au
From our P&F
NEXT MEETING
MAY 9 - 7PM - LIBRARY
It's the end of term 1 already!
We would love to wish all families a happy and safe holidays.

In Term 2 the P&F is looking forward to the following:
Mother's Day stall
Mother's Day coffee and muffin morning - Friday May 6th
Family Fun Day - Sunday May 15th

As well as:
-Starting a Care and Concern committee to help families within the school in times of need-Setting up a $500 fund for the school to use for lunch and/or stationery supplies for families experiencing financial difficulty
-Finishing the toilet Makeover project
-Starting plans to extend the Peace Garden

See you all next term!
Kylie, Shontelle, Jacqui and Jacinta
2022 St Thomas More's Sacramental Program
Confirmation and First Communion 2022
Parents are invited to register their child for Sacramental Preparation 2022 which will take place after Easter. The Sacrament of Confirmation will be celebrated at St Thomas More's Church on Wednesday 1st June at 6.30 pm. First Communion will be celebrated at St Thomas More's Church over the weekend of 18 & 19 June. Registration is open to children in Year 4 and above who have been Baptised and completed preparation to receive the Sacrament of Penance. A Parent Information Session will be held on Wednesday 27 April and will outline the preparation program. All parents are encouraged to attend.
A more detailed letter regarding the Sacramental Program for 2022 will be sent home this week with students in Year 4, Year 5 and Year 6 which includes a registration form. Registrations forms can be handed into Miss Byrne or directly to the Parish Office. Registration forms must be handed in before March 30th to allow enough time to purchase resources for families participating in the program.
Any queries can be directed to John Briffa, the Parish Leader on 0428 720 865 or by email: parishleader@stthomasmores.org.au
Tennis Couching
Special Prep Class
TCA Advanced Level 2 - TA Club Professional Coach
Sentral Parent Portal App
If you haven't signed up for the Sentral Parent Portal app yet, please do so as soon as possible. Contact our office for more information.

Did you know you can submit student absences through the Sentral Parent Portal App? It's as easy as 1, 2, 3
Step 1: Open the Sentral Parent Portal App and click on the "Absences" icon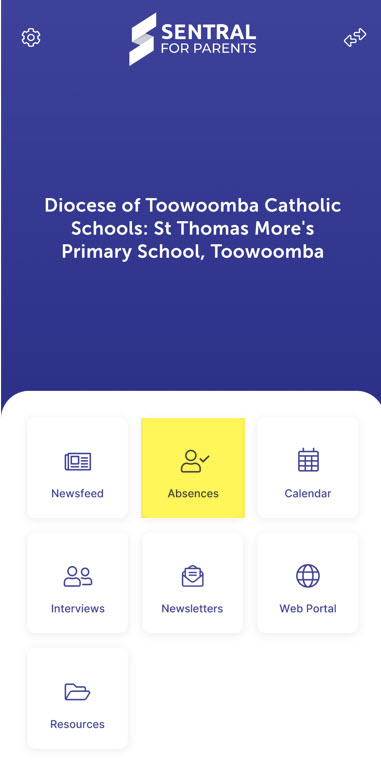 Step 2: Click on the + to add a new absence request (this needs to be completed for each student)
Step 3: Complete the details and hit "Submit"
Dates to keep in mind for Term 1...
Each week in the update and newsletter we will include the important dates for the coming term. Make sure you check this weekly as new events will be added as they come up.
Date

Event

Monday, March 28th - Thursday, March 31st

Parent-Teacher Interviews

Bookings have closed. Please contact your classroom teacher directly to arrange a time if you have not already.

Friday, April 1st

Last Day of Term 1




Online Assembly at 8:40 am




Holy Week Prayer Celebration

P - 6 in the Sportscentre/outdoors from 1:45pm

Families are most welcome
Parish News
Click on the link to download a copy of the latest Parish Bulletin.
Thank you!
A huge thank you to Westridge Fruit and Vegetables for their continued support with the donation of fresh fruit every week for our students!