Term 4 - Week 4 - Newsletter
Prayer of the Week
From our Principal
Dear Parents,
Thank you to our P & F for funding the installation of additional Soundfield Systems throughout St Thomas More's Primary School. All of our classrooms are now supported by a Soundfield system.

Classroom environments, by nature, are places of noise. However, in the excitement of the sharing of ideas, delivering content, and asking questions, the classroom can also become a place of noise that is overwhelming and difficult to navigate. For teachers, it can also be the cause of voice fatigue. The development of Sound Augmentation means that both teachers and students can experience learning in a much more workable environment. A Soundfield System is the tool through which this process can occur.

A Soundfield System is a small unit that is installed in a classroom for the purposes of creating a favourable signal-to-noise ratio. By the wearing of a small microphone near the teacher's mouth, the voice of the teacher is enhanced and is easily accessed by students. A Soundfield System can also be used to enhance the level of other sound sources such as AV or Music. The use of a Soundfield System successfully does not increase the noise in a classroom. Instead, it actually helps to enhance the listening environment for all by creating a calm and constant output. Through amplification, the teacher's voice is evenly distributed throughout the room to reach every child. Students are then able to attend to spoken instruction.

Soundfield Systems (SFS) are an essential tool in every classroom. They will provide students with and without hearing loss a greater experience of listening in the classroom.
God Bless!
Michael Cash
From our APRE
Thank you to all our STM families who were able to come along and celebrate Family Mass with us over the weekend. It was great to be able to share some of our favourite hymns with the Parish and to see our STM students so excited about being part of the Mass! A special shoutout to our wonderful singers! I had lots of lovely feedback about your beautiful singing!
A big thank you also to Mrs Weier and 2 Gold for leading the lower school in a lovely Prayer Celebration last week on Friday. The children shared some ideas about what having faith in God means, which always comes as a timely reminder!
This weekend, we have a number of students, families, and staff joining in the Base Services Hike for Homeless. It is wonderful to have such a big team representing our school and raising money and awareness for the wonderful work that Base Services does. School staff participating in the walk will be wearing staff shirts, so any families that want to walk with us, be on the lookout for our STM shirts. Miss Roberts was able to collect the bibs for our team and we will send them home today. Our group is set to leave at 6:40 am. Families are most welcome to walk with the staff group coming along, however, if you are a keen hiker feel free to take off! If you have any questions about Hike for Homeless, please get in touch via email (Kristin.Byrne@twb.catholic.edu.au) or contact the school office.
Our Socktober journey continues this week. The theme for Week 3 of our Socktober journey is Work and Learning. Pope Francis shares some thoughts about learning ...
Education is above all a matter of love and responsibility handed down from one generation to another.
Check out some ideas below of how you can explore the theme this week using your head, heart, and hands.
Image from https://dqkwzhb9nndxk.cloudfront.net/652a5169d1de395c1d8fac5b3073a72e.pdf
This week, we join with schools around the country celebrating World Teacher's Day on Friday. Thank you to all our wonderful STM school staff who work so hard each and every day to provide such fun, engaging and safe learning environments for our students.
Have a wonderful week!
God Bless,
Miss Kristin Byrne
Daniel Morcombe Child Safety Curriculum
During Term 4, we will be implementing the Daniel Morcombe Child Safety Curriculum. This curriculum has been developed to support Queensland schools' delivery of key safety messages to students from Prep to Year 9. Through a series of lessons, students will learn how to recognise, react and report when they are unsafe or find themselves in situations that can have a significant detrimental effect on their physical, psychological or emotional wellbeing.
We encourage you to talk to your children about what they are learning in class. The following table outlines the content areas to be covered by each class this year.
Further information about the Daniel Morcombe Child Safety Curriculum can be found at ...
Day for Daniel 2021
See the flyer below with details of our Day for Daniel this year. It's not too late to join in our walk this Friday either. Use the link below to register for the walk before Wednesday this week.
Term 4 - Week 3 Awards
Prep Gold

Abigail H

Billy

Prep Red

Jackson

Ashley

1 Blue

Chloe

Vinnie

1 Gold

Aaliyah

Axel-James

Lincoln

1 Red

Oliver

Adalia

2 Blue

John

Imogen

2 Gold

Austin

Lliam

2 Red

Noah

Alet

Olivia

3 Blue

Cinta

James

Alexandria

3 Gold

Therese

Jordan

Makayla

3 Red

Peter

Amelia

Pippa

4 Blue

Annabel

Xavier

4 Gold

Abigail

Scarlet

4 Red

Chris

Harper

Jaxson

5 Blue

Brady

Makenzie

5 Gold

Lincoln

Ava

5 Red

Elijah

Brody

6 Blue

Akuy

Tyler

6 Gold

Erica

Nathanael

OSHC

Jackson
Well done to all our students who received GOTCHA tickets this week and a special congratulations to our three GOTCHA Lucky Draw winners - Alfie, Fletcher and Annie.
From the Office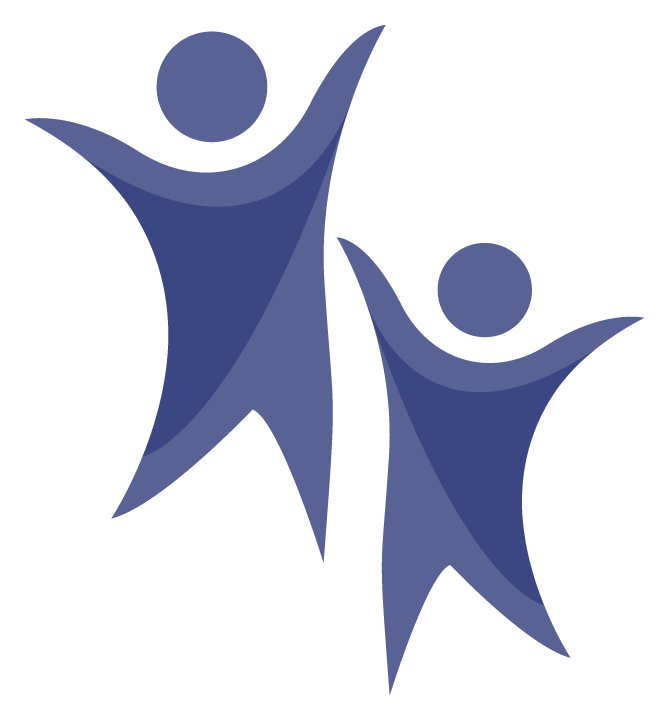 Just a reminder to keep the office up to date with any contact or medical detail changes. It can cause critical delays in the case of emergencies if the information is not current.
Given the ever-changing health climate, if your child is unwell, please do not send them to school. They will recover quicker with rest at home. We are all in this together and need to consider others.
If your child will be away from the school for any reason, please notify the office of your child's absence. There are a few ways for parents to notify the school of a student's absence:
Send a text message to 0439 457 981,
Email the student's teacher and the office on stthomas@twb.catholic.edu.au
Call the school's office on 4591 3900 and leave a voicemail explaining the absence,
Submit an absentee request through Sentral (see instructions below),
Ask a sibling to inform the office of the absence
If your child arrives at school after 8:25 am, they must sign in at the office at the student entrance.
Outside of the Year 6 students, if you are leaving the school at the end of 2021, please let the office know as soon as possible. This helps with the planning of events and excursions for the following year.
Sentral Parent Portal App
If you haven't signed up for the Sentral Parent Portal App yet, please do so as soon as possible. Contact our office for more information.

Did you know you can submit student absences through the Sentral Parent Portal App? It's as easy as 1, 2, 3
Step 1: Open the Sentral Parent Portal App and click on the "Absences" icon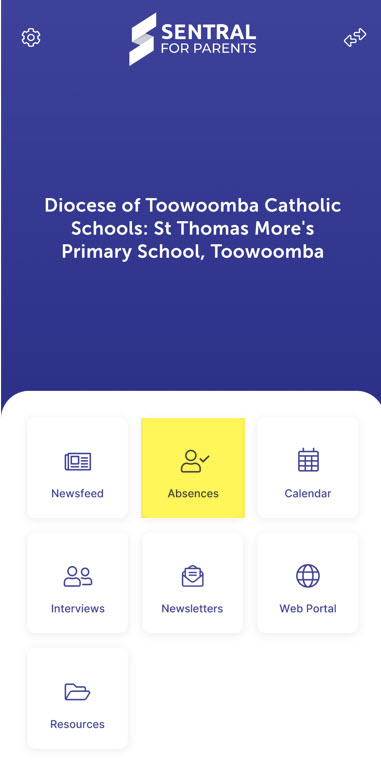 Step 2: Click on the + to add a new absence request (this needs to be completed for each student)
Step 3: Complete the details and hit "Submit"
From the Service Club
This term we celebrate Socktober.
Last week the theme for Socktober was Nutrition. This week, we want our STM families to think about how they can keep healthy and eat good food. We are very lucky to live in a place where good food is available for everyone. It's also time to start thinking about how you might make your sockball. Service Club is going to have a go at making some sockballs in the next week so we can teach you all how to make your own.
Service Club has written a special book about Socktober called Pope Francis' Sockball. We have been putting the finishing touches on it this week and hopefully, it will be in the library ready for you to read it next week!
Our Kickoff will be on Friday, November 5th. That gives us the whole month of October to learn about Socktober and Catholic Mission and to get some really amazing sockballs made! On Kickoff day, students and staff can wear their most colourful socks with their sports uniform and bring along a gold coin. You can also enter the kickoff for a gold coin donation as well. All the money we raise will be donated to Catholic Mission.
Next Friday we celebrate World Teacher's Day. You might like to spend the next week thinking of something nice you can do for your teachers to celebrate this special day.
Don't forget our groups this term.
Monday is Creative/Art Group
Thursday is Homework Group
Friday is Junior Group
Year 5 don't forget you are invited to come along to our Service Club meetings starting this week. We can't wait to show you what Service Club is all about!
Thanks for another great week!
Tahnee and Amou from Service Club
Year 5 Social Justice Team
We are raising money at the moment for Rosies. We are currently holding a chocolate raffle. Tickets are 50c each and are on sale every day at first break in Miss Byrne's room. We will announce the winner at assembly in Week 5. We set a fundraising goal of $50. We have nearly reached this already. We can't wait to see how much money we raise.
This term we are also supporting Base Services by entering a team in the Hike for Homeless. Hike for Homeless is happening on Saturday, October 30th. You can find a link to our fundraising page on the school's Facebook page if you would like to make a donation.
We hope you can help us support these wonderful groups.
Have a wonderful week.
God Bless.
Swimming Lessons
A friendly reminder that swimming lessons will be continuing this week (please download a copy of the updated timetable below to see when your child's lessons are).
Please make sure you have the following items at school for your lessons:
Togs/Swimmers
Goggles
Swim Cap
Towel
Spare Underwear
An extra something to eat for morning tea or lunch
Junior Swimming Carnival 2021 Prep-Year 2
Dear Parents,

This year our Junior Swimming Carnival will be held on the morning of Monday 29th November at the TAS (Toowoomba Anglican School) swimming pool, access via Wirra Wirra Street. Children in Prep-Year 2 will have the opportunity to participate at this carnival. We invite parents to attend this carnival if they wish.

We intend to be back at school around midday. All Prep-Year 2 teachers will attend the carnival. We encourage all students to attend regardless of their swimming ability.
Shorter lap lengths and novelty races ensure that this is a memorable day, whilst building confidence in the water prior to joining the more competitive races at the upper school swimming carnival in years to come. Some events will include freestyle/kickboard, noodle, and other novelty races.

No ribbons will be awarded at this carnival as this is purely a non-competitive carnival to encourage fun in the water. Adults will be placed in each swimming lane and will be available on the sides of the pool to assist if required.
The school will provide busses to transport students to and from the carnival. Children will need to arrive at school no later than 8:45 am.

Children can wear their sports uniform and wear their togs underneath. They will also need to bring a towel, goggles (if needed), swimming cap, sunscreen, morning tea, and a drink bottle.
If you have any further queries, please don't hesitate to contact your child's classroom teacher or myself.

Many thanks
Stacey Hancock (Year 5)
Stacey.Hancock@twb.catholic.edu.au
Swimming Carnival 8-12 Years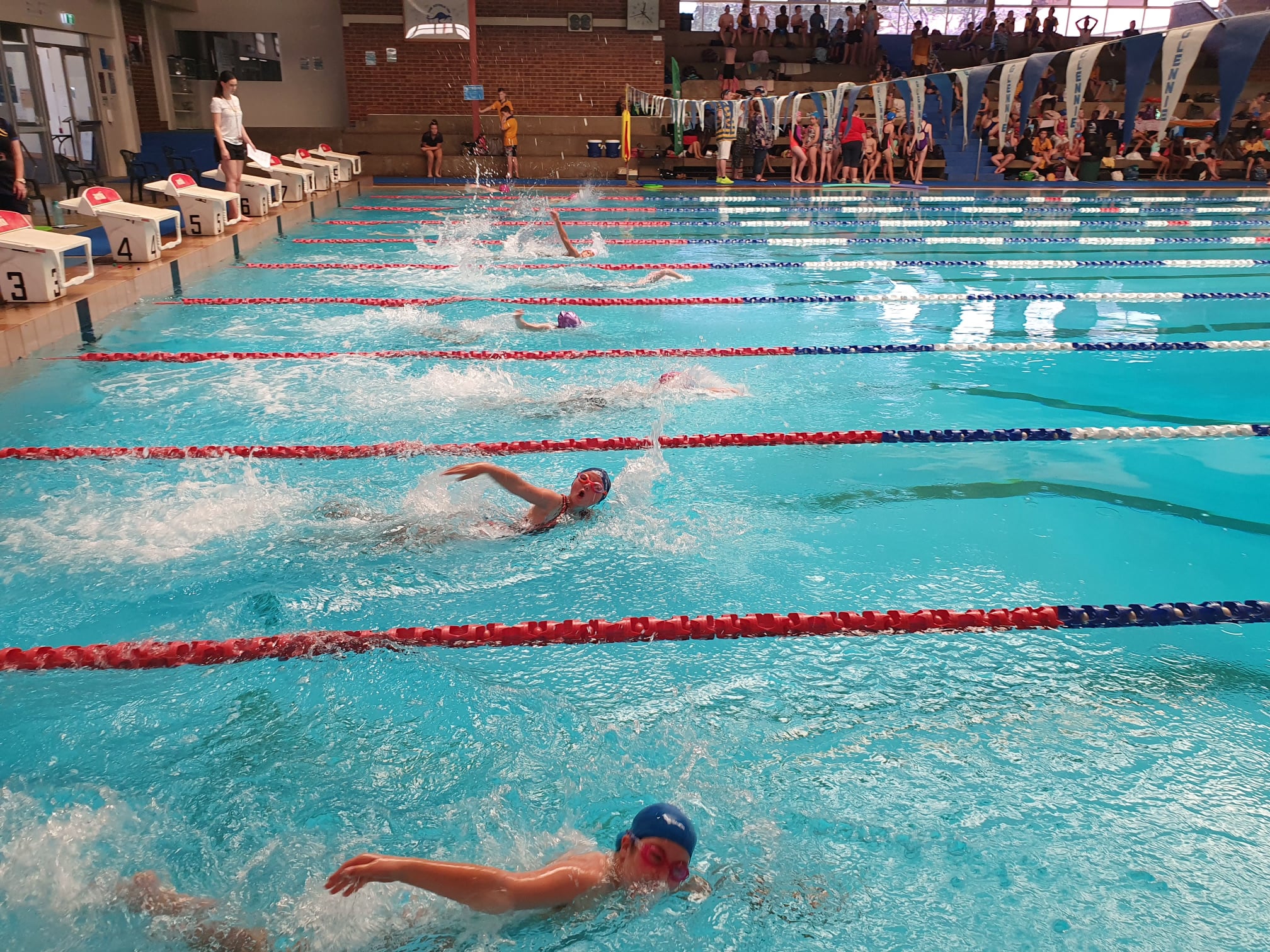 The 2021 Senior Swimming Carnival will be held on Tuesday 30th November at The Glennie Aquatic Centre. This year the swimming carnival will be open to all students born from 2009 to 2013.
To assist with the planning of the carnival, please complete a form for each child using the following link.
The Central Zone and Catholic Carnival Teams for 2022 will be selected from the results of the 50m events. Correct technique is a requirement for some strokes. The Central Zone Carnival will have strict nominating times that will need to be adhered to. Children born in 2013 will be eligible to be nominated in these carnivals in 2022 if they choose to swim 50m events at our school carnival.
Please read the following information and complete the nominating form by Friday 12th November. Once all nominations have been completed a program will be created and available to students and parents.
We will be offering a bus to and from the carnival. The school will cover the cost of the bus. If you wish your child/children to utilise the bus, please indicate on your child/children's nomination form.
Important Information
A teacher will be on duty from 8 am at the venue.
Years 3-6 teachers will attend the carnival. We encourage and it is expected that all students attend the carnival regardless of their swimming ability and have a go in at least 1 event. There will be no supervision at school for these year levels.
Kickboard events are for competitors who are not competing in the 25m or 50m events.
Competitors may only swim one distance per stroke. 50m Freestyle or 25m Freestyle or 25m Kickboard. Not all three.
Students who are capable of swimming 50m in a particular stroke are strongly encouraged to do so.
Only competitors who nominate as 50m swimmers will be eligible for age champion.
Only 50m events will have heats if there are sufficient numbers. Otherwise, 50m events will be straight finals.
Only 50m events will be timed.
Ribbons will be given to 1st, 2nd, 3rd, 4th places of kickboard, 25m, and finals of 50m events.
Age champion trophies will be given to 9yrs-13yrs champion swimmers who nominate/compete in 50m events.
Some events may have to be combined due to the number of nominations but will be judged separately.
Open 100m Freestyle and Open 4x50m Individual medley events are for house points ONLY.
If you have any queries, please contact Stacey Hancock (Year5)
St Thomas More's Primary School - Peace Garden
Bzzzzz 🐝 Did you hear we won a Woolworths Junior Landcare grant? The grant has allowed us to purchase a hive of Tetragonula Carbonaria (native stingless bees) and make a home for them.
First off, we needed to establish a garden for our new friends. Last week, thanks to a crackerjack team of parents and staff, we did just that. Words can't express how grateful we are to all who came and pitched in (and their expertise) as well as the people who donated their plant vouchers. It's hard to describe - but there was a palpable feel of community. Since we had so many willing volunteers, we were able to divert people to work on the prep playground and gerni the paths. And the garden is beautiful!
Watch this space for the arrival of our new friends. Did you know being stingless, they pose no risk of anaphylaxis? They are truly amazing little creatures. Can't wait for the kids to learn more about them.
Shontelle Petrie & Kylie Haywood
P & F
Dates to keep in mind for Term 4...
Due to the availability of the pool, we have had to change the date of our Junior Swimming Carnival to Monday, November 29th. At this stage, we are still waiting on confirmation from the pool regarding their COVID safe plan and will let families know ASAP if parents will be able to attend.
Date

Event

Friday, October 29th

3 Red Prayer Celebration in the Church at 11:15 am

Year 3 – Year 6 to attend

World Teacher's Day

Day for Daniel

Monday, November 1st

All Saints Day

Tuesday, November 2nd

All Souls Day

Melbourne Cup Day

Thursday, November 11th

Remembrance Day Prayer Celebration led by 6 Gold

In the Sports Centre from 10:45 am

P-6 to attend

Families welcome

Monday, November 15th

Prep Transition Morning

9:00 – 10:30 am

Thursday, November 18th

Prep Transition Morning

9:00 – 10:30 am

Tuesday, November 23rd

Prep Nativity Rehearsal

Sport Centre

Friday, November 26th

Prep Nativity Prayer Celebration

Families Welcome

Sports Centre from 11:30 am

Year 4 Soccer Gala Day (TBC)

Monday, November 29th

Junior Swimming Carnival

Year 6 Graduation and Farewell Celebration from 6:00 pm

Venue TBC (either the church or Sports Centre depending on COVID regulations at the time)

Tuesday, November 30th

Senior Swimming Carnival

Wednesday, December 1st

STM Family Christmas Carols

Bottom Oval 5:00 - 7:00pm

All families welcome

Thursday, December 2nd

End of Year Mass for Prep-Year 6

Sports Centre from 1:40 pm

Families welcome

Friday, December 3rd

P&F Student Fun Day/Student Christmas Celebration
Tuckshop News
Tuckshop orders are due by 12 pm every Thursday (both paper bag and Flexischools)
Uniform Shop News
The Uniform Shop opening hours are as follow:
Monday Morning: 8:15 am - 8:45 am
Wednesday Afternoon: 2:45 pm - 3:15 pm
Friday Morning: 8:15 am - 8:45 am
If you are unable to make these times, please email the Uniform Shop at: THOuniform@twb.catholic.edu.au
Parish News
Click on the link to download a copy of the Parish Bulletin.
Tennis Lessons