Term 4 - Week 7 - Update
Prayer of the Week
Last week Mr Cash and Miss Byrne were fortunate enough to attend a function Father Richard Leonard was speaking at. During his address, Father Leonard shared a montage of clips of Pope Francis. In one of these clips, Pope Francis shared his two tips for a happy life ... have a smile on your face each day and greet each day with a sense of humour. Pope Francis shared one way he tries to do this each day, which is praying St Thomas More's Prayer for Good Humour.
Image retrieved from https://twitter.com/stm1936/status/857262828444504064
From our APRE
Last week we joined with people all across the world in our celebration of Remembrance Day. Remembrance Day is a day people across the world gather together to remember and thank those who have fought and died in wars for the protection and peace of others. A big thank you to Mrs Grimshaw and 6 Gold for leading our school in a prayerful and reverent celebration.
With only a few weeks left of this year, our Vinnies Christmas Appeal is now kicking into high gear. Each class received their donation box last week, as well as the details of the family they are collecting donations for. We definitely still welcome donations of non-perishable foods and toiletry items, but our STM families are also encouraged to send in a small gift for the adults or the children in the families that our classes are supporting if they are able. We have committed to collecting donations for 22 families this year - imagine the difference we can make in the lives of these families in our community! Donations can be sent in from this week. A representative from the St Thomas More's Vinnies Chapter will come along to our End of Year Mass in Week 9 to collect our donations, so you can drop them in right up until the last Thursday of this term. Please ensure any second-hand items that are donated are clean and of high quality.
A big thank you to Kate from Rosies for coming along to assembly last week. It was great to hear about some of the great work Rosies are doing! Well done to Darcy and Audrey for taking out the Chocolate Raffle - I know lots of students and staff were envious of your win! Thanks to our STM community, we were able to donate over $230 to Rosies from our Chocolate Raffle! Well done to our school community and our Year 5 Social Justice Group! Wonderful effort!
Last week also saw the arrival of our beehive! It was with great excitement that Year 5 helped Mr Zabel find a permanent home for our STM hive on the Top Oval last Friday. The beehive is part of our Peace Garden Project. Mr Zabel did a great job talking about the bees to the children last week, testing their knowledge of bees and ensuring to explain that our new STM bees are stingless bees and pose no threat to our enjoyment and use of the playground. A big thank you to Shontelle from the P&F for her enthusiastic leadership of this project!
Arrival of our STM Beehive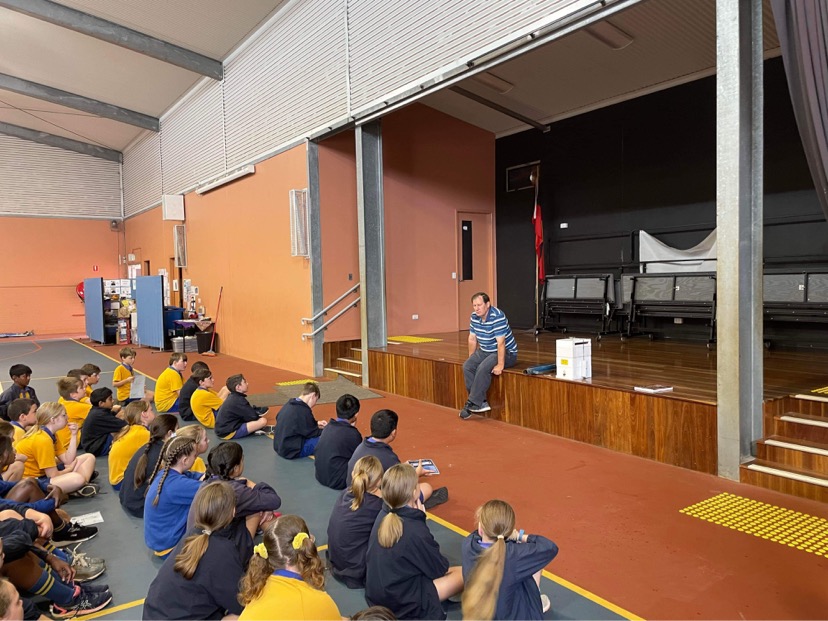 It is with a great sense of pride we as a school community also acknowledge the teachers from STM (my count was 9!) who have been nominated in The Chronicle Best Teacher in Toowoomba poll this year. We know we have amazing teachers and now everyone else in Toowoomba can see this as well! If you do have an online subscription, make sure you jump on and vote for one of our wonderful staff!
Have a wonderful week!
God Bless.
Miss Kristin Byrne
Assistant Principal Religious Education
Semester Two Report Cards
Our Semester Two Report Cards this year will be distributed via the Parent Portal in the last week of school. If you have yet to start using the portal, it is vital that you make the move to doing so in the next two weeks. If you need any assistance at all accessing the portal, feel free to contact our wonderful staff in the office and they will be more than happy to help you however they can.
Over the course of this semester, teachers have been gathering evidence of learning for each learning area for each of our students. This process involves gathering, analysing and reflecting on multiple sources of evidence to make an informed judgement about what students know, understand and can do.
Assessment in the classroom can come in many forms. It can either be …
Diagnostic (assessing prior learning) - pre-tests and work samples.
Formative (assessing for learning) - observations, group work, individual conferencing, ongoing work samples.

Summative (assessing of learning) - tasks, assignments, presentations.
In Week 9, families will receive Semester 2 Report Cards for students from Prep to Year 6 via the Parent Portal. This Report Card is a culmination of your child's academic achievement throughout the semester, as well as a snapshot of their spiritual and social development. It is just one way of communicating information about student achievement, effort and behaviour.
The Australian Curriculum is written in such a way, that there is an 'Achievement Standard' for each year level for each subject area. It is this Achievement Standard that we report against. The standards are written as a statement of what a student is aiming to achieve by the end of the school year for their year level. A student receiving a 'C' standard indicates that they have met this standard, that is, that their work demonstrates a conceptual understanding of the concepts covered and that they can apply this knowledge and skills in familiar situations. Simply speaking, a 'C' standard indicates that your child is able to do what is expected of them for their year level.
To move beyond a 'C' standard, a student must demonstrate that they are developing sophistication of conceptual understanding, with a strong application of skills, and that they are beginning to transfer their knowledge and skills to new situations (B standard). For an A standard, students must demonstrate the excellent application of skills and be readily applying the knowledge and skills to new situations.
Similarly, a 'D' standard does not constitute a fail, this standard indicates that a student is continuing to develop their understanding of the expected curriculum, and may be able to demonstrate some of the elements within it, whether with support or inconsistently. A rough outline of these standards is provided below.
Standard

A

Evidence in a student's work typically demonstrates that the student has the targeted knowledge and

· A sophistication of conceptual understanding.

· An excellent application of skills

· The ability to transfer these to new situations.

B

Evidence in the student's work typically demonstrates that the student has the targeted knowledge and

· A developing sophistication of conceptual understanding.

· A strong application of skills.

· They are beginning to transfer these to familiar situations.

C

Evidence in the student's work typically demonstrates that the student has the targeted knowledge and

· Expected conceptual understanding.

· Expected application of skills.

· They are able to transfer these to familiar situations.

D

Evidence in the student's work typically demonstrates that the student is

· Developing the targeted knowledge and conceptual understanding.

· Developing the application of skills.

· Beginning to transfer the above to familiar situations.

E

Evidence in the student's work typically demonstrates that the student

· Has an emerging knowledge and conceptual understanding.

· Has an emerging application of skills and

· can apply these in scaffolded situations.
In each KLA, students also receive an effort achievement level. This level is derived by the students level of application and study habits during that particular KLA. Please see the table below for the effort achievement scale. Effort marks in our STM reports will look a little different this semester as we have moved to a three-point scale.
| | |
| --- | --- |
| H | High |
| S | Satisfactory |
| I | Improvement Required |
| N | Not enough information to make a judgement. |
A student receiving an 'S' standard indicates that your child is applying the effort standard. You will find these criteria tables in the report card.
Family Life Lessons 2021
This week all classes will engage with the Sexual Health Education Program (better known as Family Life Lessons). Please have a conversation with your child/children and clarify any questions that they have after these lessons.
These lessons are part of the curriculum of our school and all schools across this Diocese. They form part of the Personal, Social and Community Health Strand of the Australian Curriculum and follow the Catholic Education Office, Diocese of Toowoomba, Guidelines for Teaching Sexual Health.
Please be assured that this material will be handled with sensitivity. Below is a brief overview of the content covered across the school. You would have received a note home with further details of the content covered in each year level. If you have any questions or concerns about the content being covered or your child's participation in these lessons, please contact your classroom teacher. Students will need to return their Family Life permission notes to be able to participate in these lessons.
Year Level

Core Content Overview

Prep

I am God's Child. I am special.

Difference between male and female

In Creation, God created males and females equally

Naming different parts of the body using correct terminology – penis, vagina, breast, bottoms, sex (as in male and female)

Year 1

I am God's Child. I am special.

Revision of Prep

Differences between male and female

In Creation, God created males and females equally

Naming different parts of the body using correct terminology – penis, vagina, breast, bottoms, sex (as in male and female)

Year 2

God made me. I am loved. I can love.

Revision of Year 1

Revise the names of the different parts of the body from the Year 1 core content. Include new vocabulary – testicles

Articulate the physical differences between males and females

Year 3

I belong to God's family. I have responsibilities.

Revision of Year 2

A simple understanding of life cycles

Revise correct vocabulary and include new terms – sperm, egg, womb, uterus, umbilical cord, breastfed/bottle fed

Year 4

I can help make decisions. I can choose.

Celebrate the 'miracle' of life

Appropriate knowledge of growth in the womb to birth, i.e., conception to birth

Use the following vocabulary: womb, placenta, amniotic sac, foetus, conception ('the moment new life begins'). Do not discuss sexual intercourse until introduced in Year 6.

Year 5

I grow by interacting with others.

External pubertal changes

Revision of vocabulary and include new vocabulary: puberty, genitals, pubic hair, acne, genes, hormones, fertilisation.

Do not discuss sexual intercourse until introduced in Year 6.

Year 6

I can make decisions that lead to happy and fulfilling relationships.

Revise external pubertal changes

List the internal changes that occur during puberty

Basic knowledge of the reproductive system

Revision of all vocabulary and include new vocabulary: fallopian tubes, cervix, ovary, ovum, sperm duct, scrotum, urethra, pituitary gland, ovulation, menstruation, nocturnal emissions/wet dreams, vaginal discharge, sexual intercourse.
Grandparents' Day 2021
We are pleased to announce we are celebrating Grandparents' Day this year with a special Grandparents' morning later this term. Our Grandparents' morning will run from 8:30 - 10:30 am on Friday, November 19th. We warmly invite our STM Grandparents along for a special Grandparents' Prayer Celebration in the Sports Centre, followed by classroom visits. Due to current COVID restrictions and guidelines, there will be no Grandparents' Day Morning Tea this year, but we hope to be able to bring it back in 2022.
To ensure we are adhering to current indoor restrictions, we respectfully request that the classroom visits only be made by grandparents. Parents and other family members are most welcome to come along to the Prayer Celebration but due to the size of our classrooms, we cannot accommodate a large number of visitors in each room. Students who don't have a grandparent come along will still be able to join in the fun and may even be able to adopt a grandparent for the morning! Thank you in advance for your understanding.
From the Office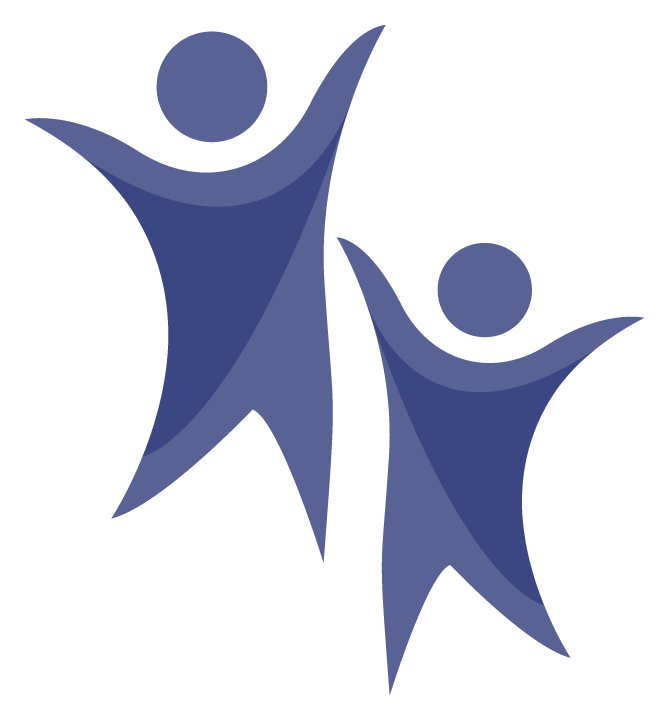 A reminder for outstanding school fees has been sent out on Friday 12th November. If you did not receive them, please notify the office. There are only 3 weeks of school left. Please settle this account as soon as possible. If you are leaving the school at the end of this year, please ensure that all school fees are paid in full. If you are experiencing difficulties in meeting this commitment, please make an appointment to see Jacinta Twidale. She is available Wednesday to Friday.
Year 5 and 6 camps for 2022 have now been added to your fee statement. This will allow you to start making payments towards these camps before 2022, as camp fees will need to be paid in full before your student can attend unless prior arrangements have been made.
Parents, please make sure you have accessed the Sentral Parent Portal before the beginning of 2022, as this is how all communication will happen in 2022. If you need assistance, please contact the office.
Just a reminder to keep the office up to date with any contact or medical detail changes. It can cause critical delays in the case of emergencies if the information is not current.
If your child will be away from the school for any reason, please notify the office of your child's absence. There are a few ways for parents to notify the school of a student's absence:
Send a text message to 0439 457 981,
Email the student's teacher and the office on

stthomas@twb.catholic.edu.au
Call the school's office on 4591 3900 and leave a voicemail explaining the absence,
Submit an absentee request through Sentral (see instructions below),
Ask a sibling to inform the office of the absence
If your child arrives at school after 8:25 am, they must sign in at the office at the student entrance.
Outside of the Year 6 students, if you are leaving the school at the end of 2021, please let the office know as soon as possible. This helps with the planning of events and excursions for the following year.
Sentral Parent Portal App
If you haven't signed up for the Sentral Parent Portal app yet, please do so as soon as possible. Contact our office for more information.

Did you know you can submit student absences through the Sentral Parent Portal App? It's as easy as 1, 2, 3
Step 1: Open the Sentral Parent Portal App and click on the "Absences" icon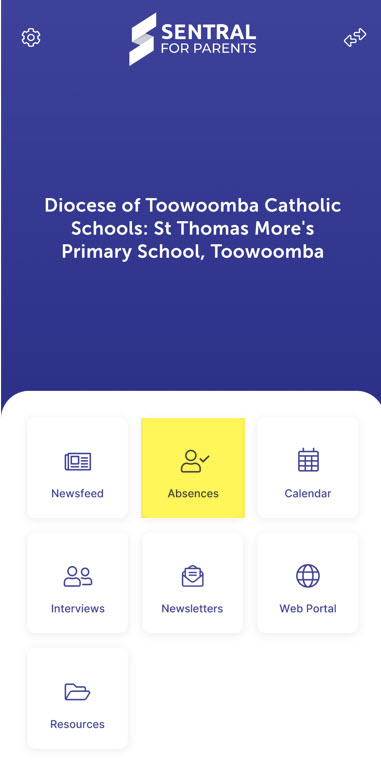 Step 2: Click on the + to add a new absence request (this needs to be completed for each student)
Step 3: Complete the details and hit "Submit"
Prep - Year 3 Swimming Lessons Timetable
A friendly reminder that swimming lessons will be starting this week (please download a copy of the updated timetable below to see when your child's lessons are).
Please make sure you have the following items at school for your lessons:
Togs/Swimmers
Goggles
Swim Cap
Towel
Spare Underwear
An extra something to eat for morning tea or lunch
Junior Swimming Carnival 2021 Prep-Year 2
Dear Parents,

This year our Junior Swimming Carnival will be held on the morning of Monday 29th November at the TAS (Toowoomba Anglican School) swimming pool, access via Wirra Wirra Street. Children in Prep-Year 2 will have the opportunity to participate at this carnival. We invite parents to attend this carnival if they wish.

We intend to be back at school around midday. All Prep-Year 2 teachers will attend the carnival. We encourage all students to attend regardless of their swimming ability.
Shorter lap lengths and novelty races ensure that this is a memorable day, whilst building confidence in the water prior to joining the more competitive races at the upper school swimming carnival in years to come. Some events will include freestyle/kickboard, noodle, and other novelty races.

No ribbons will be awarded at this carnival as this is purely a non-competitive carnival to encourage fun in the water. Adults will be placed in each swimming lane and will be available on the sides of the pool to assist if required.
The school will provide busses to transport students to and from the carnival. Children will need to arrive at school no later than 8:45 am.

Children can wear their sports uniform and wear their togs underneath. They will also need to bring a towel, goggles (if needed), swimming cap, sunscreen, morning tea, and a drink bottle.
If you have any further queries, please don't hesitate to contact your child's classroom teacher or myself.

Many thanks
Stacey Hancock (Year 5)
Stacey.Hancock@twb.catholic.edu.au
Swimming Carnival 8-12 Years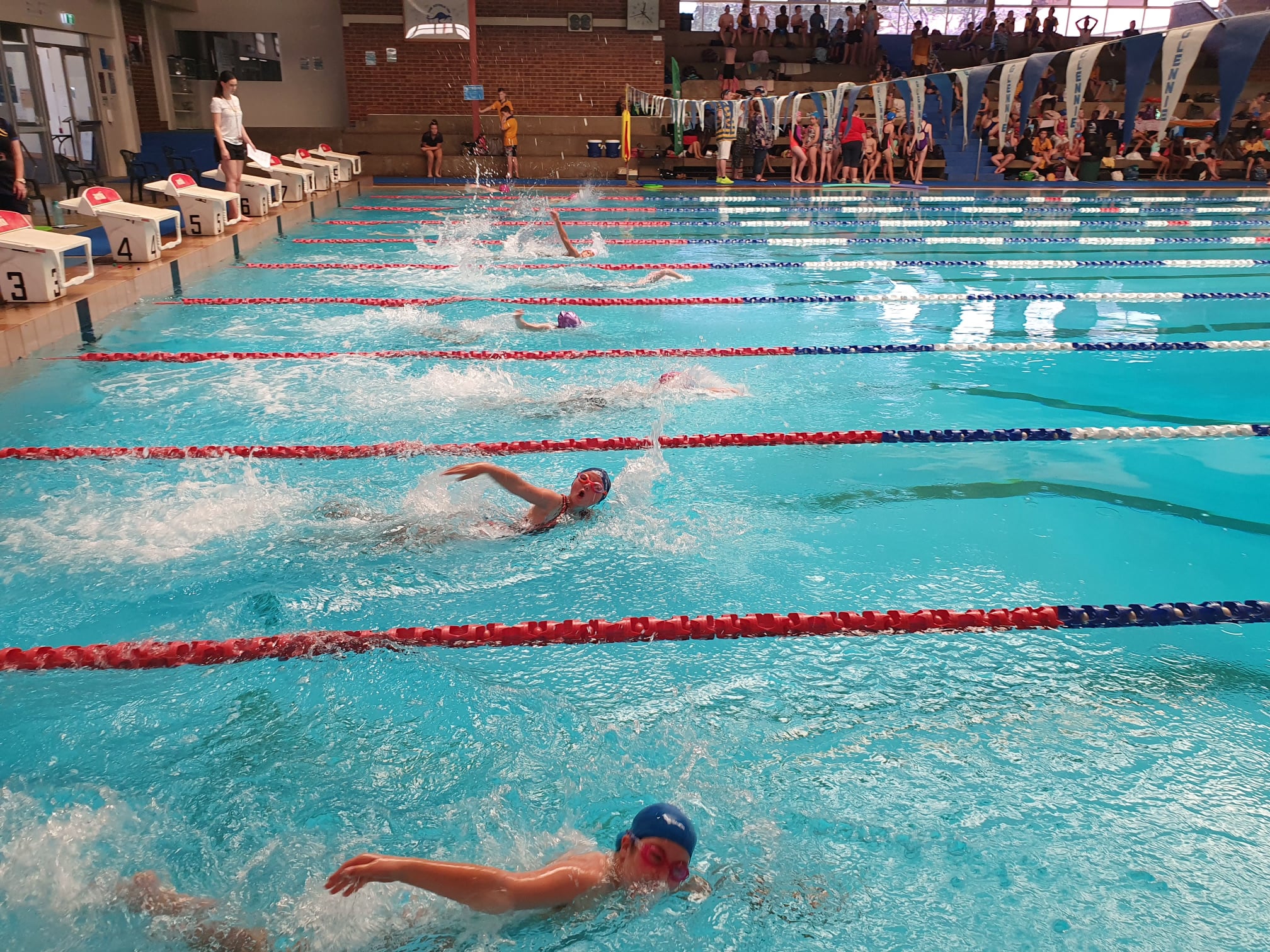 The 2021 Senior Swimming Carnival will be held on Tuesday 30th November at The Glennie Aquatic Centre. This year the swimming carnival will be open to all students born from 2009 to 2013.
To assist with the planning of the carnival, please complete a form for each child using the following link.
The Central Zone and Catholic Carnival Teams for 2022 will be selected from the results of the 50m events. Correct technique is a requirement for some strokes. The Central Zone Carnival will have strict nominating times that will need to be adhered to. Children born in 2013 will be eligible to be nominated in these carnivals in 2022 if they choose to swim 50m events at our school carnival.
Please read the following information and complete the nominating form by Friday 12th November. Once all nominations have been completed a program will be created and available to students and parents.
We will be offering a bus to and from the carnival. The school will cover the cost of the bus. If you wish your child/children to utilise the bus, please indicate on your child/children's nomination form.
Important Information
A teacher will be on duty from 8 am at the venue.
Years 3-6 teachers will attend the carnival. We encourage and it is expected that all students attend the carnival regardless of their swimming ability and have a go in at least 1 event. There will be no supervision at school for these year levels.
Kickboard events are for competitors who

are not

competing in the 25m or 50m events.
Competitors may only swim

one distance per stroke. 50m Freestyle or 25m Freestyle or 25m Kickboard. Not all three.
Students who are capable of swimming 50m in a particular stroke are strongly encouraged to do so.
Only competitors who nominate as

50m

swimmers will be eligible for age champion.
Only

50m

events will have heats if there are sufficient numbers. Otherwise, 50m events will be straight finals.
Only

50m events

will be timed.
Ribbons will be given to 1st, 2nd, 3rd, 4th

places of kickboard, 25m, and finals of 50m events.
Age champion trophies will be given to 9yrs-13yrs champion swimmers who nominate/compete in 50m events.
Some events may have to be combined due to the number of nominations but will be judged separately.
Open 100m Freestyle and Open 4x50m Individual medley events are for house points

ONLY.
If you have any queries, please contact Stacey Hancock (Year5)
Awards
Well done to our Week 6 Class Award recipients. Keep up the great work!
Prep Gold

Arthur

Tong

Prep Red

Max

Louie

1 Blue

Brielle

Liam

Ellie

1 Gold

Lola

Landon

Ava

1 Red

Liliah

Jospeh

Ari

2 Blue

Hunter

Ryan

2 Gold

Licynta

Ryan

Shanya

2 Red

Wol

Hugo

Ethan

3 Blue

Matthew

Wyatt

Mya

3 Gold

Charlotte

Abel

Harrison

Eva

3 Red

Darshan

Jarrell

Penny

Frankie

4 Blue

Patience

Cooper

Siennah

Isaac

4 Gold

Dylan

Annabelle

Kuai

4 Red

Zirayha

Braxtyn

Jan

Emma

Emilia

5 Blue

Aimee

Reyaaz

Emily

5 Gold

Annebelle

Thomas

5 Red

Rehan

Abigail

6 Blue
Shania
6 Gold

Sheldon

Karl
Wonderful work from all the children who received GOTCHA tickets in Weeks 5 and 6 as well. Congratulations to our GOTCHA lucky draw children. Who will it be next week?
Dates to keep in mind for Term 4...
We have added a few new important dates this week, so please make sure you check the dates against your calendar!
Date

Event

Monday, November 15th

Prep Transition Morning

9:00 – 10:30 am

Thursday, November 18th

Prep Transition Morning

9:00 – 10:30 am

Friday, November 19th

Grandparents' Morning

Starting at 8:30 am in the Sports Centre followed by classroom visits

Tuesday, November 23rd

Prep Nativity Rehearsal

Sport Centre

Friday, November 26th

Prep Nativity Prayer Celebration

Families Welcome

Sports Centre from 11:30 am

Year 4 Soccer Gala Day (TBC)

Monday, November 29th

Year 6 Graduation and Farewell Celebration from 6:00 pm

Venue TBC (either the church or Sports Centre depending on COVID regulations at the time)

Junior Swimming Carnival

Tuesday, November 30th

Senior Swimming Carnival

Wednesday, December 1st

P&F Carols Evening - 5:00 - 7:00 pm on the Bottom Oval

Thursday, December 2nd

End of Year Mass for Prep-Year 6

Sports Centre from 1:40 pm

Families welcome

Friday, December 3rd

P&F Student Fun Day
OSHC School Update
Operating Hours
Before School Care:
Mon-Tues: Please contact us for care
Wed-Fri: 6:30am – 8:30am
After School Care:
Contact Details:
Phone: Main- 0429297592, Other- 0429301476
Email: stmcare@tckc.qld.edu.au
Did you know we offer Before School Care?
We are open from 6:30 am and take the children to the quad at 8:15 am. We provide breakfast for the children and a range of activities to interact and play with. If you are interested in your children attending before school care, please contact 0429 297 592 or stmcare@tckc.qld.edu.au
Donations Needed!
During the vacation care program, we are completing a range of activities that will require boxes and jars, if you have any boxes and jars at work or home that you could bring in that would be wonderful.
Tuckshop News
Tuckshop orders are due by 12 pm every Thursday (both paper bag and Flexischools)
The last day for tuckshop in 2021 will be on Friday, 26th November. Ice Creams will be for sale on the final day at $1.20 each. An order form will be sent home on Monday, 8th November. Please complete an order form for each child and return it to the office in an envelope with the correct money enclosed by no later than 18th November.
Uniform Shop News
The Uniform Shop opening hours are as follow:
Monday Morning: 8:15 am - 8:45 am
Wednesday Afternoon: 2:45 pm - 3:15 pm
Friday Morning: 8:15 am - 8:45 am
If you are unable to make these times, please email the Uniform Shop at:
THOuniform@twb.catholic.edu.au
The Uniform Shop will have its final day on Monday the 29th of November. The open times for the week before school returns will be posted closer to the time. Due to covid affecting our suppliers some formal wear will have limited stock. Please look through your wardrobes now to see if you need anything for next year. Email orders are most welcome.
Thank you!
A huge thank you to Westridge Fruit and Vegetables for their continued support with the donation of fresh fruit every week for our students!

Parish News
Click on the link to download a copy of the Parish Bulletin.
Tennis Lessons